Walt Disney Home Entertainment is offering fans an extremely unique opportunity to take home the highly anticipated documentary feature DVDs Waking Sleeping Beauty, The Boys: The Sherman Brothers' Story and Walt & El Grupo as a pre-release exclusive direct from Disney Movie Collections.com. Full details on special pricing for each title or as a group, can be found here:
An Unprecedented Chance
To Look Behind the Magic…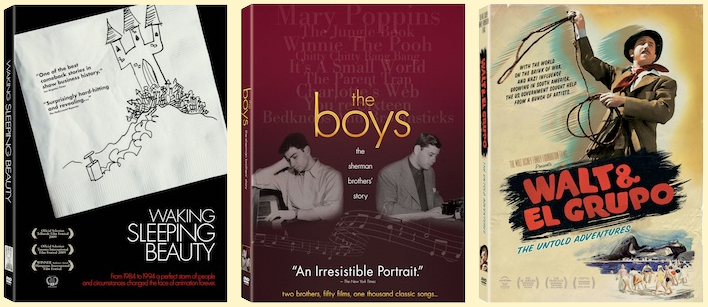 Far from a fairytale, Waking Sleeping Beauty is an unprecedented eye-opening look at the conflict, drama and tension that ushered in the second chapter of Disney's animation legacy – a decade of unparalleled creativity that included The Little Mermaid, Beauty And The Beast, Aladdin and The Lion King, told by the people who were actually there.
The Boys: The Sherman Brothers' Story is an intimate journey through the lives of Robert and Richard Sherman, the astoundingly prolific Academy Award-winning songwriting team. While their songs – A Spoonful Of Sugar (Mary Poppins) and I Want To Be Like You (Jungle Book), to name a few – celebrated family entertainment and happy endings, their life together was not as harmonious. Go behind the scenes, including interviews with Dick Van Dyke, Angela Lansbury, Roy E. Disney and many more, for a fascinating glimpse into how Walt Disney used the language of music to bring the brothers together, creating a cinematic legacy like no other.
When the U.S. Government asked Disney to be a cultural ambassador to South America, the stage was set for Walt's very own real-life adventure. With a group of handpicked artists, later called "El Grupo", Disney's WWII road trip achieved the impossible – goodwill – and in the process paved the way for two classic Disney films, Saludos Amigos and The Three Caballeros. Brought to life through rare footage and enriched with never-before-seen bonus features, Walt & El Grupo is a story of inspiration, joy and hope you won't soon forget.
---
Each DVD Includes:
• An exceptional look at Walt Disney and the studio from yesteryear
• Rare footage and interviews from Walt Disney insiders
• A unique, collectible piece of Disney history
• Extensive Bonus Material, taking you deep into the stories
You can learn more about this great offer by visiting www.DisneyMovieCollections.com.
When you buy all three DVDs before November 29th, you'll also receive three collectible 8×10 lithographs free!

---
---
WAKING SLEEPING BEAUTY Bonus Features Include:
• Why Wake Sleeping Beauty? Overview Featurette

• Deleted Scenes:

o Black Friday
o Howard's Lecture
o Losing Howard
o Recording Part of Your World
o Research Tips
o To Sir With Love

• The Sailor, the Mountain Climber, the Artist and the Poet – Celebrating Roy Disney, Frank Wells, Joe Ranft and Howard Ashman

• Studio Tours – Randy's tours, Roger Rabbit studio, Oliver studio and the tour of the Animation Research Library

• A Reunion – Rob Minkoff and Kirk Wise

• Walt – What would Walt do? A comparison of Walt's era and the current era

• Audio Commentary – View the film with commentary by director Don Hahn and producer Peter Schneider
STREETDATE: November 30, 2010
Rated: PG
Run Time: Approx. 86 minutes
Video: Widescreen (1.78.1)
Audio Dolby Digital 5.1 Surround Sound
DVD Subtitles: English
SRP: 1-Disc DVD $29.99
---
THE BOYS: THE SHERMAN BROTHERS' STORY Bonus Features Include:
• Why They're "The Boys" — Through interviews with their friends and co-workers from throughout the years, learn why Bob and Richard Sherman are called "The Boys" and, in turn, why this film is called what it is called!

• Disney Studios in the '60's — Take a look at the era of the legendary studio when the Sherman Brothers were under contract and part of the life and culture of a creative playground of animators, filmmakers and producers.

• Casting Mary Poppins — Learn how Julie Andrews got the part of Mary Poppins from the point of view of Bob and Richard and those who know them.

• The Process — Join Richard Sherman for a look at the Sherman Brothers' song writing process.

• Theme Parks — In addition to composing scores for many classic Disney movies, the Sherman Brothers also wrote many popular songs for Disney theme parks. Learn how they went about composing a song for rides such as It's a Small World.

• Roy Williams — Roy Williams was a Disney animator who had an office right next to the Sherman Brothers. Through Roy's artwork, we learn some of the stories of what it was like to work in the Animation Building in the 1960s.

• Bob's Art — In addition to being an amazing lyricist, Bob Sherman's other passion is painting. Here he shares his inspiration.

• Celebration — A collection of testimonials from celebrities and Hollywood legends who share their experiences about the Sherman Brothers, this piece earned "The Boys" a special honor from the President of the United States.

• Sherman Brothers' Jukebox — This collection of Sherman Brothers songs — and stories behind the songs — provides a unique look into the extensive careers of Bob and Richard:

o Tall Paul
o Chim Chim Cher-ee
o Feed the Birds
o Gold Can Buy Anything (But Love)
o There's a Great Big Beautiful Tomorrow
o Jolly Holiday
o Oh, Gee, Georgie! (performed by Eddie Cantor, 1924)
o Up, Down and Touch The Ground
o A Spoonful of Sugar, performed on the guitar by Laurence Juber
o Supercalifragilisticexpialidocious
o Ugly Bug Ball
o Der Wienerschnitzel Commercial
STREET DATE: November 30, 2010
Rated: PG
Run Time: Approx. 1:41 minutes
Video: Widescreen (1.78.1)
Audio Dolby Digital 5.1 Surround Sound
Doliby Digital 2.0 – Spanish
DVD Subtitles: English, Spanish,
SRP: 1-Disc DVD $29.99
---
WALT & EL GRUPO Bonus Features Include:
• Audio Commentary — With director Theodore Thomas and historian J.B. Kaufman.

• Photos in Motion — How the photos shown from the original journey transcended time and literally came to life through technology

• From the Director's Cut:

o Home Movies for the Big Screen — The 16mm Kodachrome footage shot by El Grupo was originally intended to be reference material. With the making of Saludos Amigos and The Three Caballeros after the trip, these "home movies" took on unexpected importance.

o My Father's Generation — The return voyage from South America on the SS Santa Clara is the setting to understand some of the remarkable qualities of the Disney group and their generation. Cecilia Acle, daughter of a Chilean passenger, and Cindy Garcia, daughter of Disney storyman Ted Sears, tell the story.

o Artists and Politicians — In a return to the Urca Casino, conductor and music historian Roberto Gnattali reflects on the golden age of the samba and the Brazilian government at the time.

• SALUDOS AMIGOS Original 1942 Release — One of the films inspired by Walt & El Grupo's trip to South America in its original form.

•Original Theater Trailers:

o Saludos Amigos (1942)
o The Three Caballeros (1944)
STREET DATE: November 30, 2010
Rated: PG
Run Time: Approx. 1:46 minutes
Video: Widescreen (1.78.1)
Audio Dolby Digital 5.1 Surround Sound English and Spanish
DVD Subtitles: English, Spanish,
SRP: 1-Disc DVD $29.99
Visit DisneyMovieCollections.com for more details.