By Teddy Newton
From the Disney/Pixar short film
Chronicle Books
Published: September 2010
Hardcover, 36 color illustrated pages
$14.99
---
---
How on Earth does one translate an animated short – especially one created by modern masters of the medium Pixar – to the printed page and hope to retain the spontaneity of such a kinetic original? The answer may not quite be found in Chronicle's lasted collaboration with the CG studio, but it does result in a lovely pictorial souvenir of a wonderful cartoon, which has already been honored by finding itself positioned before this summer's anticipated Toy Story 3, and therefore seen by more theatrical audiences for a Pixar short so far, and is sure to find further success at next year's Academy Awards.
The premise of the short is as simple as it is unique and brilliant: an opposites attract tale of two characters, one representing "day" and one representing "night", and what happens when the pair bump into each other. At first finding their differing polarizations strange, alien and presumably not to be trusted, they squabble over which one of them displays the "right" state of play: light, or dark? Eventually, as each one opens up a little more to the other, the many wonderful aspects that make both day and night special are revealed, until both find the qualities in themselves that bring them even closer and see each other through each other's eyes.
---
---
It's a delightful little film; unique and distinctly different from anything else in the Pixar canon not only for its subject matter, but in its technique, for although Day & Night still utilizes the computer animation imagery the Studio has built its reputation upon, the primary characters are hand drawn in traditional animation. It's the melding of these two approaches that makes Day & Night a sometimes mind-blowing short for animation aficionados, with overlays and character interaction not only between the two personalities, but in their background elements and layers: the animators expertly trick the eye so that the dimensionality works in every frame despite hopping backwards and forwards all the time.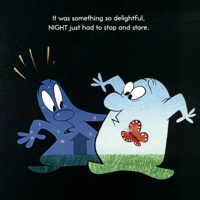 One would think it would be impossible to bring that intricacy to the printed page, but with this new book edition – one of the few examples of real merchandise to be spun off from a Pixar short film, and certainly the first time I believe one of their shorts has inspired such a product – the film's creator Teddy Newton has taken a different approach.
This involves going for a mesh of the film (all black frames/pages with the characters' backgrounds appearing keyhole style) and, instead of the super streamlined CG backgrounds, they appear here rendered in the Little Golden Book style that Pixar has favored for some of its illustrations in the past.
So, the look of the book is assured, but for anyone over the age of ten, it's more of a charming reminder of the original film than a solid bedtime story. Newton has written some prose to go along with the drawings, but it never quite comes alive as much as the images do.
The inside jacket might be to blame, just as much as I probably am for misreading the syntax as a poem. "What happens when Day meets Night? Are they friends at first sight?", which sets things up in a way that then doesn't continue. There's nothing to say this should be poetic in verse, but Day & Night doesn't really work as a literal book translation of an animated short cartoon.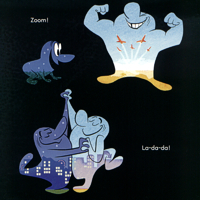 However…for parents who will take the time out to revisit the cartoon they saw on the front of Toy Story 3 with their kids, this book interpretation is a pretty cute way to replay the fun before bedtime. With parents able to insert their own cues and fill in some of the "gaps" in narration with their children, the book will expand itself beyond the page again, allowing for interaction and discussion between both readers.
In fact, it might have actually worked better as a simple picture book without the text, since Newton's visuals are so well defined that the sometimes not-especially exciting text doesn't often add much that a child's mind wouldn't come up with in any event.
As such, Day & Night isn't a book for casual animation collectors who would probably be more content to wait for the short to arrive on the inevitable home video release, and I'm not quite sure that it's a book that's destined to go down in history as the kind of thing that every child's bedroom or playcenter ends up having a copy of. But it's a very nicely designed and produced reproduction of a unique short film that would, in any other circumstances, find itself extremely difficult to recreate in any other medium.
That I believe the book might have worked even better without the addition of text speaks volumes for the power of the drawings and of Newton's original concept. It's distinctively unusual and vastly inventive, and given that this book version doesn't try to mimic the film but adapts it fully to the completely alternate medium of the printed page, one can only call this unassuming result a delight to be shared with the youngest Pixar fans.
---
Day & Night
is available to buy now from Amazon.com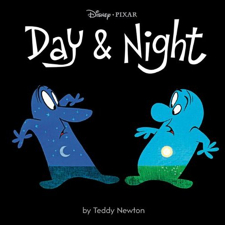 ---
---
Animated Views Extra!
Pixar's Teddy Newton shares original sketches and thoughts about
the creation of the Day & Night picture book from Chronicle: