Warner Bros. (2010), Warner Home Video (July 27, 2010), 1 disc, 75 mins plus supplements, 1.85:1 ratio, DTS-HD Master Audio 5.1, Rated PG-13, Retail: $29.99
Storyboard:
A new vigilante arrives in Gotham, intent on taking over the city's crime scene. As the mystery of The Red Hood is solved, new truths emerge about the role that The Joker and Ra's al Ghul had in the legacy of one of Batman's sidekicks.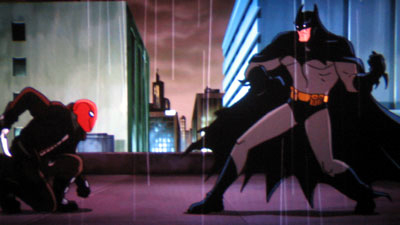 The Sweatbox Review:
I was pretty excited when I first heard the announcement for the DC Universe line of movies a few years ago. The initial plan was to base them on stories that had first appeared in the comics. With such a rich heritage of storytelling to draw from, this seemed a sure-fire way to create some great movies. Since then, we've seen a somewhat mixed bag. The ambitious Death Of Superman storyline got brutally (though understandably) truncated, and managed the appalling trick of featuring a Superman that I didn't much care for. New Frontier remains my favorite, a sprawling epic that mixed real world and comic book history. Then we got a trio of films certainly inspired by the comics, but not on any particular story. And that was okay. I quite liked Gotham Knight, and saw the value in presenting origin stories for Green Lantern and Wonder Woman, though low sales have seemingly killed plans to franchise either character for now.
So, the producers went back to the comic book well. They chose a best-selling storyline with DC's two biggest stars, Superman and Batman. Unfortunately, though Superman/Batman: Public Enemies might have been a sales success in the comics, hardly anyone looks back on that story with any affection nowadays, recognizing it as the beginning of writer Jeph Loeb's fall from grace. Warner Bros. did better with their next project, basing it on a Grant Morrison Justice League graphic novel, with the resulting film decent but not as awesome as hoped. And that brings us to the producers' next writer selection, Judd Winick.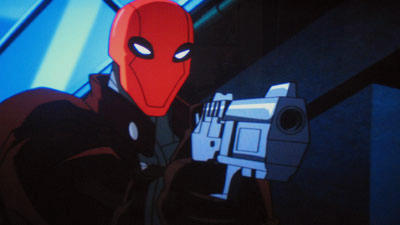 Winick spent a fair bit of time a few years ago writing Batman comics. The series sold well enough, but didn't generate too much press until it featured Winick's greatest contribution: the resurrection of Jason Todd, the second Robin. Todd had been killed in confrontation with The Joker years ago. That Death In The Family storyline made headlines back in 1988-89, and has the notorious distinction of offering fans the opportunity to decide the fate of a character. Yes, using a dial-in phone number, fans chose to kill poor Jason, who had lately been written as a surly, undisciplined whelp. The idea had initally been to let Batman rehabilitate the kid, but the fans never gave Bats the chance. With a few brutal well-placed blows from a crowbar, the second Robin was killed.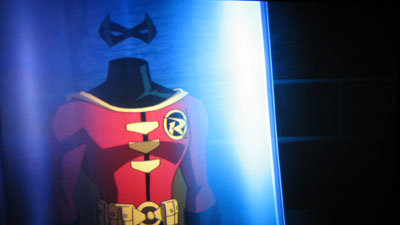 It was a controversial story, signalling an end of innocence in superhero comics, and for years it served as a lynchpin for Batman's development. And, even if many fans wish A Death In The Family had never happened, it seemed generally agreed that the character could never be brought back… until Winick brought the idea up, following a red herring hint by Jeph Loeb (there's that name again) in a separate storyline. The story mechanics behind the eventual true return cause too much nausea to get into, involving the ridiculousness of "Superboy continuity punches" (don't ask!); but the point is, Jason came back. And now here we have the story in animated form.
The problem is this: Winick is similar to Loeb, in that while his books continue to sell, many fanboys really don't like his work. So, when this project was announced, this left fans (well, me at least) somewhat restrained in their (my) enthusiasm for adapting this story. With all the great stories out there, why do they choose from Loeb and Winick? It's frustrating.
Winick actually pitched the story over the phone to producer Bruce Timm, and managed to address all of Timm's story concerns and sell him on the story. Naturally, much of the original story would have to be chopped off, for time purposes (plus, I'm sure that no one would really want to have to explain that "Superboy punch" thing again). Winick took care of scripting himself, which could have been a good thing or a bad thing. Turns out, it was a pretty good thing.
In the new movie, we see early on how Robin was brutally murdered by The Joker. It's a violent scene, though surprisingly restrained and probably less graphic than what saw print in 1988. We also see hints of the involvement of international self-proclaimed visionary-but-really-more-terrorist Ra's al Ghul, which helps to explain the oddness of the murder scene taking place in what was Yugoslavia at the time, without getting into the complex back-story from the comics. Fast-forward then five years to the present day, where Gotham City in engaged in a sort of gang war, with Batman caught in the middle. A new gangster, The Black Mask, is muscling in on Gotham, making trouble for the traditional crime families that run the town; but now someone is in turn muscling in on The Black Mask— a mysterious figure who calls himself The Red Hood, the same identity previously used in Gotham by a succession of crooks, including the man now known as The Joker.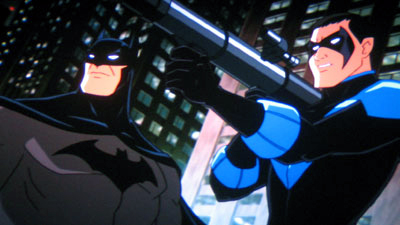 After making his presence known to the crime families, The Red Hood becomes known to Batman as well, when Batman interrupts an operation to seize a shipment meant for The Black Mask. The contents of the shipment are a neat surprise for comics readers, and provides quite the challenge for Batman and Nightwing, the original Robin. Nightwing is in Gotham following up on some intel he received about The Red Hood, and his scenes with Batman are among the best written in the movie. Nightwing's spirited talky-ness and quit wit are a fun contrast to the grimness of Batman. Neil Patrick Harris does a terrific job of delivering Nightwing's punchy dialog, just as Bruce Greenwood steps in nicely as a gruff Batman. Jensen Ackles is fine as The Red Hood, though I wasn't sure he could quite fully bring out the depth of the character's pain. The most interesting voice choice in the film, though, is probably Joe DiMaggio, who gives us a very different Joker than what we've become accustomed to. His Joker is certainly crazy, but not so goofily maniacal as Mark Hamill has played him. Here, The Joker is a dark thug, a sociopath more in line with the Heath Ledger version, but with a deeper voice. Some fans may find the change from Hamill off-putting, but I rather liked it.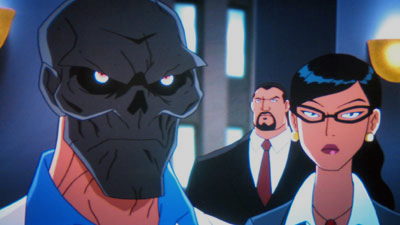 Things continue to escalate in Gotham City, as The Black Mask's frustrations lead him to some bold choices in his pursuit of his new rival. The Joker re-enters the picture, Ra's al Ghul has some explaining to do, and The Red Hood's true motivations become apparent. The action in this one is really quite stunning, and I was pleasantly surprised by how well-written it all was, as the story keeps up a good pace but still manages to include lots of punchy dialog that brings bits of humor and solid character work, in the midst of darkness and tragedy. The resolution of the story is somewhat satisfying, but there is still an openness to it that allows room for further exploration of the themes. In some ways, this is among the most mature of the DC animated movies, as the conflict comes largely from the characters' competing ideologies, at a deeper level than simple good-versus-evil. At its heart, this story is a tragedy about a young man who has been lost, and how good intentions of more than one character have led to a bitter outcome. The complexity of it all actually (and I can't believe I'm saying this) reminds me of what appeared in the film The Dark Knight, though I don't claim that the animated movie rivals The Dark Knight in terms of impact.
A film I was prepared to dislike turns out to be one of my favorites of these DC movies. Place any misgivings aside and give it a chance.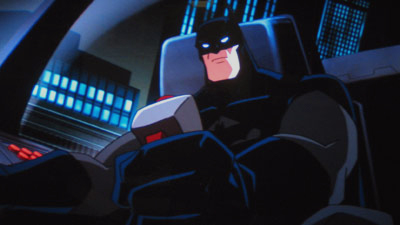 Is This Thing Loaded?
As has become the usual for these releases, there is little to do with the actual movie's production in these bonus features. However, the featurettes that we get do nicely provide some context for the story. All featurettes are presented in 480p video.
Robin: The Story Of Dick Grayson (24:13) has DC Comics luminaries Paul Levitz, Dan DiDio, Len Wein, and more discussing the introduction of Robin to Batman's world, following Dick Grayson from Boy Wonder to his taking on his new identity of Nightwing.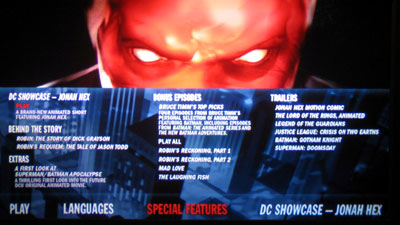 Robin's Requiem: The Tale Of Jason Todd (20:58) is a Blu-ray exclusive featurette that looks at the comic book origins of Jason Todd. Interviewed are the likes of comics writer Judd Winick and former Batman writer/editor Denny O'Neil, as well as several others familiar with DC Comics. This is really an excellent overview of Jason's life and death, from his altered origins following Crisis On Infinite Earths, to the infamous 1-900 number that led to his death, and his ultimate resurrection as an antihero.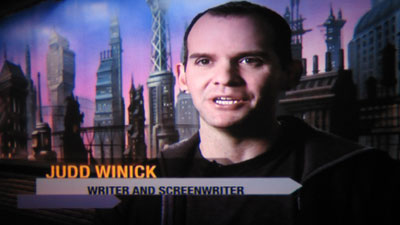 4 bonus episodes from Batman: The Animated Series selected by Bruce Timm include both parts of Robin's Reckoning, a well as Mad Love and The Laughing Fish.
First Look: Superman/Batman: Apocalypse (12:12) shows only some storyboard art and little else from the production of the upcoming sequel to Superman/Batman: Public Enemies, favoring artwork from the Superman/Batman: Supergirl comic book; but the writers and producers of the movie are interviewed fairly extensively. Also interviewed is Jeph Loeb, writer of the comic arc on which this film will be based, as well as the various voice actors, including Summer Glau, who will be playing Supergirl.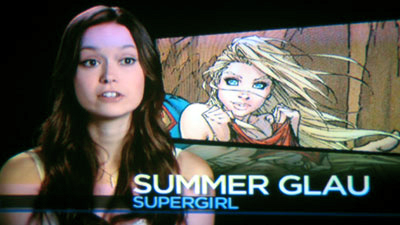 DC Showcase: Jonah Hex (11:53) is a new animated short written by Joe Lansdale and starring the voices of Thomas Jane and Linda Hamilton. The video here is in full 1080p. I expected this story of a western bounty hunter to be a little violent, but it's also a quite racy and earns its PG-13 standing on those terms alone. In the story, Hex tracks down a wanted criminal, but finds a madam who has different types of tricks in mind.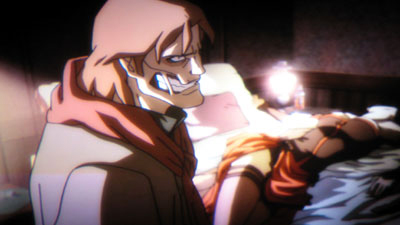 There are also the First Looks for three other DC Animated Movies— Justice League: Crisis On Two Earths, Batman: Gotham Knight, and Superman: Doomsday. You can also view a promo for the new DVD and Blu-ray release of the animated The Lord Of The Rings, and Trailers for the Jonah Hex Motion Comics, and The Legend Of The Guardians: The Owls Of Ga'Hoole, which actually looks pretty stunning, even presented in 480p.
Case Study:
The standard Blu-ray keepcase comes with an identical but embossed foil slipcover. Inside is an insert detailing how to obtain an official digital copy of the movie off the Internet.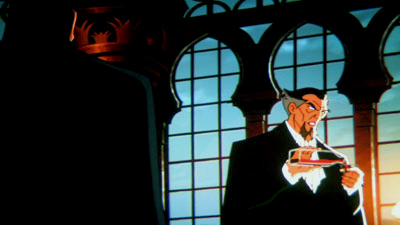 Ink And Paint:
The 1080p picture is near perfection. I could recall only one instance where I really noticed a hint of aliasing in one background. Otherwise, the video is practically flawless. This dark film has some excellent blacks, but with colors that truly pop when they have to. The line quality is crisp, with an overall very solid looking picture. There is a lot of movement in this film, with even quiet scenes engaging some sweeping camera movies, and it's nice to see it portrayed so fluidly on Blu-ray.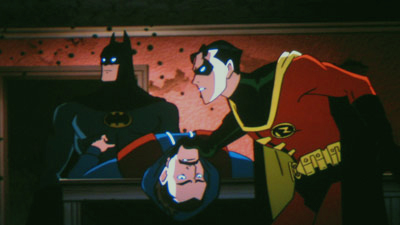 Note that the screen captures here are not representative of the Blu-ray's video.
Scratch Tracks:
Warner has risen in our esteem simply on the basis of offering a DTS-HD MA track for this release, after giving only Dolby Digital tracks to the past couple of DC movies on Blu-ray. Some earlier releases in this series had utilized Dolby TrueHD tracks, so it's interesting that they've switched over to the DTS standard. No matter, it's just great to have uncompressed audio on this movie. And it really sounds great here! They went all-out in this film's sound design, with an aggressive mix that makes you feel every punch and react to every blast coming from behind you. This is a very active mix that rises to the occasion for this action-packed film.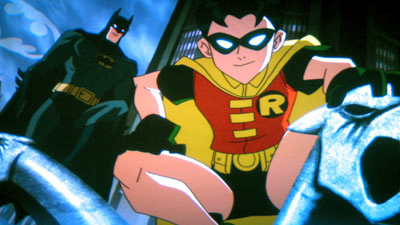 There are Dolby Digital 5.1 tracks in Spanish, German, and Portuguese; and English, French, German, Spanish, Portuguese and Castilian subtitles.
Final Cut:
This film was a pleasant surprise, after a few mild to moderate disappointments in this line of original animated movies from DC. The script is lively, with plenty of action but also some solid character work and sly humor. The video isn't quite perfect, but the audio is certainly impressive. And this time around, the bonus features are really worth viewing. Under The Hood has made this line one to watch again.
Animated Classic or Back To The Drawing Board?