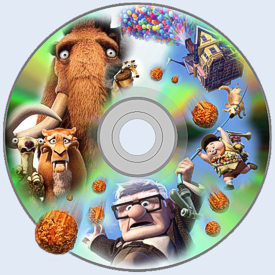 Another year, another dollar. Or quite a few, actually, as more and more begin to upgrade their home video collections to new formats. Sales of Blu-ray Discs are up, but consumer spending is down: could it be that we're simply getting tired of having to keep buying the same old stuff over and over? When we were happy with our colour televisions and VHS, along came digital cable and widescreen TV, meaning new 16×9 sets. To go with those, we needed to replace our VHS tapes and LaserDiscs with new anamorphic DVDs, and just when everyone had gotten used to those, high-definition made us go out and buy all-new flat-screen displays again.
Everything looked great once more, except those standard definition DVDs: HD-DVD was the way forward, except Sony didn't think so, winning the hi-def disc war with their Blu-ray format, prompting everyone to go out and buy the same titles again, but with more clarity. Only, a lot of people aren't yet doing that, and it could well be that most folks other than the early adopters have just gotten fed up with the constant upgrading. With higher resolution sets and the promise of 3D television and discs (most likely requiring another new set of player hardware), consumers look to be waiting for the next revolution to come along before making their next jumps with home entertainment technology.
And most of this has happened only in the last decade, which has seen a number of changes across the entire entertainment spectrum. Aside from the most obvious life and history changing events that occurred in the 2000s, it's been a decade of mergers and acquisitions. Warner Bros. got the ball rolling right back in the January of 2000 by merging with AOL, right before the events of September 11 2001 led to the bursting of the dot-com bubble and the asset was quickly ushered into a sub-division unit and TimeWarner's name re-established.
One of the biggest movers and shakers has been The Walt Disney Company, consolidating its purchase of ABC with much of the Touchstone unit, and purchasing or securing long-term deals with a variety of companies and individuals including Pixar Animation, The Muppets, Steven Spielberg's new DreamWorks, Robert Zemeckis' ImageMovers and perhaps most excitingly of all, the return of Oswald The Lucky Rabbit to the Studio and the ending of the decade at the end of 2009 with another big buy in Marvel Entertainment, promising great things for the future.
It's been a banner year for the amount of animated feature releases in theaters, but not all of them have been certified classics right out of the gate. It's even more so the case in live-action, where for every fresh reinvention (Star Trek) came two noisy, incoherent messes (Terminator Salvation, Transformers 2). In home entertainment, the year has been a little hit and miss too, catering for a lot of re-issues, sequels and franchises but being very slim on truly well packaged disc releases or classic animation compilations.
We were without the Looney Tunes Golden Collection for the first time in years, and even the Walt Disney Treasures didn't have room for any animation in its latest wave. But…there was still some goodness to be found, and so we invite you once again to strap yourselves in and join us for a look back at…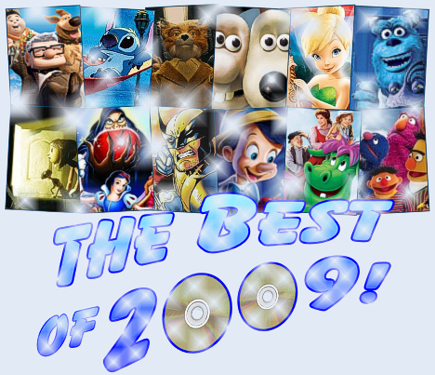 ---
---
1. Lilo & Stitch: 2-Disc Big Wave Edition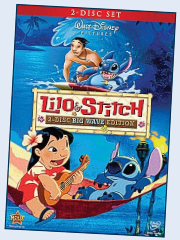 Walt Disney Home Entertainment (March 22 2009)
2 discs, 85 mins plus supplements, $30
Perhaps a surprising choice for our absolute top pick of the year, but it's the fact we're able to recommend it at all that puts Lilo & Stitch at the top of our list. The original movie came at a time when Disney needed not only a genuine hit but a breath of fresh air, and Chris Sanders' off the wall concept – Disney's first out and out alien crash lands on earth – and a unique spin on the characters, giving them a Hawaiian grounding, powered the movie to strong box office and launched something of a franchise for the Studio, leading to three spin-off movies (though only one authentic sequel), television shows and merchandise. Back at the time when Michael Eisner and Steve Jobs were at loggerheads, Disney's top brass wanted a deluxe two-disc edition that could show Pixar that the Studio could match them in terms of DVD production, though the devastating events of 9/11 meant the release was delayed, the result of the inclusion of an original ending where Stitch flew a passenger jet through the city to save Lilo. Ironically it was the disc release of Bolt, the eventual result of Sanders' next project American Dog before it became doomed under new leader John Lasseter, that ultimately lifted the barrier on Lilo & Stitch's 2-disc set finally reaching the market. Was this a poke in the eye to Sanders, marrying the two disc releases together to make some kind of point? Or was it a happy accident? It's a close call, but while the lack of a Blu-ray edition put the brakes on too much celebrating, the sheer abundance of material contained – including the unexpected pleasure of a raw and informative feature length documentary on the making of the film – more than made up for it. Love it or hate it, we finally got to see what we had all been speculating about since the first single-disc DVD came out all those years ago, and one of the Studio's most unique modern films finally got the treatment it deserved.
Support Animated Views and buy Lilo & Stitch from Amazon.com now!
---
2. Snow White And The Seven Dwarfs: Diamond Edition
– Pinocchio: 70th Anniversary Platinum Edition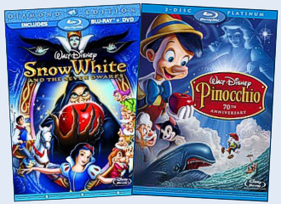 Walt Disney Home Entertainment (October 6, March 10 2009)
2 disc sets, 84 and 88 mins plus supplements, $40 and $36
Two of Walt Disney's most important animated features released in the same year in definitive high-definition digital restorations? How better could it get!? Well, not much, though ultimately Disney didn't exactly handle these releases with the reverence they deserve. Released earlier in the year, Pinocchio continued the Platinum Editions, though became only the second such title on the Blu-ray format before the line was abandoned in favor of the Diamond Editions, beginning with Snow White And The Seven Dwarfs. Equally as important as each other, Snow White for being the first, Pinocchio (the second) for being the apex, both releases were underwhelming affairs when it came to their supplements. Both sported fantastic transfers, revealing never before seen detail, even if the restoration jury is still out on whether these films should look like brand new digital movies or if an element of what the filmmakers' limitations were should be preserved, but Pinocchio's extras failed to include several elements that should have been present. Snow White's release was botched even worse, being announced as a Platinum initially before swapping itself for a Diamond and coming packaged in a number of so-called deluxe editions, none of which really felt that special or caringly put together. Even the $250 Collectors' set was vastly overpriced, and the lack of an anniversary year didn't lend the release any special feeling either. Snow White's supplements were also very odd, with a lot of impressive Blu-ray interaction and many debuts for pre-1937 Disney shorts in HD on hand, but none of it really relating to the making of the film, and the impressive Hyperion Studios tour was ultimately rather cumbersome to navigate. These reasons, among some others, are why this joint second entry didn't make the top spot, but as animated masterpieces the movies themselves remain knockouts and were each presented handsomely, especially on Blu-ray.
Read the full Snow White: Diamond Edition Animated View here!
Read the full Pinocchio: Platinum Edition Animated View here!
---
3. Up
– Monsters, Inc.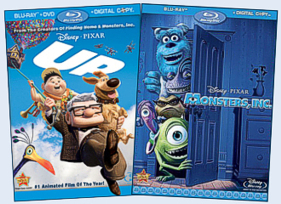 Walt Disney Home Entertainment (November 10 2009)
4 disc sets, 96 and 91 mins plus supplements, $46 and $41
Talk about a knockout double act! The biggest and most acclaimed animated film of the year, director Pete Docter's Up continued Pixar's winning streak. A multi-layered and very emotional outing for the Studio, it retained many of the elements that make Pixar's films so appealing while heading off into new directions and even breaking the Pixar bad guy barrier by including a man so hell-bent on his personal mission that he'd kill to achieve it. Up was beautiful to look at and wonderful to hear, with Michael Giacchino's whimsical music matching the movie beat for beat and a strong contender for best score of the year. Before Up, Docter had proven himself with Monsters, Inc., still one of Pixar's best, and a film that still feels brand new thanks to its spectacular animation, which was revisited on Blu-ray to tie in with the director's latest. On BD, both sets were surprisingly lacklustre affairs, with the standard features one would expect, but not much else than that given Pixar's previous track record for going all out on their supplements. Up on DVD especially lost a good deal of material that could have been featured on a second disc, and even though the BD included two hi-def discs, the second platter wasn't exactly filled to the brim with exciting and all-encompassing content, a glaring omission being anything on the excellent vocal talents. Monsters, Inc.'s simply amazing image transfer gets that title into our countdown, providing what could be the best animation presentation on Blu-ray yet, though again the extras were disappointing. These were basically the original DVD's supplements carried over, the large majority of them still only in standard definition, and even then not as well designed or authored as before, leaving some material out and other, now redundant, material in. So, another pair of uninspired bonus packages means a joint entry here, but together there's little that can beat these two movies themselves.
Read the full Up Animated View here!
Read the full Monsters, Inc. Animated View here!
---
4. Coraline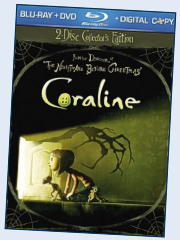 Universal Studios Home Entertainment (October 21, April 15 2008)
2 discs, 101 mins plus supplements, $40
It's amazing to realise that The Nightmare Before Christmas is now approaching its 20th birthday and yet the stop-motion animation feature has really only recently started to breath again, much of it down to Tim Burton and director Henry Selick. The pair split after Nightmare and its follow-up James And The Giant Peach, with Selick providing effects for the hilarious and underrated Monkeybone and Wes Anderson's The Life Aquatic while Burton returned to the feature format for Corpse Bride. After toying with CGI and an offer to direct Fantastic Mr Fox, Selick grabbed the chance to create his own world once again for Coraline, very much a tale in the mould of other little girls lost in strange lands, such as Alice In Wonderland, Peter Pan or The Wonderful Wizard Of Oz. With its typical outsider character as its central protagonist, comparisons to Burton's productions were inevitable, even if anyone who had followed Selick's career pre-Nightmare would have picked up on the same sensibilities that were probably the reason he was offered Burton's 1993 feature in the first place. Similarities to Nightmare were apparent, but this was no musical and more a dark trip into one little girl's imagination which by turns was a delight and truly scary for adults and children. It was also great to see Universal finally jumping into the animated feature market after some on and off attempts previously. The success of An American Tail obviously gave them a taste of what could be achieved, but a slew of underperforming Amblimation features didn't build on the brand and it wasn't until 3D raised its head again that the Studio got interested in theatrical animation. Even though their big hope The Tale Of Despereaux failed, going the independent route with their Focus Features label was a good bet, with Coraline bringing in very respectable numbers and a similar success in the Burton produced 9. Universal also surprised us with the Blu-ray Disc release, offering Coraline in both 2D and 3D flavors along with a number of welcome supplements and a DVD bundled in. It wasn't jam-packed but respectable nonetheless, although it was a shame they felt the need to double dip so quickly with a deluxe (though poorly packaged) set in early December, just as everyone had bought their combo packs.
Support Animated Views and buy Coraline from Amazon.com now!
---
5. Tom & Jerry: The Chuck Jones Collection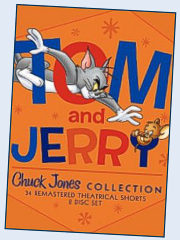 Warner Home Entertainment (June 23 2009)
2 discs, 216 mins plus supplements, $27
Classic animated shorts animation was almost a no-show this year among all the 3D blockbusters and repackagings of a multitude of 1980s television animation. The Looney Tunes Golden Collection had finished its run, and though there was much to enjoy in this years Walt Disney Treasures release of the Zorro series, the wave was limited to just those sets. It therefore fell to one of the other masters, Chuck Jones, to carry the banner, with an often overlooked series of animated cartoons that usually get a swift dismissal. Created by the legendary team of Hanna-Barbera in the golden age of animation, Tom & Jerry racked up well over 100 credits with that duo and an impressive seven Oscar nominations before MGM closed its theatrical cartoon division indenting to rent out older shorts again. Theater managers balked at paying for old product and MGM contracted European animator Gene Dietch to create some cheap and nasty cartoons that quickly vanished. More quality was obviously needed and in stepped Chuck, redesigning the characters to reflect more of the Coyote and Road-Runner personalities that Jones had had so much success with. Released in the 1960s, the 34 shorts had been previously assembled in a now 20-year old LaserDisc set reflecting their original "open matte" production, but this new collection went one better, correctly matting the prints to present them as they would have been intended to be seen theatrically in widescreen. Showing a commitment to classic animation is Warner Bros, who also put out the definitive edition of the Fleischer/Famous Studios Superman shorts, which would have made the top ten had they not basically been a collection of previously available content. Where that set faltered was with some disappointing supplements, but there's no room for complaint here, with nearly an hour of new extras that focused on Chuck's childhood and Tom & Jerry days making up for any shortcomings in the sometimes grainy transfers. The completists among us would spring for a disc of the Dietch cartoons, but perhaps there's a Warner Archive release in the waiting there. In the meantime, Chuck's cat and mouse collection is sheer bliss.
Read the full Tom & Jerry: The Chuck Jones Collection Animated View here!
---
6. Wallace & Gromit: The Complete Collection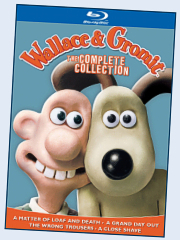 Lionsgate Home Entertainment (September 22 2009)
Single-disc, 100 mins plus supplements, $30
Released previously in various incarnations, Nick Park's initial three Wallace & Gromit adventures saw DVD issues from Fox Entertainment, Warner Bros/BBC and even DreamWorks, when the Aardman studio teamed with them for the release of the feature-length Curse Of The Were-Rabbit. It was the debut of a new fourth featurette, A Matter Of Loaf And Death last Christmas, that gave good reason to compile Aardman's phenomenally successful duo's adventures together again, this time adding the appeal of HD to the mix. Although the four films (A Grand Day Out, The Wrong Trousers, A Close Shave and Loaf And Death) were also issued as a DVD set at the same time, the single Blu-ray Disc is the way to go, packing everything onto one platter along with an almost complete archive of Nick Park supplements including peeks behind the scenes of the latter three films and all ten of the Cracking Contraptions shorts. The films themselves reveal new details unnoticeable on the standard definition versions, the stand-out visually being the brand-new Loaf And Death. The duo's previous adventure, A Close Shave also comes close, though the disc's only bad mark against it comes with a cropped widescreen presentation that may or may not be director Park's intention (the regular DVD apparently retains the full-frame aspect). But for the amount of entertainment on offer, along with the archive feel of gathering as many supplements as possible, this Complete Collection is as good a 20th anniversary celebration of these two terrifically fun characters as one of Wallace's more successful inventions!
Read the full Wallace & Gromit: The Complete Collection Animated View here!
---
7. Sesame Street: 40 Years Of Sunny Days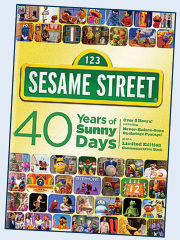 Sesame Workshop/Genius Products (November 10 2009)
2-disc set, 270 mins plus supplements, $30
A very late entry into our list, knocking Max Fleischer's Superman into our Honorary Mentions below. Superman was one of the only other nods to classic animated shorts to come along this year, but at the end of the day, even though having these cartoons collected in an "official" edition was welcomed at last, the shorts had been widely available before and, indeed, were carried over from Warners' own Ultimate Superman Collection released previously. So, taking the spot hands down from the Man Of Steel are the Puppets Of Felt, in a wonderful two-disc set that celebrates, as the title says, 40 years of sunny days down on Sesame Street. Launched in the late 1960s as a groundbreaking children's series that mixed entertainment and educational value like nothing before, a major component of its instant success was the inclusion of Jim Henson's Muppet troupe, long before Land Of Gorch or The Muppet Show made them a household name. Sesame Street's producers quickly realized that audience interest waned whenever The Muppets were not on screen and so they were utilized for almost every segment, from hilarious Kermit The Frog news reports, to interaction with the human population of the street, making stars of Oscar The Grouch and, of course, Big Bird. This set, bundled with a DVD-sized 24-page hardcover mini-book that looks behind the scenes, is an essential addition for Muppet fans, and more a look at the show's classic scenes and its production (with over an hour of backstage footage) than a babysitter for the kids. Covering a handful of pivotal moments from each year of the program, you'll hear Kermit singing a prototype Bein' Green, catch various well known characters (including an animated Batman and Robin) advising us on safety aspects, and hear again some of those songs that stuck with us all through childhood and will be instantly recognizable again. In our top ten, one of these discs just isn't the same, and that one is this excellent retrospective collection, a real must.
Support Animated Views and buy Sesame Street: 40 Years Of Sunny Days from Amazon.com now!
---
8. Pete's Dragon: High Flying Edition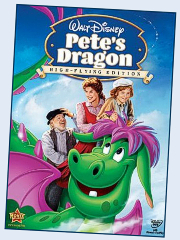 Walt Disney Home Entertainment (August 18 2009)
Single disc, 129 mins plus supplements, $30
What's this? A Disney reissue that actually adds to the experience!? Far from the ultra-disappointing repeats for Mary Poppins (a 45th Anniversary Edition that seemed more interested in promoting the Broadway stage musical than Walt's original movie, dropping various supplements from the much better 40th Anniversary Edition) and Bedknobs And Broomsticks (a missed opportunity which could have added so much but actually took away some material and left little), Pete's Dragon was a genuine delight. An often overlooked film that has been rarely seen in its full two-hours plus version since the Studio removed almost half an hour after its theatrical release, Pete's Dragon is actually a lot of good natured fun and, though the full-length edition can seem self indulgent at times in the extended song sequences, it's a fuller, more rounded picture. This High Flying Edition (despite the dopey name) was a nice surprise, replacing the Man, Monsters And Mysteries featurette from the film's previous release with an all-new look back at Disney's special effects unit from the Alice Comedies through to comparisons of dragons in this film and Enchanted. Adding to the fun are a number of demo recordings for alternate and deleted songs in the movie as well as perhaps the highlight: a four-track pop record released as promotion that feature some serious and surreal takes on some of the film's songs. A fine if not spectacular print and the inclusion of some galleries and – a rarity nowadays – some theatrical trailers make this a surprisingly good edition of a film that many may well find surprisingly good themselves if they take the chance to revisit or discover it for the first time.
Read the full Pete's Dragon: High Flying Edition Animated View here!
---
9. Transformers: The Complete Series
– X-Men: The Animated Series Volumes 1-4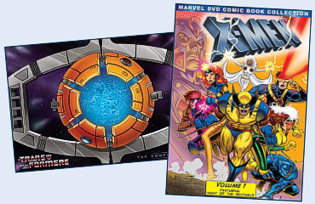 Shout Factory/Buena Vista (October 20, September 15, April 28 2008)
16 and 4×2 disc sets, 2220 and 322-391 mins plus supplements, $170 and $24 each
There was more television animation than initially met the eye this year on DVD, with strong shows for boys own action especially. Warners put in good shows with repackagings of various Complete Series following the success of Batman: The Animated Series last year, releasing the 1988 Ruby-Spears Superman for the first time and compiling the previously released superhero series Superman: The Animated Series and Justice League in complete sets. Biggest of them all, however, was a revisit to the 1980s for Transformers: Complete, a massive xx-disc collection that was expensive but worth it for the show's legions of fans. In addition to the restored episodes featured on two 25th Anniversary collections released individually, the Complete set added hours of exclusive bonus content including new interviews and featurettes, in deluxe packaging that might have tempted even casual fans. The mini-waves of X-Men: The Animated Series, two pairs of volumes released at each of the summer, didn't offer as many supplements (in fact, over four volumes they didn't offer any supplements) but packed in a lot of content including many fan-favorite story arcs. Latching onto the release of the Wolverine movie may have been the reason Disney felt the need to put these volumes out, but fans lapped them up. What they lacked in extras they made up for in the quality of the show and its writing, a landmark show for Marvel which it was nice to see their new owners supporting (after all, Disney doesn't always follow through, with volumes of their other shows still waiting in the wings). With over 23 hours worth of episodes released in a single year, there's still more to come, with the remainder of the series set for two further volumes in 2010.
Support Animated Views and buy Transformers: The Complete Series from Amazon.com now!
Read the full X-Men: Animated Animated Views here: Volume 1, Volume 2, Volume 3, Volume 4
---
10. Tinker Bell And The Lost Treasure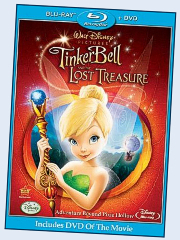 Walt Disney Home Entertainment (October 27 2009)
2 discs, 76 mins plus supplements, $40
Being that direct-to-video movies are made especially for the DVD – and now Blu-ray – format, it's always a relief to be able to recommend at least one title that has been created directly for home viewing, and though the DC Universe premieres of Wonder Woman and Green Lantern were frontrunners, it's Disney's Tinker Bell that grabs the final slot. The franchise got off to a rocky start when new Disney chief John Lasseter (he liked to come in and shake things up, didn't he?) decreed that the first film's original direction didn't serve the character as well as it should, and shut down production. After a reorganization of the DisneyToon Studios staff and several changes in Tink's vocalist (including, at one point, young actress Brittany Murphy whom we learned about the tragic loss of as we went to print), Tinker Bell was back on track. The result, while it didn't exactly threaten Pixar's domination in the CG field or even Disney's still fledgling theatrical efforts, was a sturdy, much better than expected outing and set up the world of Pixie Hollow convincingly enough to warrant an ongoing series. With Tinker Bell And The Lost Treasure, Peter Pan's pixie pal becomes a franchise in her own right, generating impressive animation accompanying a tale that expanded upon what had come before to introduce new elements. Even though Disney's playing the film in its LA theater was more about the publicity and an outside qualifier for the Oscars, the visuals stood up to the scrutiny, all the more so on Blu-ray, which came loaded with a theatrical quality soundtrack and bundled in the DVD edition as an extra, both formats including a decent smattering of over half an hour of bonus content. As an ongoing video franchise that already looks to be extended to at least five more outings, on the strength of this second entry, Tinker Bell looks like she has the wings to keep flying in the future.
Read the full Tinker Bell And The Lost Treasure Animated View here!
---
---
---
Honorary Mentions
---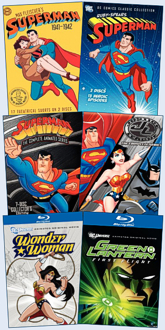 DC Comics Animation
Practically all of the above titles were in and out of the Top Ten list at some point, and it's been a terrific year for fans of DC Comics' animation, which continues to trounce Marvel in these stakes, and for Superman in particular. The beginning of the year saw a definitive release from Warners for the golden age adventures of the Fleischer/Famous Studios' action-packed and highly influential Superman shorts, and towards the end of the year the big boy scout turned up again in the release of the rarely seen but highly entertaining Ruby-Spears Superman television series from 1988.
In addition, the 1990s TV take, Superman: The Complete Animated Series compiled all three seasons of the show together, leading nicely into its semi-follow up, Justice League, another complete series package. Superman also turned up in the current DC Animated Universe (in the Public Enemies misfire, but you can't win them all), but our picks in that series were the animated origin movie for Wonder Woman from right at the start of the year, and the similar treatment for Green Lantern a few months later.
Perhaps the biggest superhero event of the year was the release of Zack Snyder's Watchmen, the epic screen translation of Alan Moore and Dave Gibbons' comic classic that got a heap of support from Warners, from the spin-off Watchmen: Motion Comic and Tales Of The Black Freighter, to a Director's Cut and Ultimate Edition that packed everything in!
---
Additional Complete Season Sets
These couldn't really make any list in all seriousness since most of these were simple repackagings of previously released discs and content, though the mighty "Complete Series" sets continued to roll out all through 2009 in greater numbers than before. These were the perfect ways for fans to catch up – or start afresh – on such shows as Matt Groening's sci-fi comedy Futurama, the adult animated reality spoof Drawn Together and even the crazy paced antics of The Powerpuff Girls. Even better, the Transformers set mentioned in our Top Ten was accompanied by a similar collection for 80s throwback GI Joe, which proved to be much more successful than the dire live-action movie that came and went over the summer (see, you didn't even remember it, did you?).
For 1990s fans, Warners continued their mining of their Spielberg library for Tiny Toon Adventures Season One Volume Two and the completion of Freakazoid! Season Two (though we're still waiting for more Tiny Toons and those final few Animaniacs). A surprise was the announcement of The Jetsons: Season Two Volume One, which fans had been waiting almost a decade for! Again, there's no word on a follow up, but although the extras were thin on the release, there are some big fans out there who waited patiently and would lap up a second helping. Warners' Hanna-Barbera offerings did manage to finish up the A Pup Named Scooby-Doo series on DVD, and were also good to Star Wars: The Clone Wars, an epic franchise commercial that seems to have gotten praise from fans even if one can't quite emotionally invest in a long-running series where the outcomes are already known, though they looked great on Blu-ray.
---
---
---
Classic Animation, Movies And More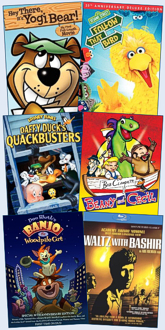 Although it's been another year full of releases throughout the months, many of them have been reissues or simply the disc debuts of recent blockbusters. Among the best of them, we were surprised and delighted by announcement of Hey There, It's Yogi Bear! by Warners, and in a very clean widescreen transfer to boot! Following in its footsteps was a new deluxe edition – again upgraded to widescreen – for the Sesame Street feature Follow That Bird and, proving their commitment to animation, 2009 also saw decent releases for Daffy Duck's Quackbusters and the first animated title in the excellent Warner Archive Collection (almost worthy of a category of its own!), Yogi's First Christmas too.
From other distributors, Kino's appropriately titled The Astonishing Work Of Tezuka Osamu presented a generous helping of the Japanese animation pioneer's experimental short films, and Hen's Tooth's release of Beany And Cecil Volume 2 finally gave a home to a title that had been waiting the better part of a decade to make it to disc. There was more for fans of Walter Lantz' Woody Woodpecker And Friends Volume 2, which included a lot of excellent bonus cartoons even if our title star was past his prime, while Don Bluth's first featurette, the absolutely charming Banjo The Woodpile Cat also made it to disc after a few years in the wilderness, in an excellent edition that came packed with supplements created by the filmmakers themselves.
There was more nostalgia in the Walt Disney Treasures releases of Zorro: The Complete First and Second Seasons, exceptionally made television programs that totally stand up for kids (and adults!) today, while bringing us up to date, Ghost In The Shell 2.0 gave the film a facelift, the amazing documentary-drama Waltz With Bashir was treated to appropriate treatment on Blu-ray, as was the more commercially minded (to say the least!) Monsters Vs. Aliens from the DreamWorks factory.
---
---
---
The Un-Mentionables: Worst Of 2009
As with 2008, there were a lot of very good releases over the year even if not all of them blew us away. Part of this is down to a familiarity with the DVD format: the kids of extras and frills that were once cool have now become the norm and much missed when not included on so-called deluxe releases. Another reason is the feeling of scraping the barrels: much of the big stuff that we all wanted has come along by now, but instead of continuing to mine the archives for what we really really want, the Studios feel content in now serving up boxed set repackagings and fairly bog-standard Blu-ray reissues (such as the uninspired Akira) which present the movies more clearly but often leave the supplements better realised on their original DVDs. Other disappointments (rather than failures) were the lack of any Looney Tunes Golden Collections and animation in the Walt Disney Treasures, but among all the "nice to have" updates and meagre new releases, there were some definite stinkers that we advise you to avoid at all costs. And here they are:
---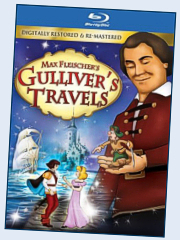 Topping our naughty list, and absolutely by far the most repugnant disc release I think we've ever come across, there are no surprises for guessing it's Gulliver's Travels: Blu-ray Edition. There are so many words that could describe this release but in the end we can only say it was simply BAD and wrong in every way, from the cropping and stretching of the 1.33 Academy image to the 1.78 widescreen ratio to the wiped out "restoration" and lame excuse for stereo sound.
This was remastering exactly as it should never be done – on Blu-ray no less! – and the worst part was that the distributors and those responsible for this atrocity flat out lied about actually presenting "more" of the screen image than before. This is not the case, as our review clearly shows in a comparison with the correctly framed 60th Anniversary Edition previously released on DVD. A total text-book case on how not to present classic animation in HD, I would think those behind this terrible disc should be ashamed of themselves. However, they don't seem to be: up next, a compilation of the Fleischer Superman shorts based on a memo that Max Fleischer actually never wrote (more bending of the truth). Superman has already been done right, by Warners, and let's hope they get to this 1939 classic as well; though not an always successful film, even Gulliver's Travels (the second full-length animated picture) deserves more than this. Ug-ly!
---

Of the rest, it's actually not too hard to think of anything as awful as that mess, with the total waste of time Bedtime Stories coming up close. Adam Sandler's attempt to break into the Disney family market, this was a movie that presented itself in posters and trailers as something it truly wasn't: a fun family picture in which stories come to life and threaten to crash into our real world. That totally wasn't the case, with less than ten minutes given over to the storytelling aspect and nearly two hours of drabness that viewers will never get back. Even worse was the disc treatment, which tried and tried to make this simply bad film look like fun, but couldn't. It's a real shame Disney's Dick Cook left the company earlier this year, but it's overpaid, under talented stars like Sandler who make films like Bedtime Stories that should really take the blame.
This is also probably as good a time as any to slip in a mention for Fox's Night At The Museum 2: we knew it wasn't a good idea from the initial announcement and the result proved to be a real disappointment, a basic retread of the enchanting first film but with absolutely none of its magic or invention, just like a poor out of date exhibit, in fact!
Disney's also at the top of the pile for churning out a series of pointless reissues that basically find a way of using up unsold stock. Slipping on a new slipcase or sporting new cover art (and some didn't even do this) we saw a slew of Winnie The Pooh returns back on shelves, as well as the painfully dreadful Disney Princess Enchanted Tales: Follow Your Dreams, which nobody wanted the first time around!
Mary Poppins and Bedknobs And Broomsticks actually dropped content from their previously not too shabby editions, and a curious new line, the Disney Animation Collection proved to be confusing? Just who were these titles aimed at? The fancy slipcovered artwork and classy lithographs suggested they were collector bound, but the lack of restored prints from previous Treasures releases and the cropping of some wider ratio content meant those collectors were frustrated.
As for Cars on BD, this was a pretty shameless attempt to shift old stock, mimicking the modern combo packs by including the previous DVD and BD editions of the movie in a new pack with no other additions other than two die-case Cars models. A Muppets Christmas: Letters To Santa was not so much out and out unmentionable as being more disappointing in itself and on disc, and even Bolt, an otherwise decent attempt by the Studio, was let down by a sincere lack of production footage or commentary.
---

The Mouse House isn't the only studio to disappoint. Naturally with the sheer amount that companies like Disney and Warner Bros. release, they're going to have as high amount of bad apples as good ones, though Warners' strike rate is usually pretty healthy. Not so much so for the second round of Saturday Morning Cartoons 1960s Volume 2 and 1970s Volume 2, which seem to be a Studio sampler attempt of sorts instead of providing full season sets. Maybe this is a new way of consumer feedback, getting your audience to buy your samples and find which one might have the biggest potential for a full sale? Whatever the thinking, the double-dipping between shows and episodes from previous other animation releases that big fans will already own saw a sharp decline in the fun aspect of these discs, which Warners seems to have acknowledge by not announcing any more.
The Studio also has the finger pointed at them for over-milking the Peanuts franchise, releasing individual titles on a trickle basis only for a grouped box set or alternative compilation, like the 1970s Collection to come and offer exclusives alongside specials those collecting the series will already have. The same argument can be levelled at their handling of The Smurfs on DVD in individual volumes as opposed to season sets. While not on the top of everyone's list, we've all seen what can happen when initial sales are not fulfilled, leaving fans stranded in the midst of collecting their favorite series, and the trend here sets a worrying precedent.
---
---
Best Non-Animated DVD Of The Year
As Blu-ray continues to spread its high-definition wings and account for an ever increasing slice of the disc sales pie, studios are naturally keener than ever to bring their catalog titles to the format in an effort to entice audiences to buy them all over again. Different studios have different strategies, with the likes of Universal just pumping out very basic discs and the likes of Disney or Warner Bros. presenting deluxe editions or combo packs that really make a meal out of an older title. Of course, where BD scores high is in new to disc programming too, with the majority of films being made nowadays already looking at the eventual Blu-ray release even ahead of their theatrical bow. Mostly, however, BD offers a chance for us to fall in love with our favorite movies and TV shows all over again, and that's reflected in these choices from the past year…
---
---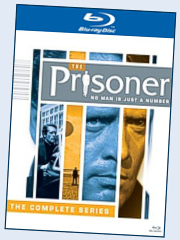 Ben's Pick: The Prisoner: The Complete Series (5-disc Blu-ray)
I can't say that I've picked up many of the new releases on Blu-ray this year, as it hasn't been a spectacular one for live-action in general (and perhaps as good a reason as any as to why the Academy has expanded the number of entries for Best Picture this year). If I was pressed to select anything on Blu-ray from this year alone I'd mention titles like Gran Torino, Clint Eastwood's excellent final screen appearance, or the cracking fun and excitement of a rejuvenated USS Enterprise in JJ Abrams reinvention of the Star Trek franchise. A good pick, actually, might have been the six-film Star Trek: The Original Motion Pictures Collection, if not for a few caveats, and other titles I was pleased to see arrive in HD this year were King Kong (fairly extras free, but understandable given the previous DVD releases and this was economically priced in comparison) and the extras-packed Sin City, which carried much (and more) over from the DVD set.
Of the bigger collections, Disney's Snow White Collector's Set was hideously overpriced at $250 and lacked real magic compared to Warners' big box issues of The Wizard Of Oz and Gone With The Wind, both packed with disc content and substantial collectibles for little more than around $50 a pop. Although I praise the set just as much, I'm so glad Rand has ventured forth with Oz as his ultimate choice below, because that leaves me free to skid off the beaten track and go for Patrick McGoohan's iconic 1960s television adventure thriller The Prisoner. I wouldn't want to spoil anything for those who have never had the delight and intrigue of watching this highly influential series or trying to work out what it all means, but in a small attempt to broaden some minds, I whole heartedly recommend The Prisoner. With its feature production values and pristine transfer to Blu-ray, this is more a 13-hour movie than a television program, and the many supplements are topped by a brand-new 90 minute documentary on its making. The packaging may be a simple thick BD case, but what's inside will blow you away, one way or another!
---
---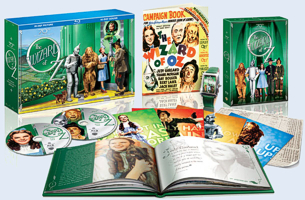 Rand's Pick: The Wizard Of Oz: 70th Anniversary Edition BD
In terms of the other studios' offerings, I loved finally seeing Universal's complete series set for Battlestar Galactica on Blu-ray, but once again they proved themselves to be clueless when it comes to packaging – clunky design, non-standard sleeves for the discs, and no episode guides or even episode listings!!! Didn't they fire the dummies who botched the ridiculous Schindler's List fibreglass package years ago?! Sigh. So, when it comes to great sci-fi, the studio that really made me smile was Paramount, who brought Star Trek: The Original Series out on Blu-ray in a package that few could take issue with. The hi-def transfers were breathtaking, with the option of watching vintage or new CGI effects shots, and either 5.1 or original mono soundtracks. Add in plentiful bonus material, and I found that my third time buying this series should definitely be my last.
For me, the standout live-action release this year was The Wizard Of Oz. The Blu-ray set in particular loaded on the extras, in a package even more impressive than what Blade Runner got a few years ago. Aside from the film itself getting a staggeringly great restoration, Warners piled on hours of featurettes, commentary, audio programs, deleted scenes, trailers, and more – and that was just on the first disc! The second housed several silent Oz films, a vintage animated version and a biopic on author L Frank Baum. OK, much of that material was on disc before, but then the Blu-ray set also held the six-hour documentary When The Lion Roars about MGM, and another disc with a digital copy. Plus the packaging was one of the most impressive I've seen: a "cigar box" that also threw in a hardcover book, a replica campaign book, a budget sheet, and even an Oz watch! Whew – this set is hard to beat! Of course, a few weeks later, Warners came out with their Gone With The Wind set that came close to the same standard. As usual, Warner Home Video sets the pace when it comes to catalog films on Blu-ray and DVD, and their North By Northwest Blu-ray was pretty slick, too!
---
---
---
2009 On The Big Screen: The Theatrical Toon Review
2009 has been a banner year for animation in movie theaters, and we've seen almost every medium under the sun utilized for this year's crop of big screen hitters. From the big budget CGI antics of the Ice Age crowd and the adventures of a old man flying away in his house, to the more stylised but still impressive efforts of Planet 51 and Cloudy With A Chance Of Meatballs, there was also room for the return of stop-motion (Coraline, Fantastic Mr Fox), an improvement of sorts to the motion-capture process in A Christmas Carol, stories to suit all ages (from Space Chimps to the post-apocalyptic 9) and even the triumphant return of traditional hand-drawn animation to the screen with Disney's The Princess And The Frog, touchingly premiering and restoring some old glory to the Studio just a few weeks before the sad passing of Roy E Disney himself. But which were the top three that impressed and entertained the most? As always, James is here with our top three:
---
1. Up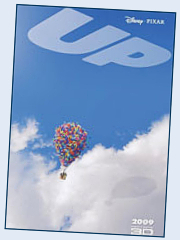 Disney/Pixar (May 29, 2009)
Directors: Pete Docter, Bob Peterson
For the third year in a row, Pixar gets the top spot as our best animated film of the year. Who else but Pixar could've sold a cartoon about a grumpy septuagenarian who ties balloons to his house and flies it to South America – and make the concept work this well? Despite being one of the funniest films ever from the Studio, it starts with ten of the most beautiful, powerful, and heart-breaking minutes in animated history. Add in gorgeous animation (from thousands of colorful balloons to exotic South American tepuis), an amazing score, and one of the most real and believable animated characters we've seen in a long time, and there's no doubt why Up has soared to the top of this list.