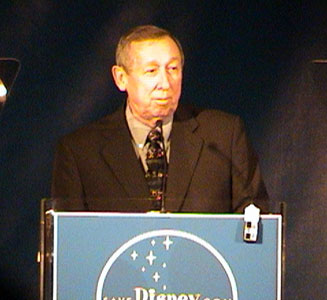 Yahoo, via the Associated Press, reports that Roy E. Disney, nephew of Walt Disney and former vice-chairman of the Walt Disney Company, has died at age 79 after a battle with stomach cancer.
UPDATE:
• Statement from the Walt Disney Company
• The Los Angeles Times has an in-depth obituary and a photo album
• Disney fan community D23 has posted a tribute
The son of Walt's brother Roy O. Disney, Roy E. began at his Uncle's company in the 1950s, co-producing the Oscar-nominated short film Mysteries Of The Deep (Best Live-Action Short Film, 1959) and becoming a film editor on his Uncle Walt's True Life Adventures series.
After his first resignation from Disney in 1984, Disney led an effort to remove the company's then-chairman Ron Miller from office, leading to the ascension of Michael Eisner to power.
After Eisner became chairman of Disney, Roy returned to serve as vice-chairman of the company and chairman of the company's animation division, during which time Disney experienced a renaissance in animated features, including a Best Picture Oscar nomination for Beauty And The Beast (1991) and the blockbuster success of 1994's The Lion King. Disney re-resigned from Disney in 2003 and, like he had done 10 years before with Ron Miller, led a successful effort with the Save Disney campaign to remove Michael Eisner from office.
In recent years, Roy became something of a figurehead for the Disney Studio, the only member of the family to still be involved with its operation, and spearheaded a number of initiatives that recognized the company's legacy, including the launch of the Walt Disney Treasures DVD line and the restoration of the True Life Adventures, the continuation of Fantasia and plans for more music films, which resulted in another Oscar nomination, for the completion of the aborted 1946 short Destino (Best Animated Short Film, 2003).
Disney was also instrumental in suggesting Walt's first animated creation, Oswald The Lucky Rabbit, be brought back to the Studio, and in setting up the deal that would bring the Pixar company under the Disney corporation's umbrella, leading to a resurgence of positive audience reaction to the Studio's films and the return of traditional hand-drawn animation, with The Princess And The Frog, that he always believed was the cornerstone of the company.
At the time of his death, Roy Disney was serving The Walt Disney Company as director emeritus and consultant. He is survived by his wife, Leslie, four children from his marriage to Patricia Dailey Disney, and sixteen grandchildren.