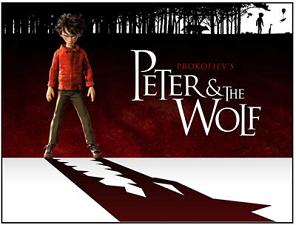 Peter And The Wolf is certainly one of the most inspiring pieces of our times. Written in 1936 by Russian composer Sergei Prokofiev, it stands out not only as a musical masterpiece, with the smartest use of different instruments and themes to embody specific characters (leitmotive), but also, because of that very reason, as an archetypal film score. The strong association of narration and visual in Prokofiev's music could but inspire filmmakers of all kinds.
Hence its numerous uses, notably in cinema, such as in Walt Disney's version, envisioned first as a sequence in an intended sequel to Fantasia. And it's that same power of attraction that seduced the creators of the latest (and certainly most distinguished) version of the musical tale, a stunning stop-motion short movie, that was honored as the Best Animated Short Film by the Academy of Motion Picture Arts and Sciences at the 2008 Academy Awards. Combining stop-frame model animation using state-of-the-art digital technology, a new recording of Prokofiev's score by London's Philharmonic Orchestra conducted by Mark Stephenson, and a timeless tale, a magical world appears in which youngsters learn to find the strength and courage to overcome their fears.
Resonating with over five generations of children worldwide, the story of the irreverent Peter has been also been updated to include environmental themes while preserving the natural feel usually associated with the tale. Garnering prestigious accolades across the globe, the film was also honored with the Golden Rose at the Rose d'Or Light Entertainment Festival. Committed to her progressive vision of Peter's story, director Suzie Templeton took over 3,000 photographs and shot over 14 hours of video footage on a visit to Moscow in order to accurately recreate the Russian countryside, even being held for questioning as a suspected eco-terrorist by the KGB along the way! Shot on the largest animation set ever made, it included a forest set over 80 feet long containing 1,700 trees, each six feet high.
A five-year adventure for Suzie Templeton, producer Hugh Welchman and lead animator Adam Wyrwas, the resulting Peter & The Wolf proves it was really worth the time and effort spent on the project, as the three of them reveal to Animated News & Views' Jeremie Noyer on the occasion of film's release on DVD.
---
Suzie Templeton, director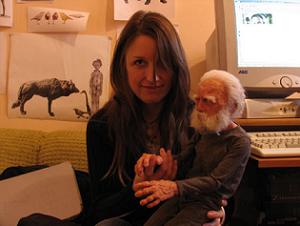 Animated Views: How did you get into animation, and more specifically into stop-motion?
Suzie Templeton: I actually didn't even start in animation until I was 29. I went to the University College for creative arts in Farnham, where I did my B.A., and to the Royal College of Art, where I got my M.A. in animation. I've always made things myself, furniture, clothes and models, and that's what led me to stop-motion.
AV: And what led you to directing?
ST: When I began in animation, I didn't know what my strengths and weaknesses were at all. It took me two or three years to find my own voice, writing my own stories, working all by myself. My first movie was called Stanley. It was a stop-motion film and it was a revelation. I enjoyed it so much and I realized that I had a talent for it. That was the beginning.
AV: How were you approached to direct Peter & the Wolf?
ST: When I graduated from the Royal College of Art, a few months later, I was approach by a young producer, Hugh Welchman, who had seen another film of mine called Dog, and who told me about a filmed version of Peter & the Wolf. At that time, I was doing some commercial work without a big success, so I said "ok". It wasn't supposed to be that huge project, rather something cheap and quick, for TV. But we realized we could do something extraordinary with it.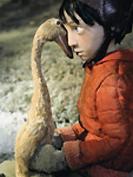 AV: The subject has already been widely treated in the past. What was your position regarding that?
ST: If it had been 100% up to me, I wouldn't have chosen. It was terrifying taking on such a well-known and well-loved piece. I would probably have written something from scratch. But at the same time, I just wanted to do it. I loved it as a child. At the time I was approached, I didn't know that it had been done by Disney and other filmmakers, and I was even more scared when I realized that it had been done so many times. I thought: what can I bring? I didn't want to just repeat. So, I watched all the versions I could find to make sure I didn't just repeat what they had done. Luckily, when I watched them, I realized that my own imagining was completely different.
AV: How did you deal with the original material of Peter & the Wolf by Prokofiev?
ST: I knew I wanted to stay faithful to the spirit of the piece. I feel connected to the music emotionally and I really wanted to use the emotion that is in the music. The Prokofiev story is quite limited. So, I knew that I really needed to flesh it out so that it would work for a half hour film. It was incredibly difficult to be honest because I wanted to stay true to Prokofiev's idea of the music, each character having their own instrument. That sort of dictated who was on screen. But at the same time, I wanted to create larger arcs. It actually took me two years to write our story. I also worked on the design, but it was mostly the writing that took time. For example, when they're outside playing in the forest, I thought the scene had a lot of potential. That's when I had the idea of the balloon to help the bird fly.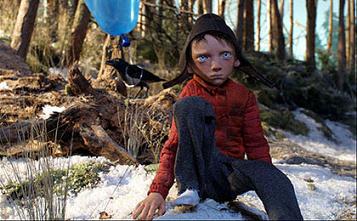 AV: What was the main challenge you faced as a director?
ST: It was learning to work with a big crew. As I said, I used to work on my own before. Working with a crew, you have to make all your decisions ahead of time and be very confident and sure about everything. As a director, you've got so many questions asked to you, about the feelings, about what there is in the background, about everything. And you have to know about all that ahead of time. It was an incredible experience, incredibly intense and difficult and challenging, and brilliant as well. For five years! I was very lucky to be able to work on a project of that scale!
AV: What was the process like production-wise, since it's a British-Polish film?
ST: I was very much shielded from the production issues, thankfully. I was working with two producers. One was Hugh Welchman, who was really in charge of the structuring of the production, and also Alan Kinheart, who was the line producer. Fortunately, I didn't have to deal with that part of the production. I could really focus on the creative work. I was able to choose the Polish studio really from the creative point of view. They have produced fantastic work and are a very well established animation studio that has been going for up to fifty years. Originally, we wanted to make our film in England, but we knew we couldn't make it there because it would have been too expensive. We thought to make it in Russia, obviously because of Prokofiev and because they have a great stop-motion industry, but that didn't work either. And then I came across the showreel of the Semafor studio. I saw their work and I knew they would be the right studio. I knew Adam Wyrwas was to be our lead animator, even if we hardy could talk to each other, and that they would really add to the film creatively.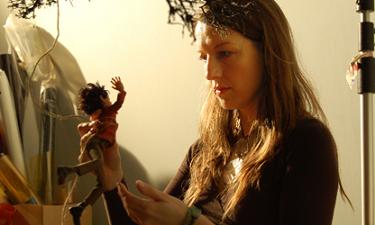 AV: Technically, how did you approach the visual aspect of the film?
ST: We wanted something as organic as possible, but because of the time pressure, we got to appeal to blue screen. The post-production team was absolutely fantastic. They made a beautiful work on that, with the clean-up and also with the effects like the balloon which is superb.
AV: When you look at today's stop-motion productions, one can see the blending of animation and visual effects, such as in the upcoming Coraline, for instance. How do you work out which technique is best?
ST: I was very lucky that Henry Selick showed me shoots from his film and I found it was amazing. I really look forward to seeing the whole film! Personally, my own ambitions are more organic. What I'm concerned to do is rougher in a way. What I want to do is set up a production where it might take a little bit longer but the crew is maybe smaller. Something not industry-like.
AV: Did your Oscar open new doors for you?
ST: It's funny you're asking that, because there's a well-known curse when you've won a major award. People think you're too busy and they don't even try to approach you. That does happen, but I also think other doors can open, especially in America, where people really respect that. And now the doors are open to big studios. The next step would be to do a feature film but I probably won't go into feature film immediately. Such a reward helps give you a little backup of confidence, too!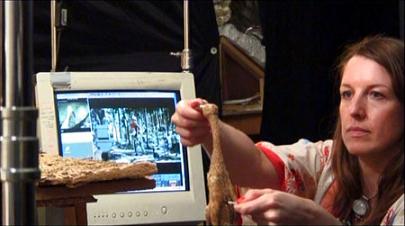 ---
Hugh Welchman, producer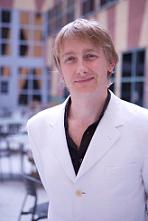 Animated Views: The Peter & the Wolf project has musical origins, coming from conductor Mark Stephenson. Can you tell me about your meeting with him and how the idea came to make a new version of the classic tale?
Hugh Welchman: From the very beginnings… I was getting a fair bit of publicity because in quick succession I was awarded a Scholarship from Sam Mendes to study scriptwriting, and my graduation film won a Cinefoundation prize at Cannes Film Festival, and Mark picked up on this, as he knew a relative of mine, and asked to be put in touch with me. He wanted to do a collaboration between orchestra and film. Having just graduated from film school I was interested in anything that I thought would pay me some money! I thought it would be fun to do something with live orchestras. We met and we brainstormed a load of ideas- a new music commission, existing films treated differently or re-cut, and at some point Mark mentioned Peter and the Wolf.
Now being generally a classic music philistine at the time (Prodigy and electronica was my staple) I didn't know much about most of the pieces we were discussing, but I did know Peter and the Wolf. Like many, I had listened to it endlessly as a kid. I was instantly interested in the idea, and went away and researched it – looking into what versions had been made, and if there were any that had really nailed it (in which case I wouldn't have been interested in doing it), and was amazed to find most of the versions that had been done were uninspired, even though three grand masters of the art of animation had done versions. At that point I thought we really had an opportunity. Also the more I researched Peter & the Wolf, the more I listened to the music, the more I really fell for it, and wanted to find rationales to make it.
AV: Mark Stephenson is well-known for his work on creating stronger bonds between music and cinema. He was very much involved in the production: from pre-production with the orchestra, post-production, and then accompanying the projection of the movie live. Can you tell me about those two aspects of the production with him? For you as a filmmaker, how was it to work so closely with a "music man"?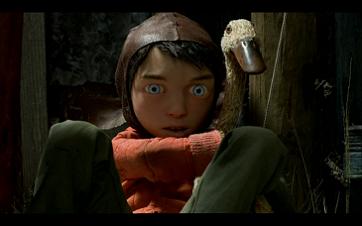 HW: From our side it was great to have Mark in their from the beginning. His passion for the project helped us to secure development funding, and he had lots of ideas about how we should record the music. He did a great job at conducting the recording, and conducted the World Premiere at the Royal Albert Hall by the seat of his pants due to us supplying the finished film on the day of the premiere, which he did brilliantly. The space between early pre-production and the recording and then between the recording and the premiere was really over to us as filmmakers. I think this was very frustrating for Mark, who is used to, as conductor, being in control. So I think from our side it was great, from his side it was frustrating. But hey, at the end of the day (even if after three years we only gave him a few hours with the finished film – sorry Mark!) Mark got to be the guy who brought the house down in the Royal Albert Hall. I am sure it was worth the wait and frustration.
AV: How did you turn to Suzie Templeton and stop motion?
HW: I had produced animations at film school, but never stop motion. I saw Suzie's film Dog and was blown away. It was the first, and there have been only a couple of times since, when I saw something and thought I absolutely have to work with that person. I thought that her dark vision and precision story telling combined with Peter & the Wolf would be amazing.
AV: From your producer's point of view, what were the challenges of then bringing the production together?
HW: Persuading people that the world needed another Peter & the Wolf film, and it needed to be our version. Learning about stop motion animation process. Working with hyper-real finishes to the set and puppets, which moved all the time (not great for stop motion!)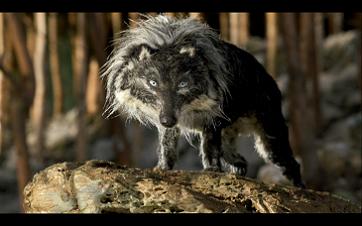 AV: How did you come to work with Semafor?
HW: When we got some money together and were looking to make the film, Britain was out of the question. Aardman were in production on Wallace and Gromit, Corpse Bride was still on, Cosgrove were doing Rupert the Bear, Fireman Sam was in production in Sirolo – there were no animators in UK available, so we had to look abroad. We visited seven studios in seven countries, and Semafor were the ones that felt right. We liked them and they liked us.
AV: Did your approach to Peter & the Wolf evolve throughout the years of its making?
HW: Me and Suzie started out being pretty naive on what goes into making 30 minutes of top quality stop motion animation. I wanted it to be the definitive Peter & the Wolf, I wanted it to have depth of field that I was used to in live action, and Suzie had very specific ideas about puppet design, about camera moves, and basically the combination of what we wanted led to it becoming the size it did. However our ambition was always out of sync with our resources, and what financiers and distributors were prepared to entrust us with. But hopefully with the Oscar that won't be the case in the future. Or only partly the case. I think as a filmmaker your ambition and vision should run slightly ahead of what is possible in the real world, that is healthy, just not such a discrepancy that you have a breakdown.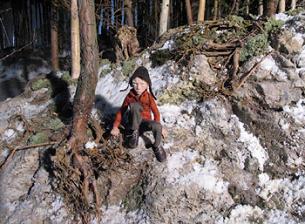 AV: You're a well-know visual effects producer (La Mome). How was it to work with a director like Suzie Templeton who is rather interested in organic, natural animation?
HW: La Mome came three years after I started working with Suzie. I would say that Suzie is very, very structured and precise, and works enormously hard, and that is what delivers that organic, natural look. I find all film making is quite similar – you start out imaging a load of things, and end up having to break it down into minute sequential tasks. Stop Motion takes that to its logical extreme. After working with live action directors at film school, I found animation directors very liberating: their knowledge of montage, mis-en-scene, and shot construction are better, and there is less time wasted on ego issues, and more time dedicated to film making.
AV: What was the visual influence of the film?
HW: That was really influenced by modern day Russia. Suzie and the co-writer Marianela Maldonado traveled to Russia, and took 14 hours of video footage, 3,000 stills, and got arrested by the FSB, and all sorts. The production designer Jane Morton totally bought into this, and really blew our minds in running with this look. And Semafor bought into this passionately and really threw themselves into its realization. Marek Skrobeci, who was also production designer, lived most of his life in communist times and brought so much to it.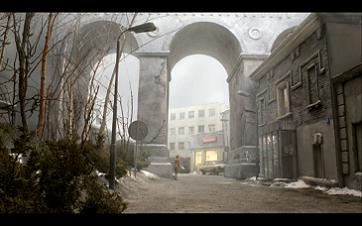 AV: How did you come to the idea of transposing the tale to another time?
HW: The original was actually written at the height of Stalinist power in 1936. We wanted it to be relevant to people today, but we wanted to pay homage to its Russian roots. It was a decision right at the beginning and I can't remember how it came about, it was so early in the process it is a mists of time decision – Suzie would probably remember whose idea was it.
AV: What was your involvement in the production of the DVD, and what special features did you want to share through that medium?
HW: BreakThru produced all of the extras. We just wanted to convey the passion and work that went into making the film. Hope this comes across.
AV: To you, what made that production special?
HW: This was a huge adventure, with a lot of highs and a lot of lows, there are so many special memories, but the main thing that makes it special is the fact that I still love watching the film, and still get new things out of it, even though I have spent five years working with it. I am still working with it, and have watched it hundreds of times since we finished the film. The fact I can be proud of it.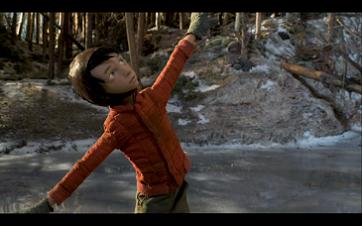 ---
Adam Wyrwas, lead animator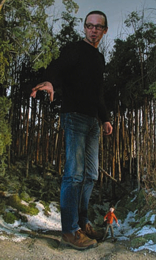 Animated Views: How would you explain your role as a Lead Animator on Peter & the Wolf?
Adam Wyrwas: First of all as a lead animator I had to find the ways of movement for the characters in their different emotional states. It was more about sadness, depression or pride than happiness which resulted from the story. I animated myself on the bigger part of the film. I wanted very much to do everything on my own even though I knew it wouldn't be possible (probably that's because I didn't trust the other animators!). Fortunately with time I managed find more trust in at least some of the co-animators and the work became a little bit less stressful for me. I was helping every single animator with the rigging of their dolls. Assessing shots with Suzie was another quite stressful job. Unfortunately I didn't always give my approval to the final decision, as in my opinion not all of the shots are perfect enough to be in the final film.
AV: How did you work with your team?
AW: We didn't tend to have any deliberations before the shooting day started. Simply before every single shot I was trying to give as many advices and hints as I could to the animators, I was helping with the set preparations and then running on my own set and working on my own shots. Every single new animator had to watch first already made shots (mainly mine) as a reference and we were discussing the rest on the set.
AV: Were you involved in the making of the models?
AW: I was involved in it from the beginning, but rather construction-wise than the models themselves. Just couple of times Suzie asked me for my opinion and it was rather regarding proportions, sizes or just way of making the clothes and putting them onto the dolls so they worked well when animated. I didn't have any influence on the sculptures or models; this part was fully dominated by Suzie, which is quite understandable.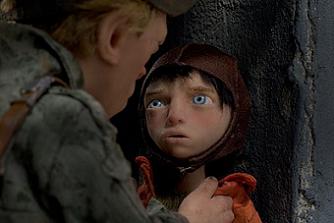 AV: Did you work on the music to pace your animation?
AW: I worked many times synchronously with the music when animating the characters. This time I had more freedom with arranging the shot though. Obviously synchronicity with the music was a must but in this case the most difficult was to work with the time restrictions. I had to put the whole interpretation of the scene/movement into very strictly stated period of time. Obviously synchronizing the animation in the key moments of the music is also an important characteristic of the animation in Peter & the Wolf there was no place for mistakes, not all of the shots required this kind of synchronization but majority of them.
AV: How did you bring the unique visual poetry the film has into your animation?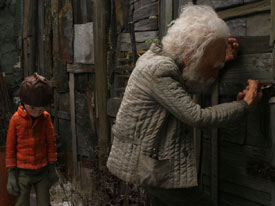 AW: The Prokofiev music itself helped me a lot, but also the look of the characters and the story are the most stimulating factors. However the ability of watching and very special sensibilities are also very important, if not even the most important.
AV: As the lead animator of Peter & the Wolf, what were the main challenges of that production?
AW: The biggest challenge was not to let into the final version of the film any bad shots, even though we had an incredibly tense schedule. It happened that we simply didn't have time to repeat the unsuccessful shots, which made me come a couple of times to the studio on a Sunday and work on the shots made by the other animators. I am still not satisfied with everything. It is a very strange feeling when you just can't deal with everything yourself.
AV: How did you deal with the effects crew? For instance, how did you work on the balloon?
AW: It was quite difficult to make such a prop in the scale which would look really like a balloon. With every single attempt we were more and more unsatisfied, and Suzie was the most, I guess. Eventually we created a CG balloon. My responsibility was to animate the line and imagine how the balloon moves on the line and, later, a very close co-operation with the post-production crew.
AV: Where do your influences come from? Do you look up to any masters of stop motion animation?
AW: It's difficult for me to give you particular names. I watched a lot of films since I was a child: Russian movies from the fifties and sixties, also American ones from the same period. These are two quite parallel styles, even though they also derived from each other. I was always trying to work out my own style, getting inspirations from the masters but that's not all. The ability to watch the environment is also the very important part of every animator's personality.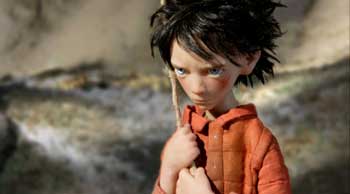 AV: Do you think there is an Eastern European "school" of animation?
AW: There definitely exists an Eastern European school of animation and I think it is strongly connected with different culture and history. Even though the first doll animator was from Poland, Władysław Starewicz, later the British dominated this type of animation but now with time the differences are becoming less meaningful.
AV: What does the winning of the Oscar represent to you?
AW: Every single filmmaker dreams about an Oscar. And even though I was just a part of this big machine – quite important, I don't deny – I was very skeptic about the award till the far end. I still have to work very hard and even though the Oscar didn't open all of the doors, many of them are more accessible now. So now, its time for my own Oscar!
---
---
With special thanks to Suzie, Hugh and Adam, and to Frances Kregel at Bender/Helper Impact.