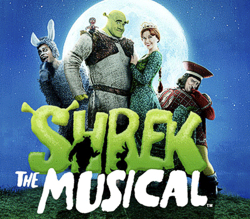 DreamWorks Animation's Jeffrey Katzenberg announced Tuesday that Shrek The Musical, the Broadway edition of the company's Oscar-winning animated film, was DVD bound in "unique packaging". Grossing $380 worldwide, this year's release of Monsters Vs. Aliens was seen as a disappointment internationally, for unknown reasons, prompting Katzenberg to suggest the future of the franchise could be on television rather than a theatrical sequel.
DWA also reported very strong third-quarter financial results thanks primarily to the video release of Madagascar: Escape 2 Africa. The company has a busy upcoming slate: as well as more theatrical stage shows, the company expects a good return on its television specials Monsters vs. Aliens: Mutant Pumpkins From Outer Space and Merry Madagascar, with Katzenberg predicting the animation producer's biggest year in 2010, as reported by Video Business.
Three major theatrical releases are set to be release, starting with How To Train Your Dragon on March 26, Shrek Forever After (May 21) and Oobermind on November 5, and Kung Fu Panda: The Kaboom Of Doom (June 3) and Puss In Boots (November 4) in 2011. Following those, 2012 will see Chris Sanders' The Croods (formerly Crood Awakening as scripted by John Cleese) arrive on March 30, Madagascar 3 on May 25 and The Guardians, based on an upcoming book by William Joyce, on November 2.