Justice League: Crisis On Two Earths, the seventh entry in the ongoing series of DC Universe Animated Original PG-13 Movies, has been announced for release on Blu-ray and DVD bu Warner Home Video on February 23, 2010. A press release featuring full specs, first look at the movie and a teaser trailer can be seen here:
WHEN JUSTICE MEETS ITS MATCH,
WORLDS COLLIDE

STAR-STUDDED VOICE CAST HIGHLIGHTS
ALL-NEW DC UNIVERSE ANIMATED ORIGINAL MOVIE
FROM WARNER HOME VIDEO ON FEBRUARY 23, 2010
Featuring Mark Harmon, James Woods, William Baldwin, Chris Noth and Gina Torres, the 2-Disc and BD releases include DC Showcase: The Spectre, the first in a series of shorts to be included on select DC Universe releases.
To save our world and all those like it, Superman, Batman and their caped colleagues must go toe-to-toe with their evil mirror images in Justice League: Crisis On Two Earths, the seventh entry in the successful ongoing series of DC Universe Animated Original PG-13 Movies coming February 23, 2010 from Warner Premiere, DC Comics and Warner Bros. Animation. The full-length animated film will be distributed by Warner Home Video as a Special Edition 2-disc version on DVD and Blu-Ray Hi-Def for $24.98 and $29.99, respectively, as well as single disc DVD for $19.98. The film will also be available On Demand and Download.
Justice League: Crisis On Two Earths is an original story from award-winning animation/comics writer Dwayne McDuffie (Justice League) rooted in DC Comics' popular canon of Crisis stories depicting parallel worlds with uniquely similar heroes and villains. Bruce Timm (Superman Doomsday) is executive producer. Lauren Montgomery (Wonder Woman, Green Lantern: First Flight) and Sam Liu (Superman/Batman: Public Enemies) are co-directors.
In Justice League: Crisis On Two Earths, a "good" Lex Luthor arrives from an alternate universe to recruit the Justice League to help save his Earth from the Crime Syndicate, a gang of villainous characters with virtually identical super powers to the Justice League. What ensues is the ultimate battle of good versus evil in a war that threatens both planets and, through a diabolical plan launched by Owlman, puts the balance of all existence in peril.
The movie features an all-star voice cast led by Mark Harmon (NCIS) as Superman, James Woods (Ghosts of Mississippi) as Owlman, Chris Noth (Sex and the City, Law & Order) as Lex Luthor, William Baldwin (Dirty Sexy Money) as Batman, Gina Torres (Serenity, Firefly) as Superwoman and Bruce Davison (X-Men) as the President.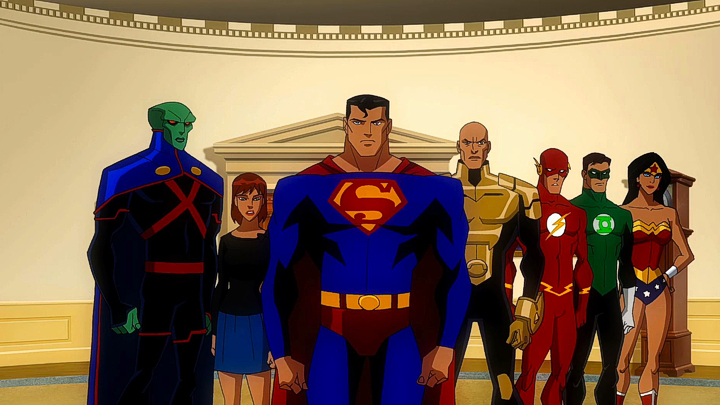 Members of the Justice League meet two characters from an alternate
Earth — the First Daughter, Rose Wilson, and a "good" Lex Luthor
LOW-RES TRAILER / MEDIUM-RES TRAILER / HIGH-RES TRAILER
---
Justice League: Crisis On Two Earths – 2 Disc Special Edition version will have more than two hours of incredible bonus features, including:
• DC Showcase – The Spectre: The first animated short in the all-new DC Showcase series focuses on a detective story with an ethereal twist, featuring the otherworldly character originally introduced by DC Comics in 1940. The short is written by Steve Niles (30 Days of Night), and the voice cast includes Gary Cole (Entourage) and Alyssa Milano (Charmed).

• Featurette – The New World: From Identity Crisis forward, DC Comics raised the stakes with talent writers, editors and artists pushing the boundaries of what it means to be a modern day Super Hero. This documentary covers the riveting and often harrowing tale of New York Times bestselling author Brad Meltzer's Identity Crisis, and why this story struck the right chord with the comic book audience. The story is a personal one for the creator, as well as the DC Comics executives' fortunate enough to have been a part of this mature comic book publication. While revealing the strategy and sentiments behind this comic book, the documentary film goes a step further to explore the continuing and recent publications of Infinite Crisis and Final Crisis, while crafted with the narration of The Dark Knight Executive Producer Michael Uslan. The tension is high, the story is personal, and the stakes have been raised!

• Extended Sneak Peek at the next DC Universe Animated Original PG-13 Movie.

• Digital Copy Download

• Widescreen (1.78:1)

• Two Episodes of Justice League Unlimited hand-picked by animation legend Bruce Timm
Justice League: Crisis On Two Earths Blu-Ray versions will have more than three hours of bonus materials, including all the great extras from the 2-disc Special Edition and two additional episodes from Justice League Unlimited, both personally selected by fan-favorite Bruce Timm, plus television pilot episodes from the DC live-action shows: Wonder Woman, and Aquaman.
"Justice League: Crisis On Two Earths is an outstanding representation of the DC Universe series of groundbreaking animated films coming from creative forces within DC Comics, Warner Premiere, Warner Bros. Animation and Warner Home Video," said Matt Bierman, Senior Vice President Production, Warner Premiere. "It is a testament to the team effort between those four divisions that brings forth a feature-length animated original PG-13 film bursting with great storytelling, memorable characters and impressive animation. This is truly a blockbuster animated film."
"We're very excited to present an original story from renowned writer Dwayne McDuffie that takes the Justice League mythology and spins it on its ear with parallel worlds echoed in so many classic DC Crisis tales," said Gregory Noveck, Senior VP Creative Affairs, DC Comics. "This is a thinking man's hero movie with a set of villains determined to succeed and one focused on complete intergalactic annihilation – so just as the stakes are that much higher, so is the intensity of the action with these legendary characters."
"DC Universe films continue to stretch the creative boundaries of comics-to-film presentations, and Justice League: Crisis On Two Earths offers fans another vision of these iconic characters brought forth by outstanding animation talent – led by executive producer Bruce Timm – and an inspired voice cast featuring the stellar talents of Mark Harmon, Chris Noth, William Baldwin, Gina Torres and James Woods," said Amit Desai, WHV Vice President of Family, Animation & Partner Brand Marketing.
"The co-direction of Lauren Montgomery and Sam Liu merges the best of the last three DC Universe films with a fine balance of intelligence, emotion and more action than even two Earths can handle," said Sam Register, Executive Vice President, Warner Bros. Animation.
About DC Comics:
DC Comics, a Warner Bros. Entertainment Company, is the largest English-language publisher of comics in the world and home to such iconic characters as Superman, Batman, Wonder Woman and the Sandman. These DC Super Heroes and others have starred in comic books, movies, television series (both animated and live-action) and cyberspace, thrilling audiences of all ages for generations. DC Comics' website is located at DC Comics.com.