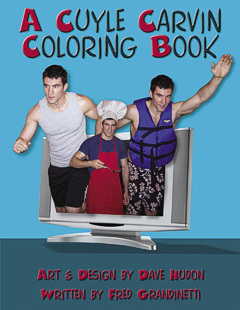 Fred M. Grandinetti, author of Popeye: An Illustrated Cultural History and Jack Mercer: The Voice of Popeye and 17-year host of the New England cable TV show Drawing With Fred, an award-winning throwback to the old 'Uncle' hosted shows of the 50s and 60s featuring many classic cartoons, has announced the cartoon caricatured style Cuyle Carvin Coloring Book. More can be read here:
Press Release: TV and Film actor Cuyle Carvin is concerned regarding the lack of activity and proper diet with children. "Growing up I was very fortunate to live with a family and in a community that gave me the opportunity to have a healthy life style. There are so many kids who don't ever get the same chances I had. I want children to get a head start becoming educated on how to be healthy for their entire lives," said Long Island New York resident Carvin.
The actor found a creative way to promote a healthy lifestyle to children. Teaming up with writer Fred M. Grandinetti and illustrator, David Hudon, Carvin becomes a cartoon character for the Cuyle Carvin Coloring Book, in which he shows a child better ways to spend the day than just watching TV.
Carvin is a film and television actor whose credits include The One You Marry, In Heroic Fashion, All My Children, Law & Order: SVU and vocalist on the animated short The Snow Princess.
Grandinetti is the author of five publications on Popeye the Sailor. Hudon is a professional illustrator using figures of popular culture as subject matter.
The book is being distributed to various children's groups and is a non profit venture. Copies can be requested by sending a postcard to Fred Grandinetti at 96 Edenfield Avenue Watertown MA 02472