Twentieth Century Fox Home Entertainment has shattered the Guinness World Record for tallest ice sculpture, in Los Angeles to mark the DVD and Blu-ray release of Ice Age: Dawn Of The Dinosaurs. Measuring in at a Mammoth 48 feet tall, things got a little chilly in Southern California on Tuesday when Scrat, sculpted by innovative ice company Ice Bulb, was revealed, reaching over four stories high and breaking the previous record by nearly eight feet.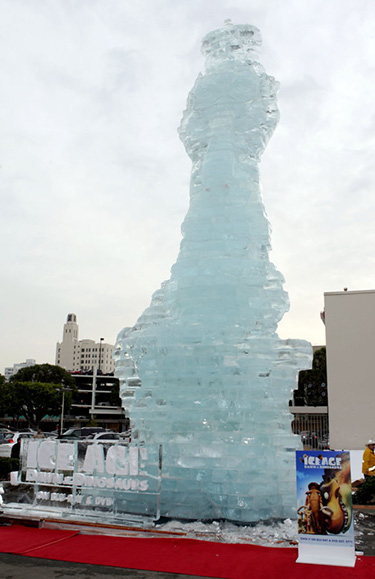 Officially unveiled at ICE at Santa Monica, Downtown Santa Monica's outdoor ice skating rink, the project took months of collaboration to create, with artists from Blue Sky Studios developing the overall look of the ice sculpture depicting lovable squirrel Scrat and his giant acorn. Over 133,000 pounds of ice, gathered across four states, was used as a team of 14 skilled sculptors from Ice Bulb worked four straight days to finish the job.
"It's only fitting that we build a record breaking Scrat Ice Sculpture to go along with the massively successful Ice Age franchise, and unveil it on the day that Ice Age: Dawn of the Dinosaurs arrives on Blu-ray Disc and DVD," said Mary Daily, Executive Vice President, Marketing, North America for Twentieth Century Fox Home Entertainment. "It is just more reason to celebrate."
The previous record for Tallest Ice Sculpture of 40.28 feet was held by Michel Amman in Ski Dubai, Dubai, United Arab Emirates on April 20, 2006. This new record was verified by Guinness World Records official, Danny Girton Jr. who was on-site to inspect the sculpture.
"The effort and workmanship that went into creating this ice sculpture is truly astounding. This type of record takes serious time and commitment and we're happy to recognize a new Guinness World Record today," Girton said.
The coolest animated comedy of the year, the Ice Age: Dawn Of The Dinosaurs Three-Disc Combo Pack (Blu-ray, DVD and a Digital Copy) is available now and provides hours of extra fun for the entire family including an Ice Age digital storybook maker, commentary by director Carlos Saldanha, deleted scenes, making-of featurettes, two special Scrat shorts, a how-to-draw Scrat tutorial with the filmmakers and much more.
---
---
VIDEO CLIPS: TIME LAPSE SHOWING THE ICE SCRAT PROJECT: