Premiered at Comic-Con International 2008 after festival screenings. Winner: Best Experimental Film, Fort Lauderdale Film Festival. Available from August 26 2008 on DVD from Indican Pictures.
In this age of computer power and Flash animation, it seems anyone and his pal can create, produce and market a full-length motion picture. The most recent case in point is The Chosen One, the latest of these "one-man band" features, or rather "two man band" as it turns out, picked up by Indican Pictures for DVD distribution following their handling of ex-Disney animator Phil Nibbelink's truly groundbreaking Romeo & Juliet: Sealed With A Kiss.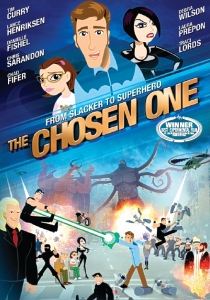 The Chosen One's poster art
is re-worked for the DVD
Described as a "true labor of love" for writers Chris Lackey (who also directs) and Chad Fifer (also composer) and "animated by one man in an apartment in Santa Monica", it's clear from its credits that The Chosen One actually received a bit more outside help than Nibbelink's effort, especially in post-production. While Nibbelink had to rely on himself, family and friends to provide voices, The Chosen One is able to boast, thanks to producer Andreas Olavarria, a vocal cast of more recognisable names: Tim Curry, Chris Sarandon, Traci Lords and Lance Henriksen among them – hardly small fry, but which don't particularly help as The Chosen One unfortunately struggles to place itself anywhere near the big leagues.
The film attempts to build interest in its central character, Lou (Fifer again), a loser in life if ever there was one. In a slight spoofing of Scientology, the plot follows Lou as he is mistaken, Monty Python's Life Of Brian style, for the saviour of the Church Of Frank. Although he understandably wants little to do with the place, a $30,000 fund for the Chosen One's expenses sweetens the deal, meaning he can pay off his debt, impress on/off girlfriend Rachel and live the high life. But there's a hitch: he's got to visit Frank's spiritual home in Kansas to pick up a message from God that will direct the Church on their new path. Meanwhile, a coalition of western religious chiefs have declared Frank's Chosen One to be the spawn of the Anti-Christ and dispatch a crack squad led by the Schwarzenegger-esque Claude ("let's party") and Miss Sultry (voice of notorious ex-porn star Lords) to bring them Lou's head. Needless to say, Lou discovers there's more to this mission thing than meets the eye, especially when Lucifer (Curry) himself pops up to offer a helping hand, and he eventually realises what's most important – including his mousey no frills friend Donna who could be just what Lou has been looking for all along.
With a concept like that and publicity that promises "Ninja! Bears! Robots! Catholics! The Meaning of Life! Old Men in Sweaters!" it's a shame to have to report that The Chosen One ends up feeling unfortunately rather sedate. It's nowhere near as clever as it hopes it is, and the sub-Kevin Smith Dogma religious satire never rings quite true. It's also fairly unclear just who the film is aimed at; Daria fans, or Smith's Clerks crowd, perhaps, though it's not actually "filthy" enough to outrage. In fact there's nothing in The Chosen One that would be in any danger of outraging anyone – language and situations are kept distinctly clean rated – and in an odd way that could be its biggest failing. There's no bite, no real sardonic wit to amuse or tickle the no doubt intelligent audience it wants to entertain.
Even its visuals lack panache, throwing away some fun character designs by lumping them with some choppy animation techniques. Kudos should be heaped onto any creator for going out on a limb and managing to complete any kind of project, of course, but to say the cartooning here is limited is being too cavalier with a description of its fluidity: The Chosen One is something more akin to South Park, but without the knowing nods in that show that reveal even they know the animation's below par. Sadly, the designs are crying out for better attention, the 40s style characters come across as being sincere, crossed with the more cynical look of today. The amusingly designed Disney's television series Kim Possible is recalled, and Hyperion's Bebe's Kids comes to mind several times throughout, both in its tone and visual style (though obviously not the surprisingly good animation of that film).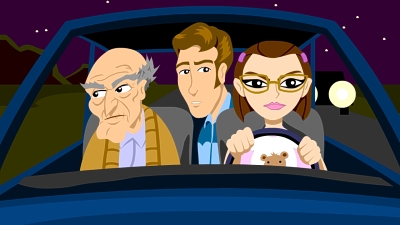 Lou (center) takes up the Church Of Frank's too
good to be true offer and hits the road with his pals
The writing does occasionally break through the otherwise too-obvious barriers, and the film might eventually find itself a re-run home as a special on Comedy Central or Cartoon Network's Adult Swim block, but it's a struggle to praise even the independent underdogs when so much of the material flatlines. A handful of fun moments are enthusiastically played by the mixed named cast ("This is the third time you've been late this week and its only Tuesday!"), but these only just about outweigh the less stimulated moments; a Star Trek television pastiche becomes the somewhat uninspired "Space Voyage".
It's also clear that Fifer and Lackey have had more than a helping hand or two, with a handful of professional names assisting in post-production roles and evidence of some industry connections and favors being called into play here, considering the voice cast is headed up by the one and only Tim Curry. Yet, even he isn't given anything particularly exciting to do other than the smarmy villain act he's got down pat in a million other animation voiceovers. In fact, he sounds like he's phoned in his vocal, leading to a feeling that the whole soundtrack is little more than an animated radio deconstruction of religion, though again one that's never as daring or outrageous as the concept ultimately calls for.
Things threaten to build up to a comical robot-busting finale, but this is quickly tossed away for more talking, emphasising the lack of ideas and enormously missed opportunities for gags and really satirical humour. Without a strong punchline to fade out on, the film just seems to end somewhat aimlessly, and somewhat embarrassingly, petering out where perhaps more quizzical, comical commentary could have finished things with a knowing wink or a nod. And, when it comes to dealing with the Really Big Issues that tackling religion demands, The Chosen One backs out and goes for the plain option, resulting in a film that isn't so much a dissection of religion than, ultimately, a too-gentle paean to the human condition.
An unfortunately anaesthetized script motors this otherwise reasonable Flash-based feature along, but its probably best suited to online home "webiplexes" or late night TV, where the lack of sardonic wit might hinder its enjoyment for those expecting bad language and funnier situations.
Animated Classic or Back To The Drawing Board?
The Chosen One
Indican Pictures/X-42 Productions
2007
81 minutes
Not Rated
directed by Chris Lackey