DreamWorks Animation (November 28 2007), DreamWorks/Paramount Home Entertainment (November 4 2008), single disc, 28 mins plus supplements, 1.78:1 anamorphic widescreen and 1.33:1 pan-and-scan crop, Dolby Digital 5.1, Not Rated (nothing offensive), Retail: $19.99
Storyboard:
Shrek finds trouble brewing as he tries to settle down for his first family Christmas with Fiona, Donkey, Puss and the rest of the fairytale characters of Far Far Away.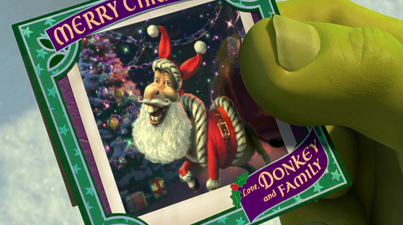 The Sweatbox Review:
We last left Shrek at the end of his abysmal third feature film, which despite all the hype and advertising, hardly featured his newborn children and saved them, from instead of what looked like the main plot point in the trailers, for a single dream sequence and half-hearted montage coda on which to set up further adventures. Regardless of critical apathy, the awful Shrek The Third found incomprehensible favor with audiences, meaning that further adventures are just what we're going to get, in Shreks 4, 5 and 6 (six films being the new trilogy, it seems).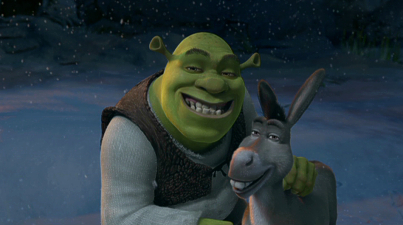 Never one to let a franchise go cold, while DreamWorks toil away on the creatively bankrupt series, we were last year offered the televisual equivalent of a Christmas treat: just as Shrek 3D filled a gap between the first and second films, so Shrek The Halls would seem to fulfil the same obligations between the turd, sorry, Third and Shrek Goes Fourth (the features clearly liberating the British Blackadder series' monikers).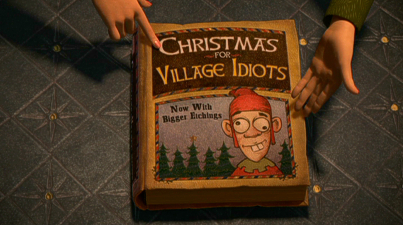 There was quite a bit of hoopla surrounding the special in the holidays of 2007, that it was a perennial Christmas classic in the waiting, a staple to be wheeled out every year, joining Santa, Frosty, The Grinch and Charlie Brown as those familiar faces we like to see time and time again, as much part of the festive season as Old Saint Nick himself. This was also a highly touted partnering between Jeffrey Katzenberg's new Studio and the old employers he had been through a much publicised acrimonious split from: Shrek The Halls wouldn't be produced for Paramount stable-mates Nickelodeon, or NBC for that matter, it was commissioned to air on the now Disney-owned ABC, and with a solid Disney director, Beauty And The Beast's Gary Trousdale, at the helm, no less!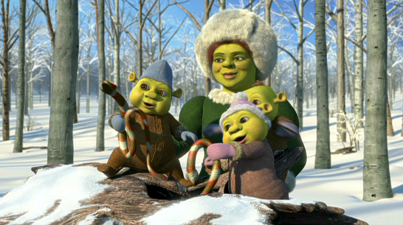 On its debut on television, Shrek The Halls, coming hot on the heels of the theatrical release of the most recent film in the series, received polite critical praise, but was a sizable hit with audiences. The Shrek films' greatest strength has always been the not-so-jolly green ogre's adversity towards anything that doesn't grant him a quiet life in his homeland swamp, put most successfully to the test in the second feature, Shrek 2, and regretfully totally wasted in Shrek The Third.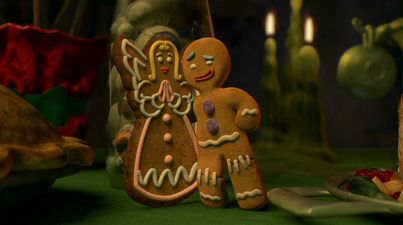 Here, things are more back on track: Shrek's never witnessed or participated in any kind of festive celebrations, let alone a full-blown family Christmas, so there's more of the antagonism in the character that peppered the first two features, coupled with the warmth that's been generated by falling in love with his princess Fiona and mock-begrudgingly friendships with the hyperactive Donkey and suave Puss In Boots. With kids in tow, it's Shrek's first Christmas, and Fiona wants it to be one to remember: Donkey stamps in, trying to make it all jingle bells, but Shrek wants to do things his way. As Christmas Eve draws nearer, he finds out about the spirit of Christmas, the joys of family and friends, and learns to love this sometimes divine, sometimes chaotic time of the year.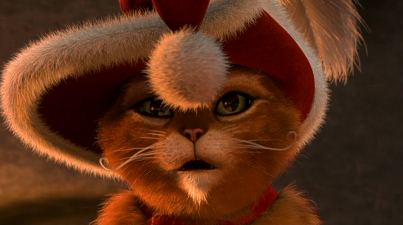 Characters pop us as expected, there are cameos for the faces we find fitfully funny in Shrek's fractured fairytale universe – even the kids get solid airtime – and at this time of trying to please everyone, it's delightfully refreshing that a Christmas special isn't adverse to actually calling it "Christmas" instead of some all-round religious pleasing that labels everything "the holidays". One note of compromise is Shrek's referral to "The Christmas Story", which doesn't turn out to be that at all but instead is a Shreked up version of The Night Before Christmas…still appropriate enough, but perhaps placing the emphasis too much on something that isn't what it may seem. However, we have a lot of fun getting there, right from the opening titles, which are an over the top blast.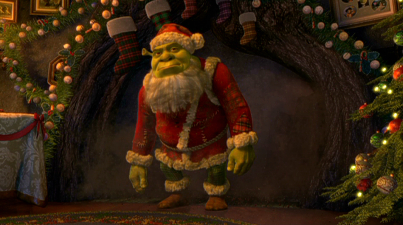 Gary Trousdale's direction tramples over the inadequacies of the third film, which Shrek The Halls easily surpasses in terms of animation, though whether it's quite to the stunning heights of Shrek 2 is debatable. At a brisk 22 minutes, the story is tightly wrapped up too, motoring along like Santa's sleigh running out of time but taking enough breath and pauses for it all to have some meaning, again missing from Shrek The Third. Creating its own story and at least not trying to work in a faux fairytale motif such as a "Shrek's Christmas Carol" might quite easily but painfully have tried to do, while it does almost pack in all the "greatest hits" of what we like from our Shrek movies, Shrek The Halls is a definite improvement and though Shrek's shtick may be wearing thin, this is a return to form for the series.
Is This Thing Loaded?
When first announced, Shrek The Halls caused some confusion by an array of different options: a widescreen edition, a fullscreen, with Shrek plus, with Donkey plush, etc…all screaming of overkill for what is ostensibly something we all got for free last year (and will do again this year, incidentally). Someone in DreamWorks marketing or home video seems to have seen sense, bundling both widescreen and fullscreen versions onto one and the same disc, equalling a 56 minute screen time and thus leaving a little bit of room for some extra gifts, though perhaps unwanted as they may be, on this DVD-5.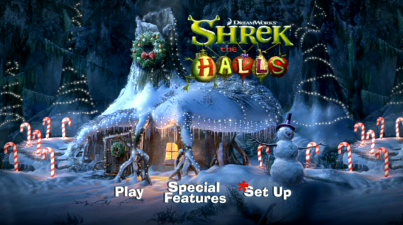 In a PC drive, the disc automatically loads ActiVision's Shrek Carnival Craze DVD-ROM Video Game Demo, which also offers a cheat code. I'm no games player, but I installed the darn thing and all its components to give it a go, finding it frustrating when "Shrek's Carniva.exe" generated errors and was repeatedly closed by Windows as it tried to access the net. I gave up and removed the program, considering that I probably wouldn't then lay out any cash to purchase and play the whole game. I did wonder how much space this was taking up on the disc and was surprised to see that even combined, all the data didn't go more than three and a half gigabytes, well down on the four and a half available, and that the game only took less than half of one gig. Something tells me, before we even get to the other extras, that there's a huge waste of space going on here, single layered disc or not!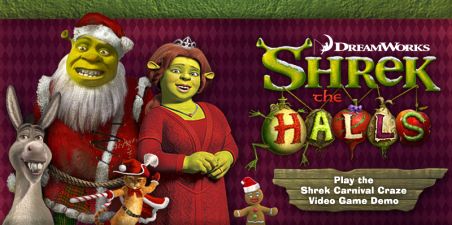 Booting the disc up in a video player predictably brings up the Move It, Move It theatrical trailer for the current Madagascar: Escape 2 Africa (a terrible title that replaced the much smarter The Crate Escape) before the main menu kicks in: selecting Play throws up the option of widescreen or cropped fullscreen versions, which play with four chapter stops each, including one for an interminable six minutes of s-l-o-w end credits that adds to the stated run time of 22 minutes (see below). As usual for a DWs animated disc, the sub menus are similarly lightly animated (all two of them, for Special Features and Set Up options), making things a bit fun.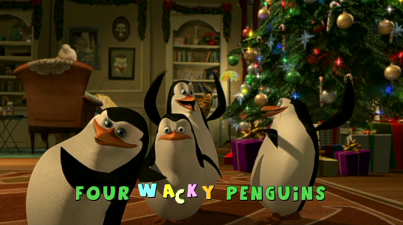 First of the extras proper are a couple of Sing Along sequences, for a four minute Madagascar Penguins' take on The Twelve Days Of Christmas, and a two and a half minute Deck The Halls, both of which use plenty of repurposed footage from their 2005 Christmas Caper short that otherwise isn't on the disc; a fine opportunity to make this something of a "DreamWorks Christmas" celebration release gets thrown out – go figure! These are quite fun, with naturally re-worded lyrics, though the repetitive nature might drive parents festive nuts!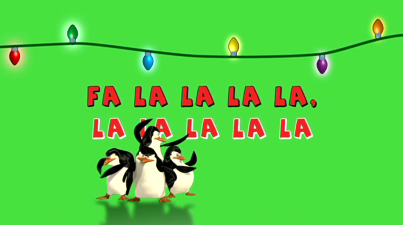 In Gingy's Dunking Game, the player must help save the Gingerbread Man's gumball buttons by "selecting matching decoys to avoid the Milk-Dunk of Doom", which sounds much better than it is in practice, where one simply has to match up a picture of Gingy against…another picture of Gingy. Five completed, the game abruptly ends! Finally, that old standby, the DreamWorks Animation Video Jukebox again promotes other DWs titles on DVD while using other peoples' songs, this time featuring the three Shreks, Shark Tale, Madagascar, Over The Hedge, Flushed Away and Bee Movie…all of them not making much sense out of context, but more importantly sporting that old "own it on DVD" tagline.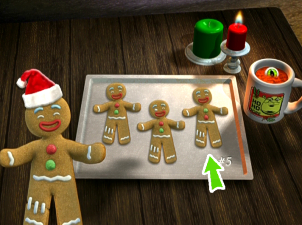 I'm supposing that DreamWorks want the disc to fly off shelves every year with minimal repackaging or authoring costs, since there's little other than the Madagascar sequel's preview to date the disc. That said, it's a shame that there are no other things on the disc: surely a natural inclusion would have been the Madagascar Penguins in A Christmas Caper theatrical short, which you'd think would be a given seeing that there's a current sequel to be promoted and footage is used in this disc's sing-alongs. Dropping the redundant fullscreen version would have been a starter too, meaning that at 22-28 minutes, even this DVD-5 could have included a commentary with the director and select crew, a behind the scenes featurette or even, as a real incentive for those with Shrek The Halls on their PVRs from last year, the still nowhere on disc DreamWorks short, the delightful First Flight. Since the disc features nothing of this kind, nor anything worthwhile that you can't get for free on TV, there isn't a lot to tempt here over simply PVR'ing Shrek The Halls (with its shorter credits!) when it shows again on ABC a month or so later.
Case Study:
Perhaps reflecting the feel of Shrek The Halls' shamelessly quick cash-in DVD experience, the packaging is as basic as it gets. The front of the sleeve plays to the previous movies' artwork aesthetics, and we do get a Christmas-white keepcase, but nothing as fancy as a slipcover or insert inside, with the usual boring Paramount/DreamWorks flat gray print on the disc itself. Hello? Hey, howsabout something as simple as an exclusive Shrek Christmas card!? Goodwill to all men, and all that…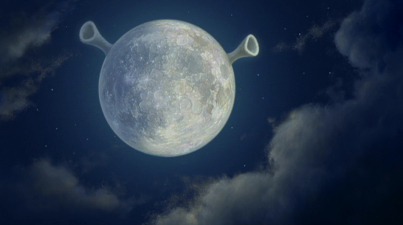 The special is listed at 22 minutes on the packaging – and indeed that's the way it played on TV, with truncated end credits – but here, with the room to list everyone, and I mean everyone who probably ever walked through PDI/DreamWorks' door, we sit through the feature film-like credits that bring the length up to a rounded-off 28 minutes. Credit where credit is due, but the scroll could have been half as fast again instead of feeling like they're padding this out for all it's worth. Still, at least the packaging doesn't try to hoodwink us on that aspect – that's left to the back of the cover, where those expecting to see a Santa-dressed Shrek, Donkey, Puss and ogre kids delivering presents from a sleigh, as indicated, are going to be very disappointed: despite the fun look, there are no scenes of that nature in the special itself. Festive, bright, colorful…and misleading.
Ink And Paint: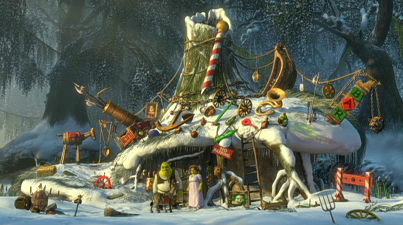 Shrek The Halls' production values are high: dovetailed into the tail-end of production of the last feature it is arguably better in terms of technicalities, and certainly benefits from having a director of Trousdale's experience shepherding it through. As such, the special runs pretty much as close to being a full-blown theatrical featurette as one could hope for, especially given the 16:9 widescreen framing here, and with only a twenty-two minute playing time, there's enough room for it to grab all the bits it needs to look stunning on DVD. The 4:3 fullscreen version also bundled in crops off the sides as expected, and does a fine job of dumbing it down to look like television, knocking points off the scores here because if it wasn't included it would have given the widescreen the chance to shine even brighter.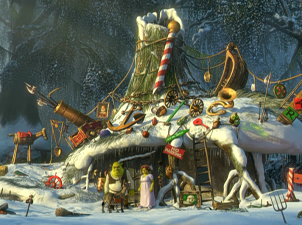 Scratch Tracks:
As mentioned, Shrek The Halls feels theatrical in scope and tone, aided and abetted by the return of the original voice cast: Mike Myers, Eddie Murphy, Cameron Diaz and Antonio Banderas among them. And there really isn't any more to be said than that – the mix here are as expert as one would expect from any major DreamWorks release, with composer Harry Gregson-Williams again providing Shrek's musical duties and sounding bang on cue as in all previous instalments. English (in Dolby 2.0 and 5.1), French and Spanish 5.1 tracks and subtitles are bundled in.
Final Cut:
Shrek The Halls is unquestionably a return to the better aspects of the franchise, though that's not to say it's a franchise that is still running strong. Perhaps on par with the first film, this special plays to the characters' strengths and introduces a fresh and unique angle from which to view the ongoing Shrek legend, with spurts of the humor that advanced the second film. Slightly pricey at $20, finding it online for nearer $10 is a more decent deal, but in deciding to fill Shrek's Christmas debut on disc with space consumers (fullscreen, sing-alongs and games) rather than any legitimate supplements (commentary, a couple of shorts) that would entice a wider ranger of purchasers, DreamWorks unfortunately haven't given collectors anything over watching or saving the special from TV showings, and doesn't make owning Shrek The Halls on DVD much more than, well, owning Shrek The Halls on DVD.
Animated Classic or Back To The Drawing Board?