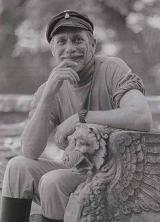 Once there was a child whose name was Douglas Gresham. This story is about what happened to him after he discovered The Chronicles of Narnia. He was about 8 when he first met Narnia's genius creator C.S. Lewis, as he, his mother and his brother left America to flee an alcoholic and violent husband and father. In England, Joy Davidman and his two sons found peace in company of the man she had been exchanging letters with for a while and whom she would soon marry. And even the scholar was not really like the knight in armor that young Douglas imagined after reading the Chronicles, they very well got along together until C.S. Lewis (whom Douglas affectionately called "Jack") died in 1963.
Being in charge of the C.S. Lewis estate, Douglas Gresham has always carried the idea of bringing the Chronicles to the screen and is now actually doing that as the co-producer of the new Disney and Walden Media movies that are being produced. After the success of the first in the franchise, The Lion, the Witch and the Wardrobe (which has just been released on Blu-Ray), and on the eve of the theatrical release of Prince Caspian, the occasion for Animated Views to go back to the one that started it all, and certainly one of the greatest connoisseurs of the world of Narnia, was too good to pass up.
So, open the doors of the wardrobe and discover Narnia like you've never seen it before!
---
Please click on the many exclusive images to view larger pop-up versions (your browser will remain on this page). All artwork by Trevor Goring ©Disney/Walden Media, courtesy of the artist. All rights reserved.
---
Animated Views: How did you discover Narnia for the first time?
Douglas Gresham: Well, I first of all discovered Narnia by my mother reading The Lion, The Witch and the Wardrobe to me. I think it was published in about 1950, when I was a small child. And of course, after I had the book read to me, pretty soon, I began to read it myself and I read all the Narnia books thereafter by myself.
AV: Have you ever found the wardrobe?
DG: No, unfortunately. It was simply a literary device to bring four children from one world into another. There are two universities in America and each of them claim to have "the" wardrobe, and each of them does have a wardrobe that came from our home in Oxford. But really, none of these was similar to the one of the story. They are just wardrobes that happened to be in our house!
AV: Can you tell me about the cultural heritage of C.S. Lewis that you've been helping preserve after his death?
DG: When Jack died, I was at the time sort of 18 years old, and a young man chasing about doing things as young men do. Eventually, after his brother Warnie had passed away, ten years later, I began to get involved because the literary agent who was handling all the work of developing the estate's copyright began to consult me on various matters. It's just a matter of evolution, I suppose, and it was then necessary to form a company to manage the things properly. So, I was involved then and I still am as the artistic director of the C.S. Lewis Company. The aims of the Company are, principally, to keep everything that Jack himself wrote available to the public as far as we possibly can. And also, it's my ambition to make the Narnian Chronicles and some other works into fine motion pictures before I die. It's something that will probably keep me busy for the rest of my life!
AV: So, that's the reason you developed a relationship with Walden Media and Disney to produce their Chronicles of Narnia movies?
DG: Well, I'd been trying to get a really good film made of The Lion, The Witch and the Wardrobe and the other Chronicles for many, many years. It's a dream that I've had since I was a teenager. My children remember me talking and dreaming about this for all of their life. It's something I've wanted to do and tried to do for a very long time. And I believe that the Holy Spirit of God has carefully inhibited my efforts till the time the technology existed to do justice to the book. Then, we were very fortunate to find Walden Media, a company whose aims are very similar to our own in that they want to produce family films that would both educate and entertain at the same time. And they carry a strong ethical message. So, their motivations and our motivations were very similar. So, we went along with them, and, as you know, it became a very successful partnership.
AV: How did you get along with Andrew Adamson, whose approach to the film was a little different from yours?
DG: It's difficult to comment on Andrew's approach because the film is a mixture of his approach and my approach and a couple of other people's approaches. I was the sort of Narnia consultant and, I guess, the Christian consultant during the production process, as an executive producer. That said, I think that Andrew's approach was right. For me, it was very important to resist the temptation to inject any of my own Christian faith into this movie. That would have been dishonest. What we all tried to do and were determined to do was to present a faithful adaptation, a faithful representation of the original book. And if you find Christian symbolism in the book, you will find it in the movie.
AV: How do you explain the success of The Lion, The Witch and the Wardrobe? I mean, what do you think the film and the story can bring to our present-day lives?
DG: A great deal of things of huge importance. I think one of the things that Narnia does so well is to bring back something that we've lost. Jack/C.S. Lewis was a 19th century thinker in many ways. He was brought up by people of the 19th century and in his book we retrieve the great values of that century. We, in 21st century, more or less threw them away on the grounds that they were out of date. Values and belief in personal responsibility, personal commitment, honesty, courage, duty, all those great qualities that the 19th century people valued so highly and that were discarded in the 20th century. We are now realizing that we need to get back. Without them, our society would crumble and fail. And all these enormously valuable qualities are all taught and exemplified in The Narnia Chronicles and especially in The Lion, the Witch and the Wardrobe. So, I think that to watch the movie – in a theater and now on Blu-Ray disc, to read the book, to study Narnia, to learn so much about what we've lost so much of and bring it back again is a hugely valuable contribution to our society.
---
Trevor Goring: An Ace On The Ice (Palace)!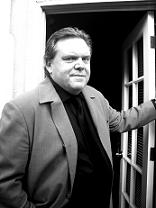 If storyboarding became popular in live-action film production during the 1940s, beginning with Gone With the Wind, the first feature film to be totally storyboarded, the process of drawing story sketches in order to have a global view of the story and previsualize the film before shooting draws its roots back to the late 20s and the 30s in the world of Disney animation (going back as far as Mickey's debut in Plane Crazy in 1928).
So, it's no surprise that we've invited storyboard artist and illustrator Trevor Goring, a well-known and respected Hollywood artist and a specialist in storyboard history,to State Of The Art. His impressive credits include Independence Day, Final Fantasy, Mission: Impossible II, Mighty Joe Young, Gattaca, The Cell, Fantastic Four and many others, such as The Lion, The Witch and the Wardrobe, of course!
His skills and imagination are always most appreciated from filmmakers and art directors and we're proud to be able to present you, along with this interview, some of his artwork and storyboards from the first chapter of the Narnia saga, so you can judge and admire for yourself the man's huge talent!
All aboard! Next stop: Narnia!
---
Animated Views: How did a British student in Graphic Arts come to be a successful storyboard artist and illustrator in Hollywood?
Trevor Goring: Long story! Well, I had a background in working in London in doing commercials. I worked in advertising for twelve years there. Originally, I was doing presentation artworks for advertising agencies. When they pitch for a new client, they do presentation storyboards. Going back a bit further, I went to Art College in London but, I never intended to be a storyboard artist. I've always wanted to be a comic book artist as I grew up loving American comic books and European comics, too.
AV: Like Tintin, I guess!
TG: Yes! Tintin was the very first comic I've ever read. It was Red Rackham's Treasure –I'd love to work on the upcoming movie, but, I don't know, it will probably be done in New Zealand… I never saw myself working in the movies but I've always been a big movie fan and I guess I learned a lot about story telling through comics and films. I never translated that into my artwork until I saw Mentor Huebner's work and Sherman Labby's work, two great storyboard artists who both worked on Blade Runner, which inspired me to become a storyboard artist myself. So, in the late 70s, I worked for 2000 AD, the British comic book, and some other magazines in England. Then, I got a job in an advertising agency. From that, there was a transition from doing presentation storyboards for agencies to working with directors doing shooting boards for commercials.
I started working with people like Martin Campbell, the director of Zorro. Then I moved to L.A. in 1991. I continued to do advertising until I worked on my first movie, Cobb, with director Ron Shelton. Then, I got Independence Day, and working on that film opened some doors. The other thing is that, in Los Angeles, you have to be in the Union to work on big movies with studios such as Fox, Warner Brothers, Sony and Disney. At that time, we were about sixty storyboard artists/illustrators members, and now they are 200! I was lucky that on my first movie I got in the Union and since then I've done three or four films a years.
So, as I said, when I was at college, I never imagined myself as a storyboard artist, but I've always enjoyed storytelling. You come to work with a lot of people and I'm not the kind of guy who likes to work on his own. I like that on some occasions but not all the time. While you're working on a film, you work in the Art Department. On a big film, there may be four storyboard artists and four illustrators or more. You can exchange a lot of ideas and inspire one another.
AV: What kind of technique do you use when doing storyboard?
TG: At the moment, I'm keeping with pencil and paper because I haven't time to explore the Cintiq. It's a great tool, but you have to have time to learn how to use it properly. I work on some quick thumbnails in ink on photo copy paper initially. Then I go to a tracing paper and do a blue line, and then it gets finalized with black prisma color pencils. Sometimes, I may put some marker tones on that when it's finished. It all depends on the time you get.
AV: You seem to have a very artistic approach to storyboarding.
TG: Yes. I'm actually working on a book with my wife called The Unseen Art of Hollywood, a retrospective of film storyboards going back from the 1930's to the present day. We have storyboards from about 95 films, such as Hitchcock's Stranger on a Train and Ben Hur. It'll be published Spring 2009. It will be a coffee table book about 10'x14′, about 346 pages, published by Hermes Press. I don't think that kind of book has been done before.
AV: How did you come to The Lion, the Witch and the Wardrobe?
TG: I just got a call from my agent one day. When I went to the meeting my agent had just told me it was a fantasy film directed by Andrew Adamson. I found out when I got there it was Narnia. I had read the books as a teenager, so I was well-aware of the subject matter. I showed Andrew my portfolio and he really liked my work on a Fox TV series called Roar. I started the next day and was on for ten months.
AV: How did you work on that movie?
TG: I was one of the first that were hired. I knew the first production designer was going to be Grant Major, who had done Lord of the Rings. So I was excited about working with him. He was still in New Zealand and came on the film six weeks after me. We worked with him for a while and then he then he left to do King Kong and somebody else took over.
When I originally started working, there was no script – just a treatment. I started with the big battle scene at the end of the film, which was described in about a half a page of treatment. So at the beginning I was left free to explore different ideas for visuals, such as the eagles dropping rocks. We were doing key frames and concept illustration before we got down to doing final storyboard.
As time went on, the battle scene was taken over by the pre-viz department and I went on to do the train sequence leaving London. Andrew was specific about the shots he wanted. He likes to storyboard the whole movie and it goes to editorial when they actually do voice over for all the characters. So the whole film was done as a storyboard reel before they shoot anything because it so much expensive. There were four storyboard artists and six conceptual artists. We storyboarded a long interior sequence on the train, which was not in the film. Grant provided us with the visuals for the interiors, which we then incorporated into the boards.
There was one idea I came up with and boarded that made it into the film. That was the train entering the tunnel from a gray London, coming out into a beautiful English countryside, which was a foreshadowing of the children going through the wardrobe and entering Narnia. The boards would be displayed on large pinboards, so together all of us went through them shot by shot. Once the sequence was finalized, it would go to editorial or pre-viz.
AV: Did you have any contact with Andrew Adamson during the process?
TG: Andrew was in the office everyday and would review what each of the artists were doing. As I said, at the beginning it was open for us to explore ideas, but as the script was finalized and Grant Major was on board as well, Andrew was precise about what he wanted.
AV: How did you visually approach the world of Narnia?
TG: I did a lot of research and brought in a lot of books on fantasy art, particularly Pre-Raphaelite paintings and images of classical mythology.
AV: I was very impressed by the artwork you did for the White Witch's Ice Palace.
TG: I love that, too. It's a shame that in the final movie, there's like one shot of the exterior! In fact, there were like a hundred of different versions of that castle. All the artists who worked on the film did their various versions of it. I was kind of happy with my version. You know the black and white one was fun to do. That was kind of a technique I used on Final Fantasy: The Spirits Within. I do like a paint drawing and then I do a negative print on a Xerox machine. All the lines become white and then I use white gouache on top of that. Then, I xerox it again and put some color on it. Final Fantasy was a great experience as well. We were eight storyboard artists from L.A. and they took us to Hawaii to work there. That was great.
AV: How did you come to this shape, to this design?
TG: Everyone in the art department explored different designs for the Ice Palace. I probably did a dozen versions myself. I think I was looking at parts of Notre Dame when I did that specific drawing you are referring to.
AV: Why didn't you work on Prince Caspian?
TG: I was actually in Australia working on Logan's Run, which is a Bryan Singer project that has been shelved, and then somebody else has taken over it. We were working on it when he was shooting Superman Returns down there.
AV: What about the pre-production of The Voyage of the Dawn Treader that you began working on last December?
TG: The Voyage of the Dawn Treader was put on hiatus for script rewrite. They are slowly getting back into full pre-production. Michael Apted is directing. I have not yet returned, but I'm in touch with them.
AV: What are you working on presently?
TG: I started recently on a live-action version of Akira for Warner Brothers. It has also gone on hiatus for a script rewrite. Currently, I'm hoping to work on a 3-D horror film that will be shot at a new studio that is being built in the South of Spain.
---
---
With all our gratitude to Douglas Gresham for his insight and kind help and to Trevor Goring for his kind help in providing these magnificent artworks and for the interview. All artwork ©Disney/Walden Media, courtesy of the artist. All rights reserved.