Walter Lantz Productions/Universal Pictures (1930-1964), Universal Studios Home Entertainment (July 24 2007), 3 disc set, 535 mins plus supplements, 1.33:1 original full frame ratio, Dolby Digital 2.0 Mono, Not Rated, Retail: $39.98
Storyboard:
That ca-raaazy Woodpecker finally hammers his way out of the Universal vaults for a terrific sampling of his very best cartoons, plus other gems from the Walter Lantz library!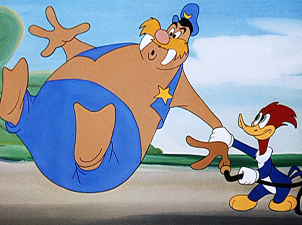 The Sweatbox Review:
I'm going to come clean from the off and say that, for everything I know about animation, I knew diddly squat about Woody Woodpecker. Yes, of course I knew the character, and had even seen a few of the later shorts, but I could never be persuaded to seek out anything more than a single LaserDisc put out a good few years ago now, and wasn't particularly interested in the Walter Lantz story on the whole. Some of this – most, actually – was the "unique" way Universal Studios handled their classic animation catalog, by way of electing to do scant all with it. Part was my own misguided feeling that the Lantz studio never amounted to much, ran off with Walt Disney's Oswald The Lucky Rabbit character, and made some pretty substandard cartoons to boot. And it's the plain fact that we haven't been able to see the good stuff that didn't help in changing my mind over the years.
Until now.
The two Walters' early careers are very much interlinked: Disney was directing the Oswald The Lucky Rabbit cartoons until producer Charles Mintz ordered a budget cut, which he refused only to find that Oswald was anything but lucky for him. Disney was fired from the series, with half his staff already stealthily signed up by Mintz to continue under a new director…Lantz. Born in New York at the turn of the century to Italian immigrant parents, Walter Lantz was well positioned to join the burgeoning animation industry, and on joining the Bray outfit he soon debuted his first original creation, Dinky Doodle, in 1924. When Bray Studios went bankrupt in 1927, Lantz moved to LA, where the coming of sound had also pulled the gravitational center of the entire film industry to Hollywood. Mintz set him up directing the new Oswald cartoons (also reissuing earlier Disney efforts with freshly-recorded soundtracks) before he himself got a taste of the treatment he'd shown Disney when distributor Universal ousted him from his intermediate role and decided to move Lantz and his operation directly onto the studio lot.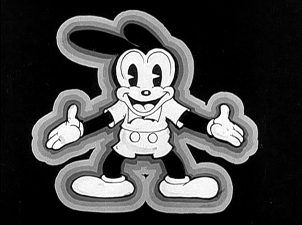 At Universal, Lantz now had completely free reign, and attempted to compete with the now successfully independent Walt Disney, as well as the now legendary cartoons coming from Warner's Looney Tunes unit and Metro-Goldwyn-Mayer, by introducing new characters unique to Universal Studios. Out went a tired Oswald and in came the nutty Woodpecker, joined by other, not-quite A-List characters Chilli Willy, Andy Panda and Wally Walrus. It must be said that Woody isn't the most rounded or likeable of characters. He's a one-note gag without the nuances of a Daffy Duck, the mischievousness of Bugs Bunny, or the warmth of a Mickey Mouse. But he is also loonier than all of them put together, as this stunning new collector's set shows.
Though somewhat popular at the time, audiences have since not had the chance to keep up and remember Woody as much as some of those other Studios' creations. A mascot at Universal's theme parks, one must wonder if, with the lack of recent exposure, the children frequenting the park today have any clue as to who he is other than a brightly colored, larger than life bird. The character himself has only been seen sporadically on television since the compilation series The Woody Woodpecker Show ended its airing, and the shorts relegated to secondary status on home video shelves. The Woodpecker cartoons did make an earlier appearance on DVD through the exclusive Time-Life collections. This anticipated 20-volume series was to have run all of the cartoons in chronological order, uncut from original theatrical prints, but it soon became clear to those who subscribed to the series that the content was made up from later TV edited versions of The Woody Woodpecker Show, featuring often print-worn cartoons, television dupes filled with timing cuts.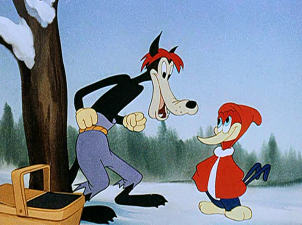 One breath of fresh air was the inclusion of host Walter Lantz' onscreen introductions and "making of" material that presented how the cartoons were made. However, the line had gained a bad reputation and after many delays for the final few volumes, eventually limped to a halt and ended after just 15 discs. As with the Time-Life Muppet Show collection, I reasoned that Woody might yet see official, wider available life on DVD again and I refused to pay the over the odds prices the 15-volume Woody collections were going for on eBay, especially with the generally bad word of mouth that warned me off them.
Now, after many years of waiting, those cartoons are back on DVD, truly uncut and truly from their original theatrical prints, thanks to animation historian and the set's consultant, Jerry Beck, who had been quietly pushing for a collector's release for some time. Wishing to fill the set with the best of the Woodpecker's cartoons as well as some other rarities from the Lantz catalog, in the event that this might be a one-shot attempt at getting these shorts out to a wider audience, we're given the pre-requisite dollop of Woody (the first 45 in chronological order) and also a more than welcome smattering of such other Universal cartoon stars as Chilly, Andy, Wally and the rarely seen Lantz Oswald cartoons. One must wonder if all this sudden activity is a reaction to seeing how well other Studio animation collections have been doing, and there's no small doubt that Disney's negotiating back the rights to the original Oswald cartoons (for release themselves on DVD later in 2007) caused Universal to sit up and take note of what they had in their library.
And what a collection this is! As so many will be finding out through the joys of the concurrently released Popeye The Sailor collection – itself anticipated for many years – this was the first time I had seen practically any of the shorts here. What a treasure trove, to "discover" and experience around 75 Golden Age cartoons completely fresh and without much childhood exposure to incite a nostalgic reaction. Apart from overcoming my unfounded prejudice against Lantz, would I warm to these cartoons as I might have done seeing them younger? The answer is a big, resounding YES!
The collection starts – funnily enough – on Disc One, with a cartoon that actually pre-dates a name for Woody himself, who plays second fiddle in an Andy Panda cartoon, Knock Knock, from 1940. It's a rather conspicuous debut, which plays like a Barney Bear short, and while it's clear the artists see Woody as a breakout star, the studio initially resisted the choice to lift the Woodpecker to leading bird status. However, he was back bigger and bolder in his first headlining offering a year later in 1941's Woody Woodpecker, which started simply as the title for the cartoon but ended up giving the new star his name! Woody still hasn't been streamlined here, and the "rubber tire legs" from his initial starring period remain. What's interesting, though, is that the Woody Woodpecker Song theme is already in place, and Woody even gets his own crazy opening number.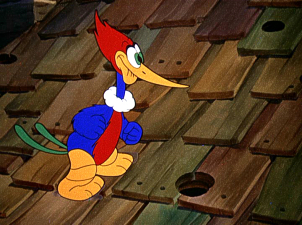 The cartoons continue with The Screwdriver, a cartoon with clear adult undertones (though nothing that would offend little ones too young to comprehend the silly jokes), which was refreshing in that, while it remained chaotic, uniquely took its time with the characters to set up their scenario. Next are Pantry Picnic, perhaps the most often used cartoon in the compilations we have been able to view on video and one that I couldn't see being made available anywhere else but an uncut set today, and The Hollywood Matador. I love Tinseltown spoof cartoons, but this wasn't anything like what one might expect from the title, being a fairly run of the mill variation on animated bullfight shorts.
1942's Ace In The Hole finds the Woodpecker doing his bit for the Army, but only Woody could get away without jumping into uniform! Woody loves his crazy car, and both Ace and the next short, The Loan Stranger, contain some very funny jalopy jokes, as well as several more subtle moments: Woody raising his hand to knock on a door only to use his bill instead is clever and well drawn. Most of these cartoons have Woody up against authority figures: either a silly wolf character or, as in The Screwball (a baseball variation), a policeman. The Dizzy Acrobat has Woody joining the circus in his first Oscar-nominated cartoon, and Ration Bored has the Woodpecker back in his car in a topical wartime outing.
Despite the fairly routine cartoon set ups (bullfights, army, circus, etc) of the time, and apart from the lunatic pacing, these first few cartoons are truly inspired, with some wonderfully witty gags that sometimes predate – or at least run parallel – to what Tex Avery would end up doing with several characters, most notably Screwball Squirrel, over at MGM. There's much breaking of the fourth wall, the playing of cinemagoing conventions and with the film medium itself, and like the early early Daffy Ducks, there's no real telling where each short is headed or how they will resolve themselves.
1944 saw a number of landmarks in Woody's career, and The Barber Of Seville is such a cartoon in more ways than one: it introduced a new look for Woody – one that would dictate all further streamlining of the character – and remains one of the most widely praised animated shorts of the time, pre-dating Chuck Jones' acclaimed Bugs 'n' Elmer version six years later. Gone are those thick orange legs and in is a sleeker design, much more bird-like, in director James "Shamus" Culhane's classic, which may offend today due to racial stereotypes. Kudos to Universal for including such films uncut here, and without the "times have changed" hand-holding that other studios feel the need in pointing out in case of backlash. The same year also saw the introduction of a permanent foil to Woody; that of the somewhat Swedish-accented, tooth-and-a-half challenged Wally Walrus, in The Beach Nut. Wally would make appearances throughout the Woodpecker cartoons as well as in other co-star's series, but he never really made it out on his own. He's an odd character, but nonetheless welcome for it, and he really does help make The Beach Nut a keeper.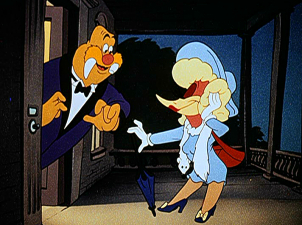 Wally is back in Ski For Two, and although it starts off with some suspiciously long held shots to cut down on costs, it's soon clear where the budget went, in a terrific song and ski number as Woody slides down to Wally's forest lodge. This is a fun, fun cartoon, with Woody trying everything he can to break into the lodge to help himself to Wally's winter stash of stocked up food. Chew-Chew Baby – another quest for food, this time from Wally's boarding house – has Woody joining the pantheon of cartoons characters who have donned drag to outwit their arch-rivals, and Woody Dines Out might sound like more of the same, but it actually puts a neat spin on the idea, with a lengthy and comical elevator sequence.
Although that completes things from Woody's perspective on Disc One, we're not done yet, with an enticing slice of Walter Lantz styled Oswald The Lucky Rabbit cartoons on hand. The other Walt, Disney, had been making the shorts, but when he was famously fired from the series (only to go off and create a certain mouse instead!), Lantz was in the right place at the right time to offer his services to Universal, who promptly took over production from Oswald's producer Charles Mintz and installed Lantz on the studio lot. Once Lantz had set up shop, the new series of Oswalds swung into production in 1929, the first few cartoons sadly not noted here. After 19 cartoons, the first of the selected shorts to appear here, Hell's Heels, from 1930, was released. Far from being inferior to Disney's work, this cartoon actually compares favorably, though as has been noted elsewhere these cartoons were never as consistent in character as the Disney entries and were often played more for gags rather than cohesiveness.
Jumping ahead in the series a little, we're presented with Spooks, also from 1930, and a parody of the Universal horror features that the studio would become famous for. Ub Iwerks was always a fan of ghosts and ghouls and this short, a pretty fun but strange spoof of the then-recent Phantom Of The Opera, feels very much like one of his (though he had nothing to do with it) and even features a suspiciously Mouse-like musician in its orchestra. Giant series hopping another 30 or so cartoons forward, Grandma's Pet, from 1932, has a fairly pointless and redundant bedtime bookend set up that leads into a surreal and sometimes confusing take on the Little Red Riding Hood story.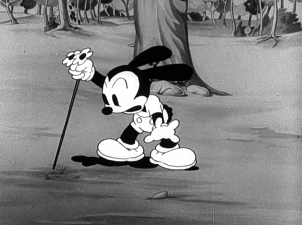 It's a series leaping 25 cartoons to one of the best in the series, the patriotic Confidence from the following year. Set during the Great Depression, this was one of the few cartoons that directly addressed the situation rather than attempting to provide escapist entertainment to divert away from it. Oswald's happy farm is threatened by the skeletal Depression and he turns to President Franklin D Roosevelt, who urges the Rabbit to have "confidence" and beat the situation. While it was an easier said than done solution for the many real people struck at this unfortunate time, this cartoon remains a high point and perhaps Lantz' most considerable contribution to the national consciousness. Finally, a smaller step over just a couple of cartoons lands us at the Academy Award-nominated The Merry Old Soul, another fairytale spoof, and one peppered with Hollywood caricatures – Chaplin, Keaton, Beery, the Marx Brothers, etc – of the time.
The premise is that Old King Cole is anything but a merry old soul, leading to the stars' attempts to cheer him up again. A move into musical territory, this is the most straight and enjoyable of this handful of Lantz Oswalds. Perhaps because the Rabbit actually has little to do, it comes over as nothing less than a dry run for the later Disney masterpiece Mother Goose Goes Hollywood (complete with Laurel & Hardy pie fight) – high praise indeed! With animation by a team that include such later notable names as Clyde Geronomi, Pinto Colvig and one Frederick "Tex" Avery, one would expect these shorts – all shown as created in black and white – to contain consummate animation and gags, and they do for the most part even if Oswald's voice changes from film to film. However, as a taster setting up the collection of original Disney pictures coming out later in the year, this genuinely builds much anticipation.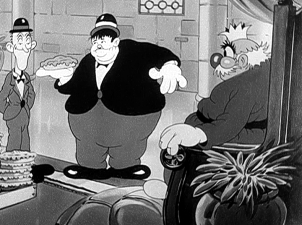 Every cartoon outfit of the 1930s had a musical motif in their series names – think Silly Symphonies or Merrie Melodies – but Lantz was the only one to go for the obvious and call his films "Cartunes". Disc One is completed with a selection such shorts, beginning with 1933's King Klunk, a spoof of the same year's King Kong and featuring Pooch The Pup, a Lantz regular who starred in his own short-lived series. There isn't much to differentiate Pooch from any other character of the time (there's a bit of Oswald mixed with Bosko in there) though this rather epic nine-minute cartoon has fun and, usual stereotypes aside, is impressive in that it was put together so quickly. Toyland Premiere – the first color cartoon (a two-strip effort) in the archival section – has Santa preparing for a Hollywood balloon parade, complete with more Tinseltown caricatures (plus Oswald, though it's not one of his cartoons). The Hollywood types are great fun, and this is quite an intricate short.
It's a return to black and white, and featuring that old cartoon chestnut Liszt's Hungarian Rhapsody (and a score by Frank Churchill) for the next short, Hollywood Bowl, featuring more caricatures. One gets the feeling Lantz had a spy in Disney's organisation, because if this hadn't come out in 1938 – two years before Walt's concert feature – one would have to have thought it was at times a spoof of Fantasia! The disc rounds out with Scrambled Eggs, a slow cartoon which seems to be the first and last Peterkin outing, for understandable reasons, and Hysterical Highspots In American History, which of course lives up to its name and presents anything but a serious look at US affairs ("what, no cartoon?") in a fast and furious pastiche.
Disc Two primarily continues Woody Woodpecker's chronological cartoons, stretching from where we left him in 1945 and up to 1948. By now the shorts are fairly routine, though no less entertaining. The Dippy Diplomat, The Loose Nut (a concrete paving set up with some delicious backgrounds and effects animation), Who's Cookin' Who?, Bathing Buddies, The Reckless Driver and Fair Weather Fiends (the last series director credit for Culhane) all continue the same kind of Avery-inspired freewheeling, anything goes lunacy, usually centered on Woody's hunger for grub up against Wally Walrus or the Wolf. 1947's Musical Moments From Chopin is, like Knock Knock before it, a team-up with Andy Panda, though it's not a series cartoon for either of them, being a Universal Musical Miniatures short. If anything, it's evenly split between the two, but no less comical at that – it was nominated for an Academy Award – and one of the first under new director Dick Lundy. Woody changed appearances over the years so much so that one could argue that the 1940 and current versions of the character are not visually one and the same apart from attitude and coloring, but Lundy's subtle tweaking essentially made the changes that we recognise as being Woody today. To the series' disadvantage, though, he took out – then fixed – Wally's broken teeth and momentarily lost the Walrus' crazy Swede accent.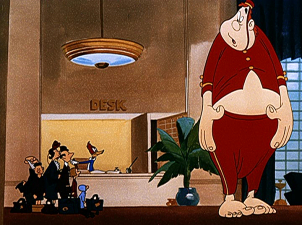 Lundy's next few cartoons show the progression of the characters through a variety of backdrops: Smoked Hams (with animation by Grim Natwick and a shot where Woody's bed pillow vanishes for noticeable frames), The CooCoo Bird, Well Oiled (with a not-so subtle push for Lantz' comic book!), Solid Ivory and Woody The Giant Killer (in the same year as Disney's Mickey And The Beanstalk sequence), a cartoon that's one of the best of this bunch but marred slightly by a poorer quality soundtrack and the only case of possible digital video noise reduction that jumped out at me.
Interestingly, I had not been previously aware that Lantz and Universal had a temporary split over rights negotiations in late 1947, and so was surprised to find The Mad Hatter released as a United Artists cartoon, though copyrighted to Lantz. There's no real quality drop or difference between the series as it was running and these UA shorts – the others on this disc being Banquet Busters and the violently hysterical Wacky-Bye Baby – and Lantz kept things going with not only Woody, but co-stars Wally Walrus, Andy Panda and the Musical Miniatures as well. Dick Lundy was also credited for bringing a new sensibility to Lantz' films, rising Woody to the height of his fame during his tenure and further developing the stock stable of characters, including Andy Panda, who uniquely began to "grow up" over time.
A selection of Panda cartoons shows Lundy's influence on the series. The cute panda is born in Life Begins For Andy Panda (1939), which somewhat channels the friendly forest atmosphere of Bambi a good couple of years before its release, while he's noticeably older in Culhane's Oscar-nominated Fish Fry from 1944. By Lundy's 1946 Apple Andy, he's fully grown, leaner and less cuddly, a look that he continues to sport in The Bandmaster (the first cartoon to be released under United Artists) the following year, before undergoing another Lundy redesign for Scrappy Birthday, his final cartoon, released in 1949.
The Swing Symphonies can only be described as either forerunners of the music video concept, or a continuation of what Max Fleischer did in the early Betty Boop cartoons. If you'll recall, Fleischer would often stop the Boop cartoons mid-way for a celebrity – more often than not Cab Calloway – to pop up and perform whatever song they had playing in the hit parade at the time. Bingo: instant visual interpretations of popular music! The Swing Symphonies were more obvious examples of this idea, and perhaps influenced Walt Disney's later "popular Fantasia" package features that built sequences around popular performers of the day.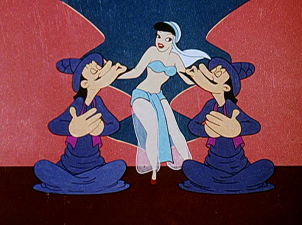 Starting with the first in the series, we're offered five such Cartunes here: $21 A Day (Once A Month), Pass The Biscuits Mirandy!, The Greatest Man In Siam, Abou Ben Boogie and The Pied Piper Of Basin Street, ranging from 1941 to 1945. The format is by and large the same, with a standard set up filling half of the short until a typically instrumentally extended version of the title song crops up and takes prominence for the rest of the duration. Especially good is the wartime hillbilly burlesque of Mirandy, Culhane's directorial debut for the studio with Pinto "Goofy" Colvig on vocal duties, and the terrific design and fast-paced gags of The Greatest Man In Siam. I should also point out that Abou Ben Boogie is indeed uncut and presents a full print with all of the risqué dancing girl's animation intact. Chief among the value with these are to hear original era songs, and for any fan of boogie-woogie and the big band sound, there's plenty to enjoy.
Disc Three continues the Woody Woodpecker cartoons from the short period of 1948 United Artists releases. Lantz' protected his copyright on these shorts and, when financial difficulties meant he needed to close down his studio while negotiations began again with Universal, he was able to grant Universal the rights to distribute the UA films, which is how they're able to turn up here, with one presented with its Universal re-issue titles. The first cartoon on the third disc, Wet Blanket Policy, is mostly notable for the official introduction on film of The Woody Woodpecker Song (as well as a furiously gag-filled office chase featuring the debut of new arch-nemesis Buzz Buzzard). Using the cartoon's theme with new lyrics, and released in June 1948, the record was a smash hit and Lantz wanted to capitalise on it, immediately shoe-horning it into the next cartoon on the roster. Clearly the inclusion was a last minute decision since the ill-fitting synchronization with the action while the song plays during the opening hasn't been accounted for, though uniquely the picture went on to then be Oscar-nominated for Best Song, giving Wet Blanket Policy the status of being the only animated short to receive this honor. Again, in anything else but distributor, there's nothing to tell the UA entries from the Universal shorts, so the overlap passes transparently, and Wild And Woody, an as expected Western spoof in which Woody becomes Sheriff, and Drooler's Delight (another search for sustenance, with a neat little malt shop homage to Lantz) are average snapshots of the series at the time.
1950 saw only the Universal distributions of the UA films to theaters, but Lantz and the studio were able to come to an agreement and he was back in business again on his old lot. Woody was first seen in new footage in the prologue to Lantz' friend George Pal's sci-fi classic Destination Moon (untouched on here), where he explained the theory of space travel, also the first time Lantz' wife Gracie took over as Woody's voice after other vocalists including Mel Blanc had performed in the role. The new deal also meant a new Woodpecker, and Woody was altered once more, pretty much for the final time give or take changing animation styles. He strayed even further from his bird origins, becoming less lunatic and smaller in an attempt to elicit some sympathy for the newly "cute" little guy.
Woody made it back to screens by 1951, though the new cartoons, released under the now globally named Universal International, where the studio took full copyright on the shorts, are less rambunctious affairs, featuring a more homogenised Woody Woodpecker that's closer to many of the other slightly nutty cartoon characters of the time. Most found themselves in variations on a theme, and I think every major cartoon star had done their haunted house ghost film, been a concert pianist, played in a Western and the trying to get to sleep picture, etc. By now, Lantz' series itself wasn't as zippy as before, and Woody often found himself in these rather predictable situations. Puny Express and Sleep Happy, which had already been in production at United Artists, quickly became the first of the new titles, but already Woody was beginning to repeat himself. Not only is the look of the films visibly cheaper, but gags are commonly recycled from film to film, these two films being another Western (again with Buzz Buzzard) and another sleep deprivation outing (again with Wally Walrus), respectively.
Wicket Wacky is Woody's goofy gopher encounter, and though I spent half the cartoon getting to grips with the Woodpecker's new yellow gloves, it did do what it could with the clearly more limited resources available to Lantz and his team. Westerns were, of course, a big draw on that new-fangled television, and perhaps that's why this era produced its fair share of high plains cartoons, since they were an easy mark to swipe. Slingshot 6 7/8 is such an outing in name only, since it predominantly concentrates on Woody's entering of a shooting contest, up against Buzz Buzzard in an Indian get up. A return to form, Woody looks much more like his old self here, and the imaginative cartooning feels more like the true classics. Woody then gets in touch with Mother Nature in The Redwood Sap, which continues the old-school gags in a fun version of the old Grasshopper And The Ants tale.
Oswald Rabbit had been totally redesigned in the later 1930s by Lantz and dramatically changed from having his typical 1920s silent cartoon character look to becoming a fluffier, white bunny. Oswald ended up being too cute (in an attempt to rival Disney) and was slowly relegated to supporting status as a number of other characters made their debuts. Lantz kept Oswald alive as a kind of Br'er Rabbit clone in comics, but he popped up for one last time on screen in the next cartoon, The Woody Woodpecker Polka, and the change to his design is very much apparent, even compared to the Disney vs. Lantz black and white pictures. This is another of the economical looking cartoons, with the same Andy Panda walking into Wally's barn dance several times and not even wearing different colored clothing to try and disguise the fact. An attempt to launch another theme song doesn't catch lightning in a bottle, but it's a pretty amusing short even Woody's drag routine only plays second fiddle to the new song.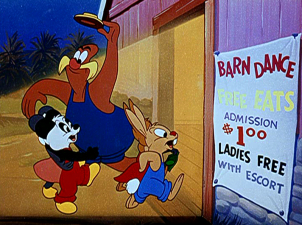 The remainder of the cartoons are a mixture of this somewhat uninspired feel and the occasional touch of brilliance. One thing I found interesting throughout the series are the odd titles, which only in few instances indicate the kind of cartoon to come. Though Destination Meatball has a great title, a send-up of the Pal feature Lantz provided animation for the year before with a wicked title card treatment, it bears little designation to the conventional Woody/Buzzard food fight that plays out. The final five in this collection – Born To Peck, Stage Hoax, Woodpecker In The Rough, Scalp Treatment and the carnival The Great Who-Dood-It – all come from 1952, just missing out on the final cartoon from that year, the hysterical Termites From Mars. Lantz was initially re-contracted to Universal International to only produce Woodpecker shorts, and one can see the tiredness in this last handful. There are good things in the Woody-as-a-baby Peck, even if it is a little surreal and morbid, and Hoax mixes Wally, Buzzard and food! If nothing else, Lantz himself seems ready to stop; Scalp Treatment marked the final of his directorial duties, and though it's another Western-set short is actually full of very funny gags and a decent last hurrah for him.
With his unit back on track, Walter Lantz would move once again into more of a producer's role, developing new characters and eventually sealing Woody's popularity by signing to host The Woody Woodpecker Show on television from 1957. With Universal International pleased with the Woodpecker pictures in theaters, Lantz set about debuting a new character, and the cold little penguin Chilly Willy was introduced. The set includes the first five cartoons in the series, starting with Chilly Willy from 1953. The era of limited animation probably wasn't a great time to start trying to get new characters latched into the public's minds, and this first cartoon was a failure, mostly perhaps because Willy isn't actually cute enough and actually comes off as more of the whiney, smart-aleck pest in the cartoon that a poor bloodhound has to ward off.
After a now legendary run at MGM, where he had produced the Droopy series and tried to kickstart the Woody-esque Screwy Squirrel cartoons, Tex Avery found himself heading back to his old employer Lantz in 1954 when MGM shut shop. His stable mates Bill Hanna and Joe Barbera moved immediately into limited animation for television, but Avery wasn't so lucky, only stopping with Lantz for four cartoons over a year before heading into animating commercials – a cheerless end for such a brilliant career. Perhaps there was an aversion from Avery to the Woodpecker character, maybe he felt he was too close to the style he had been developing at MGM, but I sure wish we could have seen what magic he might have worked on Woody – now that would have been a pairing! Alas, instead of potentially restoring Lantz' biggest character to his Lunatic No. 1 position, Avery was handed Chilly Willy (though does seem to have become the first director distinctive enough to receive his own solo screen credit on the studio's films).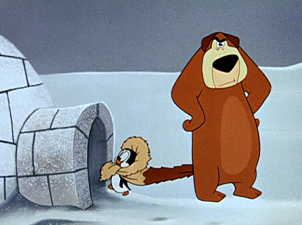 Avery brought new and crazy co-stars into the series, which otherwise all centered around Chilly's quest for warmth in the Arctic Circle, and filled the cartoons with his trademark gags. Although the little penguin still doesn't really come across as a sympathetic or even particularly likeable lead, I'm Cold features unmistakable Tex touches, not least Daws Butler reprising his southern Wolf vocal for a dog character here that would also later be attributed to Huckleberry Hound. From the visualisations and music score, to the way Willy moves, camera tracking and fourth wall speaking to the audience, this is assuredly Avery. Though he's working with a lesser character he even gives Chilly a sense of the mischievous that gives him more of a spark and allows his new trick of honking noses to produce some of the biggest later laughs in this collection.
Tex's Chilly Willy cartoon was successful enough to ensure a third short, and The Legend Of Rockabye Point not only feels like classic Avery (right down to some familiar Droopy-styled gags, hysterical timing and poses that one can see pushing the animators) but also went on to garner a 1955 Academy Award nomination. The future of the series was set, and Avery storyboarded the next two cartoons before leaving the studio. As such, Hot And Cold Penguin and Room And Wrath (1956), both credited to long time Lantz staffer Alex Lovy, do actually feel much more like Avery pictures and guaranteed something of a consistency before lower budgets and other directors began to water down Willy as much as Woody would later be.
Though he never got his hands on Woody, if he had even ever been interested, in addition to the penguin cartoons, Tex Avery contributed two other shorts during his time at the studio. The Lantz one-shots had been an ongoing concern since the later Oswald pictures of the mid-1930s, when Pooch The Pub didn't fly and before Andy Panda or the crazed Woodpecker would make their debuts. As with the Disney Silly Symphonies, the Cartunes allowed new ideas to develop, and for many characters to come and go. It's clear that 1941's Boogie Woogie Bugle Boy Of Company B is among the first cartoons to inspire the later Swing Symphonies, and presents probably the most well-known and catchiest song in this set to possibly the most handsome visuals here, with great angles and elaborate detail.
It has to be said that at least a couple of cartoons come close to basically ripping off previously released Disney shorts, but that was also the nature of Hollywood animation at the time, when spoofing each other was rife. I had feared that Mother Goose On The Loose might be another one, but it turned out to be a very enjoyable musical riff on nursery rhymes, with a inimitable title card treatment that notes the "pictures drawed by", "story thunk up" and "music patter writ by" crew names. Another character envisioned to go to a series was Homer Pigeon, though he never took off, so to speak. 1942's Pigeon Patrol was the first such cartoon of only a handful stretching until 1956. It's not clear why the artists didn't put more stock into Homer: this is a sweet cartoon that feels more akin to the gentler Merrie Melodies, even if – in this uncut edition – its wartime Axis plot limits the replay potential in today's world.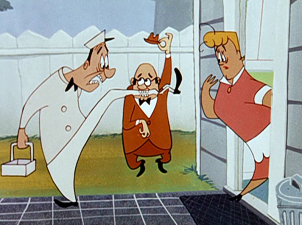 The set rounds out with those two aforementioned Avery one-shots, the first of which is Crazy Mixed-Up Pup, from 1955. Without the character constrictions of Chilly Willy, Avery is completely let loose here, and he runs riot with a typically outlandish plot centered on a dog and his owner switching instincts. It is, in all but name, as good as Tex's later non-series MGM pictures and truly shows just what a powerhouse influence as a director he was. The "OKey Laughing Record" was one of the first phonographic hits on release in 1922, at a time when players were still not yet common, and perhaps some of Avery's own inspiration is revealed in Sh-h-h-h-h-h, also from 1955, which uses the 78rpm as its soundtrack. I'd heard what a masterpiece Sh-h-h-h-h-h apparently was, and the term is often loosely bandied about, but it's one hundred percent accurate here. The original record's intent is reworked (the previously unknown reason as to why the voices are chortling so raucously is given a solid base) but that doesn't stop this feeling suitable surreal and the long moments of pure silence is an audacious approach for any director. That it was Tex Avery, nearing the end of his career, makes it all the more poignant.
All in all, out of 75 cartoons, only a fraction are possible clunkers, with barely a handful of real stinkers within that proportion. True, these cartoons were never designed to be run through in a few sittings in one week, which is when repetition is much more keenly noticed, but even so it's still an impressive strike rate. Of course I was also coming to many of these shorts for the first time, so they did potentially feel fresher to me from the outset but I would argue it could have gone either way. The Lantz cartoons have often been appraised as B cartoons to the likes of Disney's and the Warners' output, and while my perception that the studio didn't particularly push any boundaries remains reasonably unchanged, there are a fair amount of Academy Award nominations in the pack (Lantz himself finally won an honorary Oscar in 1980), and I would like to think the time has come for something of a re-evaluation.
For classic animation or Lantz fans, this is an important release that should please no end. And then, even to newcomers interested in the foundations of such randomly hilarious modern characters as those found on Cartoon Network and the like, the Woody Woodpecker And Friends: Classic Cartoon Collection is also extremely entertaining and should feel right at home on your shelves!
Is This Thing Loaded?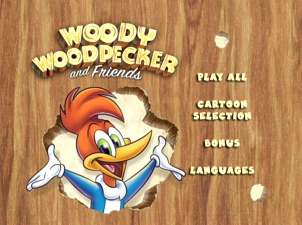 Short of a regime change at Universal Video, this set not only came out of nowhere, but comes packed with a healthy amount of bonuses to boot! The main menus are even fun, being fairly static after a brief intro, but so full of traditionally old-school cartoon brightness and fun that they can't fail to put a smile on your face. There's a Play All function to run through each cartoon consecutively, or a selection option that displays two pages on each disc, dedicated to the Woody cartoons and the additional characters respectively.
Although one could argue that those non-Woody character shorts are extras in themselves, the package quite rightly doesn't allude to them in this way – this is Woody Woodpecker And Friends after all – so they have been covered as part of each disc's regular contents above. Although the real bonuses show a lack on Universal's part to spend generously on any new interview featurettes, the rest of the package more than adequately adds up for this in terms of background information and we do get some seriously fascinating treasures from the vaults.
On Disc One, Walter, Woody And The World Of Animation is an almost 14-minute 1982 profile of Lantz and his cartoon menagerie, "hosted", via some crude but more than workable animation/live-action combinations, by Woody himself (and voiced by Lantz' wife Gracie, who had been performing the voice for years). The lack of any new material is a potential complaint considerably squashed with the inclusion of this piece, which is both fun and highly informative, even if from a puff-piece perspective. The cuts between the live-action and the cartoon backgrounds are the least jarring visual aspect when one also considers the changing appearance of Woody himself in the clips used to fill in the shots, but the sheer charm pulls it together. We see peaks at an ingenious live/animation combination gag from an early Bray film, an emphasis on the Oswald short Confidence, the two-strip opening to the Universal feature The King Of Jazz, the birth of Andy Panda, Woody's debut of course, and the story of how Lantz' wife was given the role long before Nancy Cartwright made ladies voicing male characters a cool thing. If anything else, this short truly displays the work gone into presenting the cartoons themselves on DVD – if we'd been given anything like the dupe copies spliced in here I don't think anyone would be as pleased as they are with this collection, and that it's all narrated by Lantz himself adds exceptionally to the charm.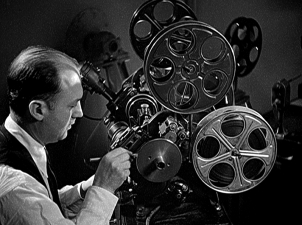 Cartoonland Mysteries, an 11-minute short from the 1936 Going Places series, additionally excites as both rare vintage footage and a peek behind-the-scenes. Set on the Universal lot, the travelogue cameras take us to Hollywood to reveal the production process on a post-redesign Oswald Rabbit cartoon, where one could be mistaken for thinking that Walter Lantz almost single-handedly made these shorts all by himself. He's seen hammering out the story, drawing the story sketches, advising the animators on each scene, and even editing the final picture! But though it's all obviously staged, there's actually a genuine look at the conditions of studio life at the Lantz facility of the era, and at times it's a technical discussion that could well have baffled audiences of the day. Wonderful.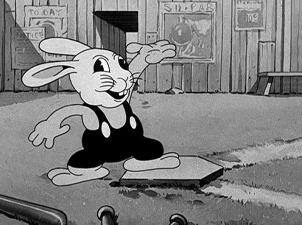 Onto Disc Two, where The Woody Woodpecker Show series is represented in six Behind The Scenes with Walter Lantz segments from 1957. The half-hour compilation show was a great success for Woody and Walter, who appeared in bookended sections detailing how animation was put together. Apart from Disney, no-one else was doing this on TV at the time, so they would have been captivating eye openers for audiences who knew little about the process so openly promoted in today's television documentaries and DVD supplements. Totalling over 22 minutes in a Play All run through, we learn about The Origin Of Woody Woodpecker (from Episode #1), Drawing Woody And Andy (Ep #5), Creating The Stories (Ep #6), Animating Woody (Ep #8). The Development Of Woody (Ep #9) and Directing Animated Cartoons (from
Episode #10).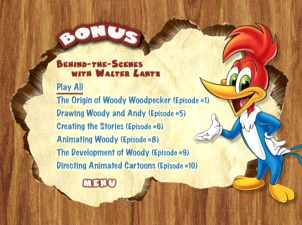 The subjects have been picked with both an eye for the interesting and their relevance to the material in this collection. The first clip's on-screen title The Invention of Woody might actually be more apt, since Lantz runs through the old tale that he was inspired to create Woody by a real life woodpecker he heard knocking on his log cabin early one morning. A lovely, Hollywood take…if Lantz hadn't claimed it happened while on his honeymoon, two years after Woody's debut. Indicating the attention given to the series, however, these sequences often include limited but new animation specifically produced for the show. The remaining segments are much more factual, and even if they are staged as much as Disney's camera pieces were, Lantz doesn't come off as relaxed, gracious (one clip seems to insult the audience's sent in drawings) or quite as genuine as Uncle Walt. Though not as in-depth and scratched by age, these two-to-three minute clips do give us a unique perspective on Lantz and his staff at the time, and there are nuggets of authentic information that are quite significant.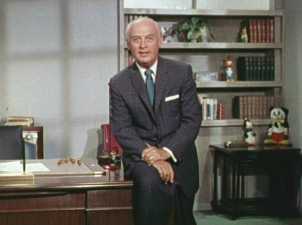 Disc Three completes things with a single, but very unique, extra: an entire episode of The Woody Woodpecker Show, running 23 minutes, from 1964. Not only is it interesting stuff to see what a complete episode feels like, but this particular Halloween-themed show has been especially well picked to knowingly include the only Woodpecker short produced for the TV series' run, Spook-A-Nanny, thus again creating double the curiosity value in one supplement. After the color segments from the show on the second disc, I was surprised to find the program here presented in black and white, presumably from the only available source, but it looks very clean and comes with its original Kellogg's sponsor notices intact for a bit of period fun.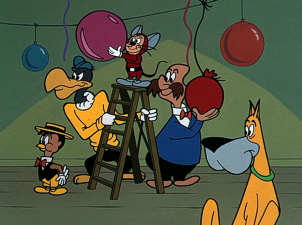 The show itself also features two classic cartoons not otherwise in the collection, and extremely pleasingly these have been inserted using noticeably remastered color prints. By 1954 theatrical cartoons weren't all that fantastic from any studio, but the Woody short Under The Counter Spy doesn't especially fall prone to the various budget cutting tricks that beset the industry as television inched in on their turf. Like many cartoons of the time, the part-Dragnet parody Spy takes a pot-shot at its small screen cousin, to humorous effect. Secondly, the Andy Panda cartoon Playful Pelican (released originally by United Artists in 1948) is a fair example from that series. Once this classic material has been screened, Lantz pops up for his usual camera piece but instead of explaining how an element of the cartoons were made, he's seen getting ready – with the animated "cute version" Woody Woodpecker of course – for the studio's Halloween party.
This sequence leads into the aforementioned Spook-A-Nanny cartoon, especially created for this show in the series and again welcomely presented from a seamlessly inserted color print, though understandably without main titles as it was never released individually. Featuring lively spirited cameos from almost the whole bunch of Lantz' animal cast of characters, the short plays much as the later theatricals, with concessions to the limited animation techniques that were imposed by television budgets. In fact, for an ostensibly TV product, the writing's good and there's little to differentiate it from the theatrical cartoons of the time, which would continue to run until 1972. Featuring a couple of nice bonuses of its own (the two classic cartoons) and exclusive material (the Halloween special), this episode is a great send off for Woody and friends, and a nice closer to this set.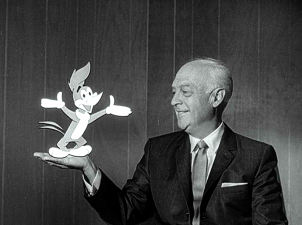 The only thing I perhaps needed more on was the famed Woody Woodpecker Song, which I never quite figured out how it was nominated for an Academy Award in 1948 – a year after it had been recorded commercially and many years into the cartoons' run, where it had been used as instrumental theme music. It totally deserved the win, of course, and is heard multiple times in various configurations throughout the set, but I was just genuinely surprised to find out that the often used music won its recognition many years after first being used. I guess that's what catchy lyrics will do for ya! Perhaps a future volume might look at the song and other spin-offs, including the bizarre 1980s Video Kids single Woodpeckers From Space?
A perfect selection of bonus footage complements a welcome selection of truly classic cartoons – without splashing out on a new historical documentary or a splattering of select commentaries, I don't see how this could get any better. The value that lies within the archived material presented is just astounding. P-p-p-perfect!
Case Study:
As with the content, the overall package also screams of class. It's wonderfully glossy, comprising of a three-tier digipack and deluxe, durable slipcover. A very neat tough is the pecking out of woodpecker holes in the wood-drawn background, complete with actual punch-outs in the sturdy cardboard box that demonstrates another level of the consideration that has obviously gone into the package. Inside, the artwork never replicates the outer box – a rarity these days – and instead serves up a biography of Lantz, full bonus feature and cartoon listings including release dates, and an overview of each disc's contents with insightful extra information such as denoting Academy Award recognition.
The back of the slipcover notes the 75 Theatrical Cartoons Digitally Remastered and Completely Uncut, while a notice, as with more and more Golden Age sets these days, wisely states that "This collection is intended for adult collectors and may not be suitable for children", making sure that we understand – and get – the unadulterated entertainment within. Canadian buyers beware: the collection looks quite different in that territory, coming presented more in line with Universal's other multi-disc sets, in three slimline thinpack cases housed in a standard flimsy slipcase without the gloss or wood-pecked holes, so it's well worth using our Amazon links here (free plug!) and purchasing this Stateside.
Ink And Paint:
These aren't the cleanest cartoons I've ever seen on DVD, but they beat the pants off the earlier shorts in the recent and disappointing Tex Avery's Droopy collection.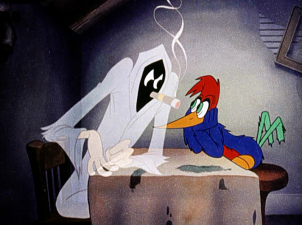 Although there are more than a few nicks and scratches earlier in the run, the print fidelity is outstanding, with eye-popping colors vibrating out from the Technicolor prints. I'd place them a little below par of the Looney Tunes Golden Collection efforts, which should go some way to telling you how good they look while not setting up hopes for a super-clean, clinical video whitewash. There is very occasionally a big block of color (usually red or blue) that the compression has a little trouble overcompensating for the amount of grain, but these are thankfully few and far between and certainly more preferable to excessive use of DVNR, which I did not spot any major instances of. These are very much cartoons of the period, with the healthy amount of grain inherent in the image down to the cheaper film stocks used at the time than anything else, and they look simply stunning.
Scratch Tracks:
Presented in original mono (though balanced out in Dolby 2.0), the tracks are again on par with other collections of material from this vintage. I was surprised to find a complete lack of background noise – except understandably in truly "silent" moments – and welcomed the true depth these mixes contained. Unlike some cartoons, where the soundtrack is so heavily mixed to push music, dialogue and effects to the fore, these tracks remain pleasantly dynamic. Perhaps because Universal has only done very little in the way of reissuing these titles over the years, they have remained in better than average condition – certainly the transfer and reproductions here are among the best I have encountered from such material.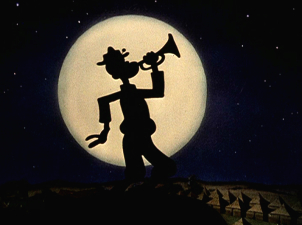 Subtitles are available in English, French and Spanish.
Final Cut:
This collection, coming so close in release date to the Popeye set, marked a great summer for classic animation collectors in 2007. And while even more extras (and another disc?) would have course been most welcome, what a set this is, especially landing out of the blue from a company like Universal, who frankly aren't known for treating even their crown jewels with the greatest of respect. But, you know, this one seems to have squeezed through the net, and it's an exceptional collection. The content selection, unique supplements and even the packaging scream of class. Discovering the Woody Woodpecker (and friends!) cartoons again has been a head turner, and I'm very glad to have added this to my library. My thanks go to those who contributed to bringing the collection to this stunning final result, and I truly hope that Universal's surprising but solidly great work here is rewarded for them in good sales – and for us by way of an announcement for a second helping!
Animated Classic or Back To The Drawing Board?