Filmation Associates (December 5 1974), BCI/Eclipse (October 24 2006), single disc, 88 mins plus supplements, 1.33:1 original full frame ratio, Dolby Digital Mono, Not Rated, Retail: $14.98
Storyboard:
Kansas girl Dorothy Gale finds herself headed back over the rainbow to the wonderful land of Oz, for more encounters with some oddly familiar characters…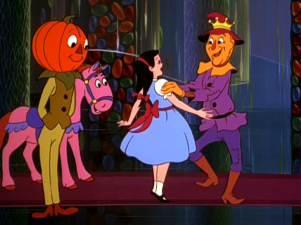 The Sweatbox Review:
Primarily because of BCI's exceptional DVD handling of their Entertainment Rights-owned catalog, the Filmation Studio and their many properties are seeing something of a reappraisal. While Filmation did turn out some spectacular shows and occasionally pushed the envelope, it has to be agreed that just as much as was good was also mediocre, and admittedly the Studio rarely seemed to have had an original idea among themselves. Characters and shows were often adaptations of comic book series, other animated properties, collaborations with toy companies, or misguided "sequels" to popular family movies. And so it was before the Studio even came into being…
The genesis of Journey Back To Oz – and Filmation – actually begins in the late 1950s with writer-producers Freddie Ladd and Norm Prescott's follow-up to Disney's Pinocchio, an often oddly entertaining shambles named Pinocchio In Outer Space. It was animated by the prolific Belvision Studio in Belgium, who would also later count successful adaptations of the Tintin book albums into an animated television series and a trilogy of feature-length movies among their credits. With production of Pinocchio in full swing, Ladd and Prescott began development of their next picture, a continuation of MGM's classic The Wizard Of Oz. What was immediately apparent was Belvision's incapability to ramp up production on two animated features simultaneously and the two quickly had to look elsewhere to get this feature rolling. After dabbling in business with a Yugoslavian studio, Ladd and Prescott found themselves with the money to make a feature, but not the animators!
Over in the US, producer Lou Scheimer was in the opposite position, having gathered animators and artists that were starving for their first project. Scheimer and his director Hal Sutherland suggested going into business with Prescott, and Filmation was created. However, the financing involved in setting up a new studio quickly dried up the intended feature film funds, and only pre-production (including Ladd's recording of all the voices pre-1964) had been completed when Filmation again found itself hungry for outside work. The Oz feature did prove handy when National Periodicals, the owners of the Superman comic book, went looking for a company that would be able to turn around a good quality, but cheap, animated adventure show. So the story goes, Lou ushered in the Superman comics guys, who witnessed a studio hard at work on their latest feature film, and had no idea that the "staff" were made up of friends and colleagues who had stepped in to help Scheimer out. The ruse worked – Lou landed the Superman series on the spot!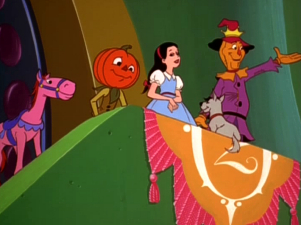 After The New Adventures Of Superman there was no stopping Filmation, and they grew to dominance alongside Hanna-Barbera in the television animation market. The New Adventures Of Batman and a Star Trek series followed – all using the original live-action shows' stars as their voice talent – as well as a long stream of programs based on the Archie Comics brands. But Fred Ladd's Oz picture never went away, even though the company was the victim of their own success and time could never be found to complete it. Over the years, little bits and pieces were worked on, but it was when Filmation was eventually sold to the Teleprompter Company that enough finance was raised through the sale to finish off the very project that had gotten them started.
Now titled Journey Back To Oz, the resulting film would premiere theatrically in 1974 – a decade after production began – leading star Liza Minnelli to request that she be able to re-record her Dorothy singing parts because her voice had aged in the interim and the vocal style that she would become famous for perfected. Fortunately, the producers politely declined, pointing out that the 1964 sessions – her musical debut – were more in keeping with her mother Judy Garland's approach that they were seeking. The film was picked up and given a brief run by Warner Bros, who had put out the Garland animated feature from UPA, Gay Purr-ee, some years earlier, but it only received limited marketing.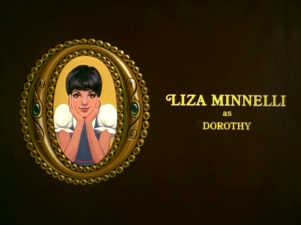 However, it was on television – Filmation's biggest appreciator – that Journey Back To Oz found its best reception, in a 1976 ABC Christmas airing that featured Bill Cosby as the Wizard Of Oz (otherwise not featured in the film) in live-action interstitials. When it became clear that Journey Back To Oz wasn't going to replicate the phenomenal television success of annual airings of the original 1939 Garland classic, ABC dropped the film after just two showings, but it returned in syndication in the late 1970s. Thereafter, Milton Bearle – the voice of the Cowardly Lion in the animated movie – became its host and narrator, bumping up the running time to between 92 to 106 minutes from its original 88 minute length.
Thankfully, we're presented the original theatrical cut here, without all the added (but cheap) bells and whistles, and though that still doesn't make it a great film, it's still more than just an interesting curio. At first glance, the quality of the animation – not always a Filmation strong point – is much better than usual. It reminded me, perhaps with apt comparison, of a more generous budgeted Hanna-Barbera outing, like the Gene Kelly Jack And The Beanstalk special or even the originally animated Charlotte's Web. Echoing the original's sepia toned bookends, Journey Back To Oz depicts Kansas in muted browns, even if the characters do retain their basic, bright color schemes.
Certainly the film has a decent pedigree: director Hal Sutherland was of course co-founder and long time studio helmer, and does his usual brisk job on the material here. Joining the team was the legendary Preston Blair, animator for Disney on Bambi and the long run of Tex Avery's best for MGM, though its unclear what he brought to the project in his credited role of associate producer, and Journey Back To Oz remains the only later-year blip in his résumé. Another Filmation stalwart, art director Don Christensen, worked with a layout crew that includes names such as Don Bluth and Dale Baer on the strong backgrounds for which Filmation were rightly well known for, and the end titles nicely match portraits of the voice cast actors in their character roles (also noting Virgil Ross in the animation department).
The opening titles have fun too, "creating" Dorothy's friends, as the Scarecrow, Tin Man and others are depicted as being everyday objects uprooted from her farm and flying through the air to Oz. And the film is quick to get moving too – we're in Oz within ten minutes of Dorothy stating her wish to someday return to the Emerald City! These credits also reveal the rest of the big name cast that must have been attracted to the film when it was intended to be a major theatrical classic: Milton Bearle as the Cowardly Lion, Ethel Merman as bad witch Mombi, Mickey Rooney as the Scarecrow, the incomparable Paul Lynde as Pumpkinhead, and Margaret Hamilton – an original Oz cast member from the MGM film – switching sides here to cameo as Aunt Em instead of the Wicked Witch (the credits also note animation veterans Mel Blanc and Larry Storch as additional voices).
Most odd is the musical score, which at one point lapses into the theme which has graced UK television's flagship News At Ten for years! Though the legendary lyricist Sammy Cahn is listed among the songwriters, no one is credited for the score itself, though Walter Scharf is noted as song arranger – I'll have to do some digging on this, but quite how an American kids cartoon score can end up as being the most recognisable news theme on British TV is a mystery that I believe only the use of pre-recorded library music can answer!
The original songs themselves are by turns fun and memorable, and then again of their time when musicals were trapped in replicating the past without yet finding their future footing. It most reminded of the kind of song score you'd find in any Broadway production of around this time: not quite classic, perhaps "oversung" in performance, and not theatrical or classic enough to remain truly timeless. Faraway Land can't match the untouchable Over The Rainbow, of course, but it is a haunting melody that lingers in the mind long after the movie ends. Here, producers made the right choice in sticking to Minnelli's earlier recordings: she's a perfect match for her mother and spooky at times when several lines reminiscent of the earlier film are delivered. But, apart from the songs, the rest of score doesn't really do anything but make a lot of noise which, with the added barrage of stock effects, adds up to a something of an over busy and, at times, shrill soundtrack.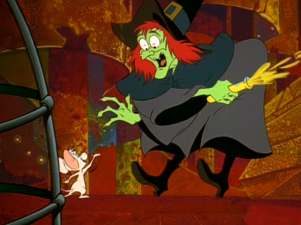 The story, by project originator Fred Ladd and Filmation producer Norm Prescott, takes its cue from Oz author L. Frank Baum's follow-up book that centers on the introduction of Jack Pumpkinhead and Oz living in fear of the wicked Mombi. Though these characters also popped up in the later Disney feature Return To Oz, Mombi particularly is differently portrayed. In that sombre 1985 Disney offering, Mombi was a tragic, head-switching princess, but here she's your typical wicked witch, supposedly the cousin of the Hamilton original and green-skinned as a consequence. Merman hams it up as only she can, basically recreating Hamilton's earlier witch's role, while Lynde as Pumpkinhead isn't so far off how Brian Henson voiced the Tim Burton-visualised version in the live-action Disney film.
Aiming to be a direct sequel to the MGM movie, the plot follows the same conventions, squeezing Dorothy (who doesn't appear in Baum's original book) into the story. After wishing she were back in Oz, she's whisked off by a convenient storm and soon befriends a new bunch of companions – each with their own song and backstory. Woodenhead The Horse's is particularly painful, and my mind wandered as I began to think more about how the character's visual appearance reminded me of Art Babbit's work in Richard Williams' Raggedy Ann And Andy feature that would pop up three years later.
Sooner rather than later they make it to Oz's Emerald capital to warn King Scarecrow of Mombi's planned threat. True to form for this overstuffed musical, Scarecrow responds with a song, though any magic that Rooney usually brings to such projects is sadly lacking here. With the Scarecrow captured and the Tin Man and Cowardly Lion too afraid to help (didn't they learn anything from their previous adventures?), Dorothy only has her new friends and the return of Glinda the Good Fairy to rely on. Again, going to the wildest extremes is Merman, who has the craziest lyrics and most outrageous situations to play on – storming the Emerald City on giant green elephants while name-checking Tennessee Williams!?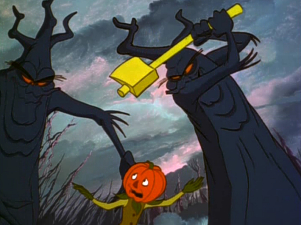 Though the middle of Journey Back To Oz slows to a crawl, there are still some distinct animation effects that hold the interest, which are impressive in their own right given the film's budget. But the story just doesn't have the momentum of the original MGM picture, nor the central thrust of the characters' personal quests or its homespun philosophising. Even the tradition of having the actors reprise similar Kansas roles in Oz is not hinted at. As such, this effort lacks depth – something that could never, for instance, be levelled at Disney's Return To Oz, whatever else audiences thought of that film. There's one good sequence of that ilk here, with our heroes caught in the Ferocious Forest, but even this is over all too fast and doesn't help the episodic nature of the script.
Journey Back To Oz wasn't the big theatrical hit Ladd, Scheimer, Sutherland and Prescott were hoping for, and Filmation's television output remained their mainstay. With the onslaught of foreign, even cheaper animation companies sprouting up in the 1980s, the studio found much of their guaranteed work going elsewhere. They attempted a return to theatrical material with the actually fairly impressive Pinocchio And The Emperor Of The Night in 1987 (not linked to the earlier Pinocchio adventure or directly with the Disney film, this was a continuation of the Japanese Adventures Of Pinocchio TV series). The much-needed marketing blitz never happened and a second film, which was touted as a Disney sequel, the terrible Snow White: Happily Ever After, was shelved in 1988 after a dispute with the Mouse House until it could be completely revised and released in 1993. Unfortunately, this proved the end of the Filmation facility.
Many years ago, I remember owning a Disneyland Record that was a re-telling of The Wizard Of Oz story (for reasons too convoluted to go into, Disney retains some media rights to the original Baum books), but I was always puzzled about where the clearly animated versions of the characters had come from. Over the years, I have of course been witness to various animated incarnations of the characters of Oz, from the wonderful snippets found in the luxury Ultimate Oz LaserDisc and DVD sets, to other television versions. However, I never before now managed to catch this particular feature, and having eventually done so I can finally give that question an answer. While it has understandably not evolved into a classic for many reasons, Journey Back To Oz is probably the most elaborate and genuinely sincere of Filmation's three feature film continuations, and certainly the most remarkable of their theatrical pictures.
Is This Thing Loaded?
BCI continue their great work by honoring the entire Filmation library. Journey Back To Oz, as one of the studio's only original animated features, is certainly one that deserves the deluxe treatment, and it surely gets it here. Animated menus place us firmly in Oz, and heading in the direction of Bonus Features provides the kinds of jewels other animated feature releases can sometimes only dream of. Jumping to the end first, we're given the usual couple of pages of previews for "More From Ink & Paint", being little more than the title sequences of a heap of also available shows, including He-Man, She-Ra, Flash Gordon, Filmation's Ghostbusters, Groovie Goolies and Hero High.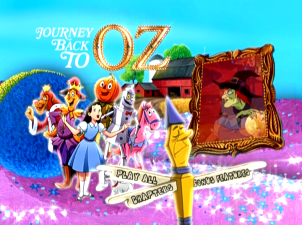 First of the Journey Back To Oz features is a full-length audio commentary with producer Lou Scheimer, director Hal Sutherland, story writer and voice track director Fred Ladd, and Ervin Kaplan (director of color, as Scheimer barges in to correct him in his introduction). Although the track is hosted by BCI's Filmation expert and long-time special features producer Andy Mangels, it's Lou Scheimer who dominates here. He starts by paying tribute to the late Norm Prescott, quite appropriately, while Ladd covers the genesis of the project. But instead of coming across with his usual motormouth but jovial personality, Scheimer here sounds something more of a loudmouth, and it didn't come across that that there was any love lost between him and Ladd, who seems to have been edged out of the Filmation story and didn't go on to any great career after Journey Back To Oz (although had been previously responsible for bringing Astro Boy and Kimba The White Lion to the US from Japan).
But it's clearly still Ladd's picture, and while Scheimer is off forgetting names and mugging to the microphone, Ladd provides genuinely interesting commentary, conveying much information on the making of the film. There's certainly a feeling of a split between the two at first, like an old marriage that's on the rocks, with interruptions and gentle sparring as Ladd sits back to wait for a space to finish his anecdotes, but they seem to warm to each other over time. Lou concentrates on the movie from a Filmation perspective, while Fred elaborates more on individuals, including revealing that Preston Blair's input stretched to uncredited character designer. Although the chat covers the basics of animation all too familiarly for aficionados, Sutherland explains his process and there is a lot of fascinating chat about the voice cast (including the re-recording of couple of parts), which ultimately makes this a vastly entertaining and informative track.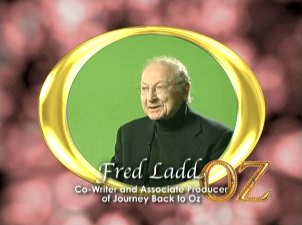 Further comments from the three principles, Lou Scheimer, Hal Sutherland and Fred Ladd, are next showcased in a trio of creator interviews. Though each sit separately, there is quite some overlap in information both between themselves and the commentary track. Filmed in front of BCI's standard green screen, which has allowed for visual trickery to be applied to the background on other sets, here it's left intact with the participants placed in the giant "O" of Oz, which with its emerald backing is perfectly appropriate. A "Play All" option runs these segments together for a 27 minute running time, though much of that is spent sitting through the same DVD credits three times. Appropriately, Ladd gets most screentime, with over 14 minutes worth of detailed recollections and interesting comments on the vocal recording sessions.
We're offered a second Image Gallery next, and this is a wonderful montage of 17 background, production, behind the scenes and promotional images, including one that calls the film "The Return To Oz". Now that's a good name for an Oz movie!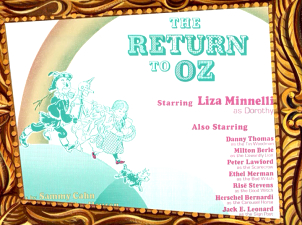 A Sing-Along option plays four sequences from the movie (Faraway Land, If You're Gonna Be A Witch Be A Witch, That Feeling For Home, An Elephant Never Forgets) with optional lyric subtitles on or off. These aren't just lifted from the main feature, but re-edited to concentrate on the songs themselves, adding up to over eight minutes in the "Play All" configuration.
Despite being not much more than a retread of MGM's classic, Journey Back To Oz gained a certain popularity from its exposure in re-runs. As mentioned above, Bill Cosby hosted these showings by way of some bizarre interstitial television wraparounds, and we're given a sampling here, as well as 14 gallery images. If there's one thing that could build on the bittersweet nature of the main feature and tip it over the edge from being passable to downright unbearable, it's these additional moments, in which Cosby looks bored and does little to disguise his apparent disdain for what he's doing. This is truly just over six minutes of torture and I can only imagine its because the later Milton Bearle version was either lost or unattainable for this release that we don't see him instead, which would have been preferable. Filling in that gap, we're presented with a couple of images from the Bearle recording and anyone can plainly guess that he'd have brought a wit and charm to his segments sorely missing from the somewhat amateur, sub-Sesame Street Cosby clips.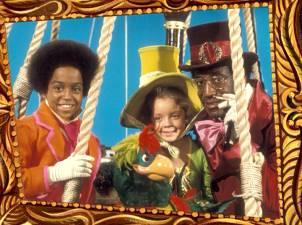 Much, much better are a pair of Theatrical Trailers, which promote the film primarily resting on their big name voice cast. The first (3:20) centers on the plot, pushing the danger and Mombi's green elephant attack, while the second is purely song and scene obsessed, merely playing out several clips in full (hence the 5:12 length). Though both seem to be sourced from VHS copies, the level of color attention the feature transfer has benefited from is very clear since everything here is washed out.
Finally DVD-ROM material is apparently present in the form of "Journey Back To Oz scripts and music sheets". BCI are usually top-notch when they come to including such PDF-readable treats on their discs, though I have to be honest and say that these are often quickly glimpsed at and serve little purpose other than being welcome and adding something of a cool factor about their supplements. However, in this case I was very excited to learn about their inclusion – especially the music sheets – which I was very eager to look at. Imagine my disappointment, then, when the stated "DVD-Rom Features" folder wasn't anywhere to be found on the DVD!
Case Study:
Though this is a single disc release, it certainly lands within BCI's Ink & Paint branded animated fare and as such is treated to a slipcover. This replicates the cover art on the standard sleeve and doesn't add any embossed or foil-effect, but it helps Journey Back To Oz sit well on the shelf next to other titles from the company.
Ink And Paint:
Though intended for big screens, Journey Back To Oz eventually wound up as a syndicated television special from 1976 onwards, so the 1.33:1 aspect presented here is appropriate. Whether the film was animated or intended to be exhibited in a wider ratio is questionable – certainly blowing up the image to fit a 16×9 display cropped characters' heads once or twice, though credit names remained intact. From remarks made during the commentary it could be we're seeing a slight crop from a 1.66 negative ratio, but even this is somewhat contradictory and I'd be surprised if we were not seeing the original "open matte" frame here. It's quite possible that, knowing the project's TV future, it was completed with this audience and presentation in mind, so I'll assume that we're seeing what was intended.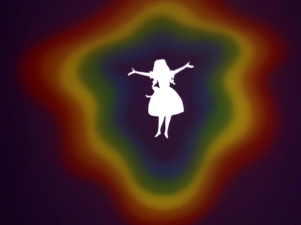 As such, BCI have done another good job on their limited restoration, with an image that is pleasing without belying its original source. I did notice what looked to be evidence of DVNR in the quick-moving elephant stampede sequence, but there's so much camera shake and commotion going on as well that it's hard to pick that apart from standard production breaks in the Xerox animation lines.
The truly odd component here is the transfer itself, which doesn't appear to be progressive. I can't quite work out how this was brought to disc (there's a concern that all the BCI titles, sourced from the UK Entertainment Rights company, have gone through PAL-to-NTSC conversions somewhere along their travels). There's a smoothness to the pans that feels unnaturally perfect, even for 29.97 interlaced NTSC video. The total running length of the feature is a couple of minutes shorter than the stated 88, which would point to such a thing as a PAL master and account for the eerily smooth video appearance. Without dwelling on this too much, the actual image is very pleasing, bright and suitably colorful. The washed out colors on the included trailers shows what work has been done to bring this up to a solid level, and overall this is an extremely good effort, perfectly in keeping with the age and nature of the material.
Scratch Tracks:
Although the intention was for Journey Back To Oz to perform as a major animated motion picture in theaters, the reality ended up much different, and as such whatever grand sound design that might have once been planned was dropped in favor of a straightforward television mix. Though it's officially a Dolby 2.0 track, it only feels like a spacious mono mix to me, and though the songs and score were probably recorded in stereo, there's no great left and right presence here. The vocal recordings themselves are good, though Minnelli's vocals in the earlier scenes sound a touch distorted.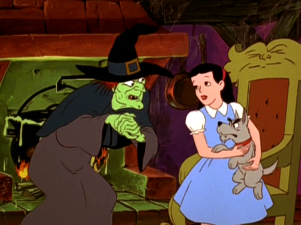 I'm not sure how much I would put down to an iffy track though – this "intensity" is something I've noticed about her voice several times before in other projects. By the time Oz came out, Cabaret had found her a big audience, and that film also retains some fluctuations in the sound when she belts out the big notes (Merman, on the other hand, can't belt out anything but big notes!). Apart from that, I was impressed with the dynamics of the mix, with some surprisingly good bass adding weight.
Final Cut:
If Journey Back To Oz had been completed and released as intended in the mid-1960s, would it have become the classic that had originally been envisioned? That's a tough question to answer, though I will say that I think coming out a decade later and being seen as a feature-wannabe product from a television studio certainly hurt its chances. The decade was seeing a major shift away from family musicals to edgier, adult fare, and even kids movies took on a darker aspect that strived for more realism. Studio-set, frothy confections were mostly out, and musicals especially became the doyen of Broadway again, where many later stars would come to prominence. Minnelli herself, by the time of the film's release, was of course the Academy Award-winning star of Cabaret, something that the Oz promotions failed to highlight. Journey Back To Oz isn't a downright disaster – there are the few strong elements that just about keep it afloat – but it's not the classic that was envisioned. Whether you'd want to journey back for repeat viewings will depend on your ability to sit through the many songs and the episodic plotting, but for fans of the Filmation studio, this was probably the closest they came to creating a timeless outing, and as such is worth a look.
Animated Classic or Back To The Drawing Board?