Cartoon Network/Adult Swim (April 13 2007), Warner Home Video (August 14 2007), 2 discs, 87 mins plus supplements, 1.78:1 anamorphic widescreen, Dolby Digital 5.1, Rated R (for crude and sexual humor, violent images and language), Retail: $29.98
Storyboard:
The Aqua Teen Hunger Force swing into big screen action…and that's it.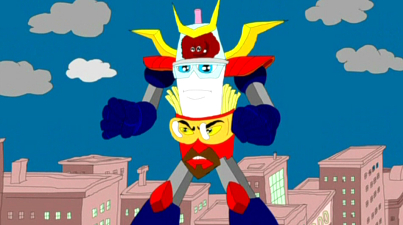 The Sweatbox Review:
The first, generally unwritten rule about television shows making the transition to "major motion picture" is that they should ideally come across as a bigger, longer version of the original series, to please the fans, as well as work as introductions for those who have never seen or know very little about the origins. To me, and much as I enjoyed it, The Simpsons Movie didn't fulfil the second half of that requirement, being more of an extended episode of the regular series, albeit played out on a larger canvas, and as has been widely noted by the critics. On the other hand, the South Park movie worked extremely well in bringing me into that world after a good few years of my avoiding the show, somewhat understandably given the negative things that were said about it in the press. I originally decided to go because I try to see any new animated feature, went again the same weekend and came out a devout follower of the show. Seeing the movie again, it was proven to work as an intro to the characters, and lived up to its subtitle: Bigger, Longer And Uncut.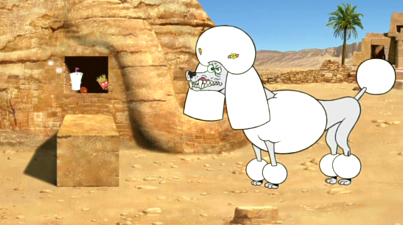 When the chance to catch up with Cartoon Network's latest feature outing – Aqua Teen Hunger Force Colon Movie Film For Theaters to give it its full title – came, I have to say I was more than mildly interested, given my sporadic enjoyment of the channel's late night Adult Swim programming block, particularly The Venture Brothers, which I've become hooked on. Somehow I always seem to miss the Aqua Teens, confusingly named because they are neither water-dependent or teenagers, and hadn't really heard too much about them, so the fact they apparently warranted a big screen adaptation suggested there was more to the negativity I had picked up and maybe even good things to be said for the concept.
How wrong could I be?
Just what is an Aqua Teen Hunger Force anyway? Well, clearly the title is a spoof on the likes of Super Robot Monkey Team Hyperforce Go!, but even after watching this movie and I still couldn't ell you! The Force seems to be made up of a giant, man-sized trio of mutant foodstuffs: a McDonald's fries packet, named Frylock, a milkshake carton, Shake, and a squashed spaghetti meatball or something, whose voice remains annoyingly inaudible, and is referred to as Meatwad.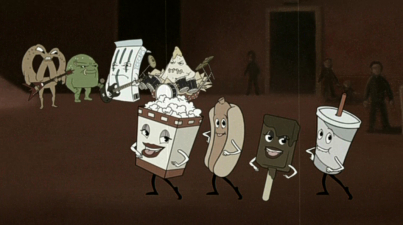 As Aqua Teen Hunger Force started, the sound I heard wasn't the heavy metal-ised spoof theater concessions promo, but my heart sinking in that I had another 80 minutes of this to go. The plot – what there is of it – revolves around a supposedly diabolical machine, the Insanoflex, that should never, ever be assembled, so naturally the ATHF attempt to put it together, much to the chagrin of a group of aliens who come to Earth to retrieve the machine and finish off the Hunger Force for good.
The general idea seems to be to throw a bunch of jokes at the screen and see what sticks – quick answer, very few to none. The guys behind this certainly have a LONG way to go before they get anywhere near the untouchable genius of Matt Stone and Trey Parker – the satirical duo behind Team America and South Park, to which ATHF owes much and so painfully attempts to mimic right down to the purposefully crappy animation. The "jokes" come over as either mean spirited or stolen – Monty Python's Eric Idle, who complained (wrongly) against a gag used in Shrek The Third would be much better off finding the many sub-Python rip-offs here instead.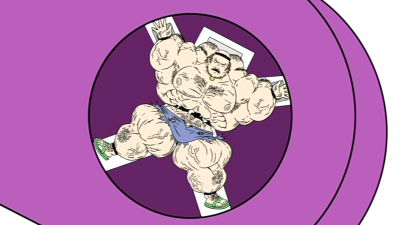 Everything is just so random and makes such little sense that I had to wonder if it would even mean anything to actual fans of the show! By the end of the duration, things simply run out of steam, resorting to the same old "I am your father / no, I am your father / no, I created you!" finger pointing that started to feel old not long after 1980. I found Aqua Teen Hunger Force long, boring and insulting to its audience, and can't believe even the makers of this rubbish would have wanted to sit through it multiple times during production.
This isn't big, isn't clever and certainly isn't funny.
The crude and nasty nature of the franchise even extended to the marketing, with the film getting publicity for all the wrong reasons in late January 2007 when small electronic devices were dumped in various sites in major US cities. In Boston, the bomb squad and emergency services were posted to areas where reports of the suspicious blinking units had been filed, leading to the arrest of the two men who had placed them in the city on grounds of security panic. Turner Broadcasting and marketing company Interference also came under fire as the companies that instigated the campaign, eventually settling out of court with a $2 million donation split between them to pay donations to the Boston police and Homeland security, while Cartoon Network head Jim Samples resigned his position. Personally, I think he should have been kicked out for greenlighting this series to begin with. Perhaps more confusingly, this movie "For Theaters" was also apparently screened in the usual Adult Swim block on April 1 2007 – one week prior to its nationwide theatrical release. That's surely not a smart move given the film's already limited chance at ticket sales?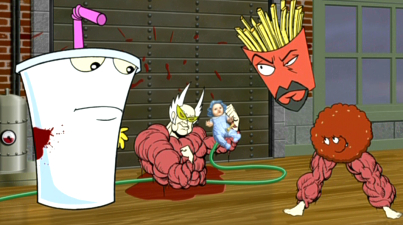 Not having seen the television show, I can't say if the animation is any better in the resulting movie, but if it is then I'd hate to see the regular show: apart from the occasional, rare moment of CG enhancement, this is childish cartoonery even more limited than the cheapest Filmation or Hanna-Barbera classic. It's directed with a mediocre eye, without even a hint of any inventiveness and, for al its frantic, noisy goings on, slowly and sloppily edited. I just couldn't believe that, for such a supposedly hip and cool movie version of a supposedly hip and cool Adult Swim show, how old, repetitive and plain un-amusing the jokes were.
In trying to come up with at least one positive remark, I noted the visual funny of the door that the milkshake character uses has been adapted for his shape – including accommodation for the straw, a rare subtle background gag that goes unmentioned (though probably took up an entire episode of the TV series at some point). The best character is the Maurice LaMarsh-styled videogame sprite, actually voiced by co-director Dave Willis, though even this is comical purely due to the riff on LaMarsh's well-known, unique delivery and ultimately the pathetic nature of this "world conquering" character is too reminiscent of a certain genuinely LaMarsh-voiced mouse.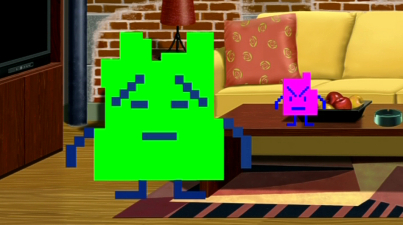 Yet Aqua Teen Hunger Force Colon Movie Film For Theaters isn't remotely close to the warped, but never dull, worlds of Mike Judge's Beavis And Butthead (who did make the transfer from small screen to big in a wonderfully crude entertainment), John K's Ren And Stimpy or even Ralph Bakshi's Cool World, a film from a man who has had his fair share of misfires. Aqua fans won't need any prodding to march like demented sheep to the store to pick this up, though even for them I say this is just a rental. For everyone else, keep well away at all costs. I simply wouldn't recommend touching this piece of trash, waste of time travesty with a barge pole. Nope, I didn't "get it", but wonder if there was anything to "get". This poor excuse for a "movie" is the worst and most pointless of the year.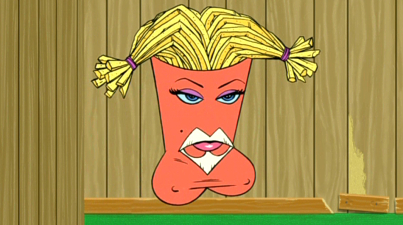 Is This Thing Loaded?
Not only am I confused as to why Aqua Teen Hunger Force was earmarked over other Adult Swim programming in getting the theatrical movie treatment, but I am astounded that the film has been blessed with a super-deluxe 2-disc set with plenty of bonus features – surprising not only because the film is garbage, but also because of the meagre box office showings in theaters. All I can say is that the wealth of material still doesn't make this an appealing package for fringe audiences, though major fans of the series will be happier than pigs in poop. Forgoing any TimeWarner synergy promotions, the disc flies straight into the main menu, purposely rendered in poor CGI, and as in your face as the dire movie.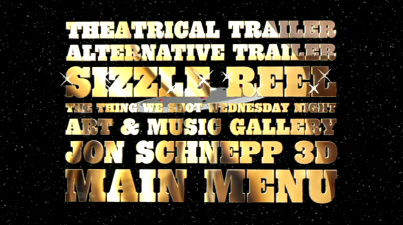 The big extra on Disc One is the full-length Audio Commentary (found in the set-up menu), though not wishing to sit through the movie again, I just skipped through this. For some reason there's no input from the filmmakers: this is a fairly random collection of name-fans of the show – including Patti Smith and The Onion's Todd Hanson – who ramble on as the movie progresses. There's slight insight from the guy that voices the Shake, but this is most interesting (if at all) for the highlighting of the many films referenced, revealing where all the gags were pilfered from. There's also an alarming lack of knowledge of the movie – one participant didn't realise until watching for this track what one of the characters was supposed to be – or any respect – all concerned seem to realise this is a boring turd. At least they're self deprecating…at one point one voice predicts multiple Oscars for the film. Like the movie itself, the track is a waste of time and disappointingly reveals nothing serious on the making of the film, merely turning into something of an ego-trip for Smith, who runs off on multiple tangents.
Disc One also includes two Theatrical Trailers, the first of which rips off the teaser for Team America, badly, while the second does nothing to incite interest and it's all pretty much the same in a Sizzle Reel, which combines elements from both trailers.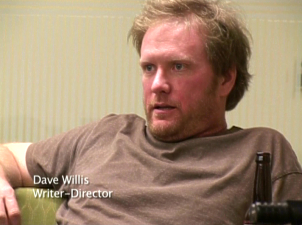 I was going to say that the Behind The Scenes Thing We Shot Wednesday Night is simply a selection of badly shot video camera moments from the making of the film that shows off a bunch of men acting like children, but it soon became apparent that these people knew exactly what they were doing, leading to more bafflement as to how they came up with this result after more than two years of production. The 26-minute documentary's footage is grainy and shot with on-camera mics, but there's a true insight to the people behind this production…make of them what you will. This would actually be pretty interesting, if only we could get pieces like this for worthwhile animated features.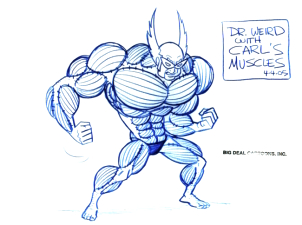 An Art & Music Gallery plays a 16-minute video montage of concept, design, pencil test, background and final art accompanied by a few cues from the movie's soundtrack, and Jon Schnepp 3D runs through three minutes of the animation created for the DVD menus.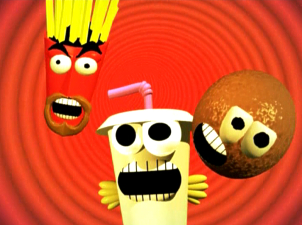 Moving on to Disc Two, and the set's primary supplement – even brought to attention via a sticker on the front of the cover – is an 80 Minute Deleted Movie. Oh…yay. Needless to say, I scanned through this as quick as I could (professional that I am) though it turns out that this is much better structured and – dare I say it – funnier than the final film (though that wouldn't be hard). This version is almost finished in color, but lacks mouth movement on the characters and some occasional shots, including a live-action shoot that is represented here by footage from the round-table reading of the script. While this doesn't fix any problems – much of this alternate edition still features many of the same scenes in different configurations and is essentially the same plot – it does lead to wondering if the reworking was such a good idea…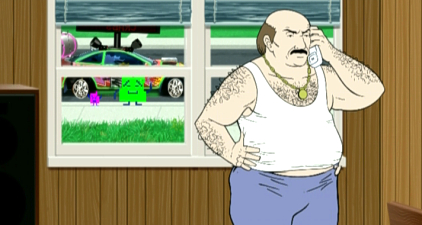 Ten Fake Endings each run a few seconds and feature some oddball conclusions, some of which are actually fairly amusing. Without any other form of context, they certainly wouldn't slot onto the end of the movie as it stands, so quite how they would have been used isn't explained. An extensive selection of Deleted Scenes includes a number of scene extensions and a 23-minute episode of the regular show, Star-Studded Xmas Spectacular, which takes the moments from the 80-minute deleted movie that didn't make it into the final cut, finishes them up and presents them as part of a clips package.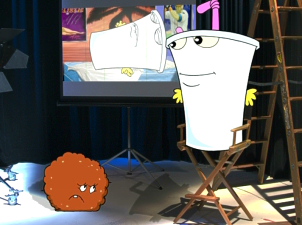 A group of nine Music Videos collects a various selection of tracks from the movie's soundtrack, including an Aqua Teen animated promo, behind the scenes recording studio footage and live performances from what looks to be a Hunger Force movie launch party, running over 25 minutes. Finally, yes, finally, three sets of "Pete Promos" round out the package, being a mixture of "man on the street" TV spots with Shake voice Dana Snyder cornering unwitting theatergoers, Adult Swim's on-air presentations and an I Love Movies joke interview with Snyder and Bob Odenkirk that altogether run over eight minutes in total.
Feature commentary, multiple trailers, a non-fluff documentary, deleted scenes and an entire early work in progress version, plus a comprehensive set of television promotional material…it's all here but, alas, has absolutely zero grounding for a project that is unfortunately so far off the rails. If only all flop animated movies could be treated to as features-packed editions as this.
Case Study:
The 2-discer comes housed in a standard black keepcase, with no outer slipcover – the one concession to the film's underperformance perhaps – though the understated title font on the front – the creators' one touch of restraint – has been given a gold foil effect. The cover uses the epic montage pastiche that graced the theatrical posters, while the back lists no description of the movie and instead simply recreates a rundown of all the options on the discs in barely legible handwriting. The disc art says it all, announcing production company Williams Street as "DVD Whores". Perfectly in keeping with the tone of the show and its creators…newcomers will again be totally baffled.
Ink And Paint: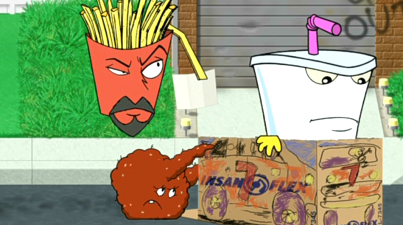 The instant trick to converting the square box shape of a TV show is to go wide and use the full width of the theatrical motion picture screen. The back cover of Aqua Teen Hunger Force hints that this is the case here, noting a "Scope" aspect ratio, usually 2.35:1. However, and yes I did check my set-up, the image is presented at 1.78:1 in anamorphic widescreen, the actual correct ratio after checking online. At times the image feels cramped top and bottom, suggesting that this was created along the TV production line and merely framed and cropped for exhibition. There isn't a real problem with that but, though I'm guessing ATHF was created digitally and the look is all about hard, black outlines, I was actually surprised at how SOFT and smudgy the image was. The blocky color also had problems staying within the outlines, resulting in less than stellar picture quality.
Scratch Tracks:
I'm really not sure if the ATHF ethos is just to make things look and sound as bad as they can be – I did note some executive Standards & Practices names in the credits, unusually – but I can't really say much for the soundtrack here either. I've no idea what the sound mix is like on the regular show, but in this day and age most animation is mixed for surround and can compete with mid-level movie soundtracks at least. Those standards are woefully underused here and as mentioned above I had trouble making out what Meatwad was rambling on about at times, even after I had upped the volume on the dialogue-channelled center speaker. Even with a giant robot attack mid-way, there just isn't any life to this mix, and I was very surprised to find it the work of LucasFilm's Skywalker Ranch studio, for which this is an extremely bad commercial. English, French and Spanish subtitles are also offered, but they don't make the dire-logue any better.
Final Cut:
I watched this so you don't have to.
Animated Classic or Back To The Drawing Board?