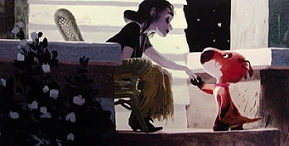 On Tuesday, October 10, 2006, Jim Hill Media suggested that all might not have been well behind the scenes of American Dog. Supposedly, this "pet" project of Lilo & Stitch director Chris Sanders was not pleasing some of the heads of Walt Disney Feature Animation. Hence, the report indicated that Sanders had been asked to make "some pretty significant story changes" to Dog, for the film to lose some of its quirkiness. In addition, it was revealed that Disney had purchased the online domain HollywoodDogMovie.com, as the title Hollywood Dog might have described the computer animated comedy more adequately.
Now, an email from a source wishing to remain anonymous writes that Chris Sanders has been released from the Dog project. "Everyone inside Disney is stunned, since this was Chris's project," writes the informant.
Perhaps more on this story will be released soon. In the meantime, please understand that this report has not yet been officially confirmed or denied.
Update! (12/18/2006) According to Cartoon Brew, Chris Sanders was removed from American Dog last Wednesday, December 13, when Disney also laid off approximately 160 members of Feature Animation. The site further suggests that the division's Chief Creative Officer, John Lasseter, and president, Ed Catmull, were concerned that the film may not be as critically and commercially successful as what they wanted from the true first movie under their creative supervision at Feature Animation. Hence, American Dog experienced a move similar to what happened with Pixar's Ratatouille, when Brad Bird took over directorial duties for Jan Pinkava.
Second Update! (12/19/1006) Jim Hill Media writes that Chris Sanders' leaving American Dog is due to Lasseter and Catmull's decision that following the computer animated Meet the Robinsons, Walt Disney Feature Animation will return to traditional animation. With that said, it appears Sanders had tuned American Dog to be a CGI pic.
Thus, Hill also speculates that Rapunzel may be retooled into a traditionally-animated film, while other pictures, such as Joe Jump, may be cancelled. The final say must first come from Disney CEO Robert Iger, however, who remains unsure about this bold move at Feature Animation. According to Hill, Iger first wants to see the story reels for the upcoming traditionally-animated The Frog Princess, as well as how the hand-drawn/live-action Enchanted performs at the box office next November, before fully committing to Lasseter and Catmull's new vision.