Pixar Animation Studios/Walt Disney Pictures (June 9 2006), Walt Disney Home Entertainment (November 7 2006), single disc, 116 mins plus supplements, 2.39:1 anamorphic widescreen, Dolby Digital 5.1 Surround EX, Rated G, Retail: $29.99
Storyboard:
In a world populated only by vehicles, Cars finds hotshot racing car Lightning McQueen (Luke Wilson) the most popular speeder on the circuit – though his confidence is more arrogance. He's soon put in his place when his transportation truck is persuaded to drive through the night instead of making a pit stop along the way and inadvertently unloads Lightning on the roadside of America's historic Route 66. Heading on down the road, McQueen comes crashing – quite literally – into the small town of Radiator Springs…home to a bunch of misfits and rust buckets whose best days were way back on their clocks. Slowly, through their homegrown outlook, not to mention a dalliance with a cute purple Porsche and a run in with the mysteriously grumpy Doc Hudson – Lightning learns the error of his ways…or does he? With the NASCAR race of the century in the offing, will Lightning McQueen revert to his old attitude and hot-vroom it back to the life he knows to win the race unfair and square?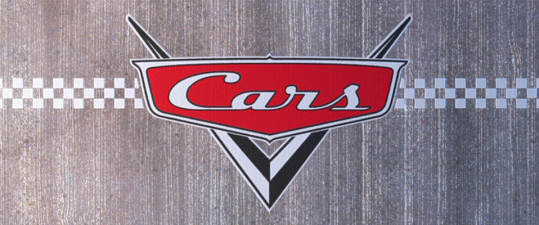 The Sweatbox Review:
I've got to be honest and say that I really didn't want to be sold on Cars. As with a lot of people, the previews didn't win me over and when the movie eventually came out earlier this year I was working on a project of my own and had to choose my time-out movie viewing more carefully than usual. With new Pirates and Superman movies being my most anticipated, Cars would have to wait. And even though it got good word of mouth and I knew that sooner or later I'd have to catch Cars simply because it was the biggest animated film of the year and, more importantly, came with Pixar's impressive track record behind it, I still wasn't that excited to sit down and concentrate on a movie whose "great idea" is that cars can live, think and drive for themselves.
And then Cars arrived on DVD.
Now I have to say that from the opening frames of the movie, when we glimpse Lightning McQueen pulling out from the shadows…I was sold – hook, like and sinker. These scenes also perfectly capture the frenetic camerawork of TV sports coverage while blending it in seamlessly with the epic look that co-director John Lasseter's choice of widescreen framing provides and shoves the film into an instant high gear. I was even won over by Wilson, whom I have become more and more tired of over the years (sorry, folks, Wedding Crashers just doesn't do it for me), and he puts in some frankly terrific voice performance work here. It didn't quite get away from the "Frat Pack" nickname that Wilson's particular ensemble of movie-star friends have been coined; the rivalry between his McQueen character and the Michael Keaton-voiced Chick Hicks reminded, intrusively, of the same shtick in Anchorman and the like, though Keaton (who obviously has a thing for Disney automobiles after appearing with Herbie last year) is also great vocal value, voicing his character with a new exuberant lack of restraint unlike anything we've ever heard him do before!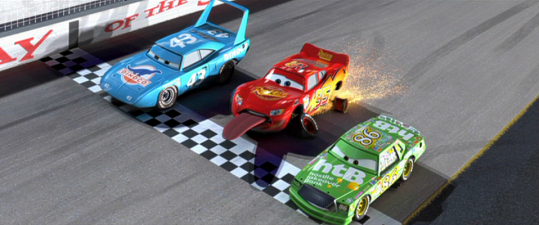 Nevertheless, Pixar did, at some point, have to take a dent in their previously meticulous fender, and Cars is it. For all the top-of-the-line sights and sounds, the movie stalls more than the Lamp's customary high quality mark, and most of this can be attributed to a weaker than usual storyline, a surprise coming from a company who place such emphasis on such things. What's most interesting is that Lightning is essentially the villain of the piece and the film charts his character's arc to "good guy" rather than painting him as such from the outset and having him come up against someone meaner. Pixar "doesn't do villains", but McQueen certainly comes off as more than just an arrogant fool in the early scenes even if he doesn't actually cheat to win.
There are also several unavoidable contradictions in the film that one can't get over even if we want to believe that the whole thing is taking place within an alternate automobile world. Without starting to ask the "big questions" (like where they came from, who built them and what do they have in their insides if they don't need seats for us humans to sit in?), Cars doesn't help itself by packing in some truly howling slip-ups that beg the questioning behind their choices. Why the small buttons on phones – how do the cars operate them? Who builds the buildings with those thousands of intricately rendered bricks? Why do they need them?
Who finds the gas to fill the pumps?
Even while trying to shift this out of mind, we are presented with the real corker: a line of dialogue, in fact, that screams out the main problem with the overall idea. "Respect the classics, man," one motor shouts out, "It's Hendrix". Who, to the cars of "Car World", is Hendrix, and how does he play that guitar?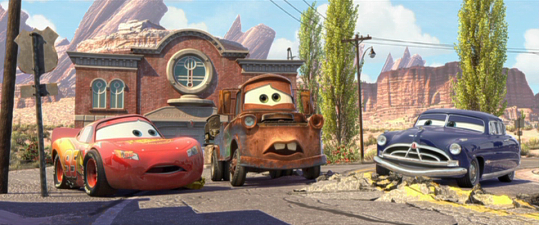 An early decision to have the cars' eyes appear in the windows as opposed to the perhaps more traditional headlight placing was never a problem for me, though the fact that all of the cars' pupils are interchangeable and do not sport any personal characteristics is perhaps one of the drawbacks of computer animation. But the history of cartooning is steeped with such an approach in a number of classic era films, from Pedro the mailplane in Saludos Amigos, the tugboat family of Little Toot, Tex Avery's spoofs One Cab's Family and Little Johnny Jet and, of course, Susie The Little Blue Coupe, which has been cited as one of director Lasseter's favorite shorts and a direct influence on Cars. But what made those, especially Susie, really work was that they were set in our real world, where it oddly seems much more believable for a car to exhibit human characteristics than it does for the audience to suspend disbelief and ask them to join you in a strange other-world that doesn't set itself up strongly enough to abide by its own rules. It's the same problem that Chris Wedge's Robots had to some degree, though that film never placed a time frame or human-world reference on its location and could have been, for all we know, set thousands of years in the future when such a reality may come to pass. Cars also shares Robots' hyperactive approach, which can become weary, and while the jokey ESPN-styled interstitial spoofs are fun, there's probably a couple too many and they often felt thrown in just to jump-start the flagging storyline.
And Cars does flag, most noticeably around the 50 minute mark, where the film becomes overly talky, the laughs dry up, and Lasseter, for a while, seems to run out of gas. Overall, the movie is around 10-15 minutes too long, and the middle of the film doesn't help matters by becoming overly cutesy, with Lighting and Mater's bonding sequence certainly something that felt like it would have made a much more enjoyable deleted scene. I'm previously unaware of Larry The Cable Guy's act, but his Mater was fun, and I'm guessing that he's a very toned down version of Larry's standard routine, judging by the one near the mark comment: "He did what in his cup?" But by far the funniest characters, and they know it, are the Italian, Ferrari-loving tyre specialists, stealing every scene that they're in, though going on the many other types of transportation on show, maybe the movie should have been called "Vehicles"!?
Lighting and Mater's bonding, at that moment, serves no purpose other than to provide some mid-movie action – albeit brief – and again perhaps would have been better off presented as part of the Mater/Ghostlight short to be found amongst the disc's bonuses. Efforts to pull at the emotion strings ring a little hollow and even Lightning's eventual "respect" for Doc Hudson seems to be motivated by the Doc's past as the racing Hudson Hornet and for what Lightning can gain from this relationship. But the Our Town sequence seemed, to me, to be a sudden change of track, and didn't work…until this point Radiator Springs had been full of crazy and lovable buckets of bolts, and all of a sudden we're supposed to care for their surroundings? It was a moment that felt shoehorned in, came from nowhere, and was not as intricately threaded into the story as it might or should have been, or as well as the Doc's subplot, which turns out to be the real little turnaround story going on in this movie, and Paul Newman's performance, all warm tones and expressive, layered acting, is the true highlight.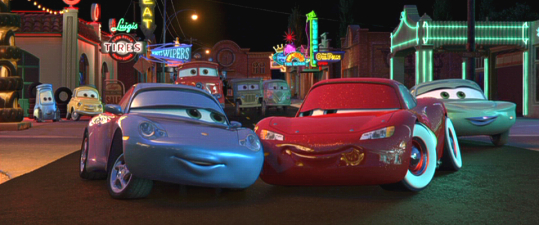 Things get back on the road as Lightning and Sally finally take their inevitable spin together – it's here we actually feel we could eventually warm to McQueen and that his experiences in the town are starting to touch him. But why didn't the population of the town pick themselves up before? It turns out nothing was stopping them. Why did it take Lightning McQueen to coming barging in to get them to light up the neon? And again, why does all this happen off camera when a montage might have really shown the turning point in McQueen's thinking? Even though it's never anywhere near being a crashing wreck, it's choices like these that has Cars almost firing on all cylinders in spite of making too many wrong turns along the way.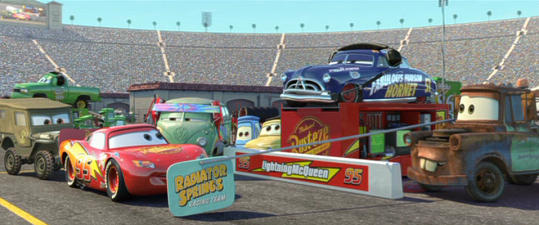 And then, by the final race, in which McQueen participates of course, and for all he has learned (and benefited from a shiny new paint job and flashy tyres), Lightning seems more than happy to jack this all in as quick as possible and swap it all back for his old stickers and Lightyears. Here, Lasseter's ace direction comes to the fore once again – something that otherwise didn't feel as strong as usual throughout the rest of the picture (he co-helms with the late Joe Ranft, who receives the film's dedication, though this is the first time I've ever seen an entire orchestra also noted in the end credits!). Ultimately, and whether Lightning would have really finished the race the way he does is open to debate – and has been – but the end result is essentially the same and his final stretch of the circuit isn't played for all the suspense it could have been – mainly because, at the end of the road, Cars is really a relationship movie masquerading as a family cartoon about automobiles.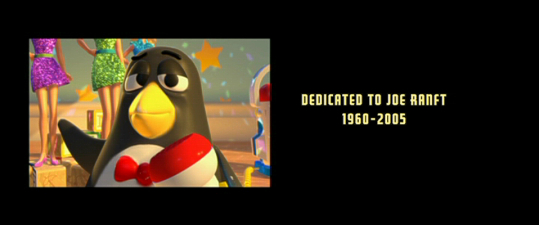 That's not to say Cars doesn't work as a whole: it's without doubt another finely tuned family seater from the Pixar plant. However, by the film's end I personally got a sense that I had been well and truly entertained but hadn't been touched by the experience, the preachy central section still feeling out of place and not integrated well enough. The closing credits liven things up no end: instead of Lasseter's famed outtakes we get a few more character sketches that amount to a little more story, and a Pixar homage which, while enormously engaging, is a little in danger of becoming too self-congratulatory until the final joke is paid off by regular voice and lucky charm John Ratzenberger – a classic cap off.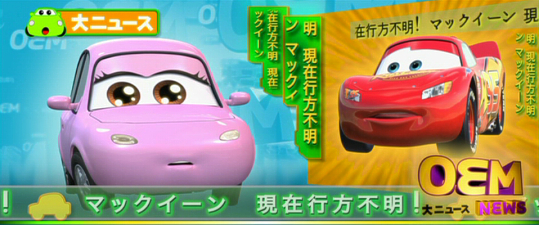 If I have been dwelling on the negative aspects, forgive me, but that's what stuck in my mind the most after seeing Cars. The rest, funnily enough, was all surface gloss and sheen, not unlike Lightning McQueen's character or a gleaming wax job coating on an old banger made up to look shiny as a new roadster. There are some good and fine points about the movie, and indeed a great many of them too (the gentle digs at the nature of how humans deck out their own cars are hilariously amusing, the spoof on how the Japanese completely fill their TV frames block-solid is laugh-out-loud funny, and the pop tunes work surprisingly well alongside Randy Newman's otherwise very Randy Newman-esque score). Though it sometimes strays from the beaten track, which it otherwise sticks to predictably in terms of characters and story elements, Cars is a fun enough ride, though not everyone may find they enjoy the journey.
Is This Thing Loaded?
Get ready to "do the double dip"! Cars comes to disc, as like recent Disney CG features Chicken Little and The Wild in a single disc that's almost as bare as bare bones. And, like those movies' discs too, it doesn't even feel as lightly packed as, for example, the first attempt at Lilo And Stitch, itself supposedly the recipient of two-disc Special Edition status any day now. In fact, what we have here reminds me very much of the original edition of Pixar's own A Bug's Life, which was finally upgraded with a bells and whistles edition, and I have absolutely no doubt that the same will happen with this latest addition to the Pixar library.
Known for their elaborate special editions, it was surprising that Cars was announced to DVD without the usual features: there's no commentary with director Lasseter for one thing, despite the fact the film is apparently "close to his heart". Supposedly, the man widely hailed as "the new Walt Disney" was too busy to sit down for a morning to spend a couple of hours discussing the film even though he was able to spend a day promoting it to journalists at a recent DVD launch event, and Walt himself – no less a busy man – used to be able to squeeze in his weekly television appearances even with all the other businesses he oversaw at the Studio. Annoyed? You bet I am, since such a track would have gone a long, long way to rounding out the otherwise slim features on this disc and felt much less of the rip-off that we'll inevitably get stung for when the title makes its simultaneous two-disc feature-packed release alongside the no doubt hugely promoted high-def Blu-Ray edition, presumably sometime next year or whenever Disney feels enough players have been sold to automatically ensure record breaking unit shifts of its biggest titles.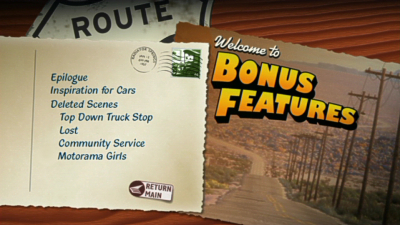 So, rant over, let's take a look and see what the disc does have to offer, and even though we're not talking about a packed camper, it does turn out to perhaps run as a nifty two-seater runabout with plenty of space in the rear…
As usual, we are presented with a grouping of upcoming Disney titles coming to theaters or home video. Some play by default, but all are available on the disc's very funny, Pixar skewered Sneak Peeks menu, and most anticipated is the teaser preview for Pixar's next, the Brad Bird/Jan Pinkava-directed Ratatouille, coming to theaters next summer. What could be the usual blend of buddy-humor that mars all of Pixar's teasers is given some spice by the comical nature of the preview and its appetizingly wacky take on its subject: the adventures of a Parisian rat hiding out in the city's top class restaurants while he longs to be a chef! Also on the disc, and all in anamorphic widescreen, are the teasers for Disney's Meet The Robinsons – looking like the most refreshing feature from the Mouse House in a long few years – and the Peter Pan Platinum Edition, spectacularly restored, plus a quick peek at Disney's upcoming hi-def Blu-Ray titles, a short Cars-themed NASCAR advertisement for Disney's ESPN channel and the movie's video game. Ahh, that company synergy smell!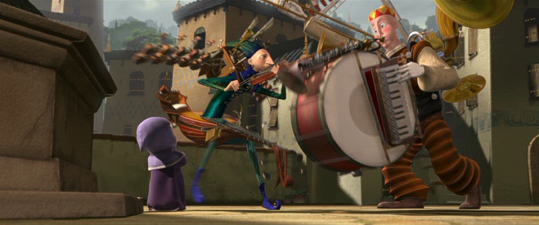 On to Cars' extras proper, and first up, though nowhere as promoted as another short on the disc, is the animated film that played with Cars in theaters, One Man Band, presented correctly in 2.39:1 anamorphic widescreen. Since I missed Cars first time around the track, I was most interested to see this much talked about short, and have to say that I was well rewarded! As per normal, it's the simple set up that pays off in a Pixar short, and One Man Band is no exception, its short four-and-a-half minute length proving that less is indeed more. I won't spoil anything else here other than to see that if you like these sorts of thing, it's perhaps worth the price of the disc for this little movie alone, though again you just know that the future two-disc will contain a commentary from writer-directors Andrew Jimenez and Mark Andrews.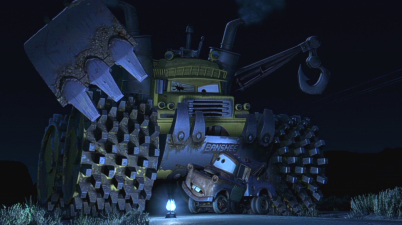 The "big extra" on the disc is the specially produced Mater And The Ghostlight animated short, here shown in its direct-to-DVD screen dimensions of 1.78:1 anamorphic widescreen and lasting a generous seven minutes. Depending on how much you liked the Mater character will impress how much you go for the short, but as noted above, I felt that the bonding sequence in the main feature might have played much better as a set-up for this short, which essentially expands upon an idea from that moment anyway. It's fun and breezy, with a killer post-credit end gag, but feels more like the bonus promotional item that it really is, not being clear if its supposed to be set during, or after, the main feature.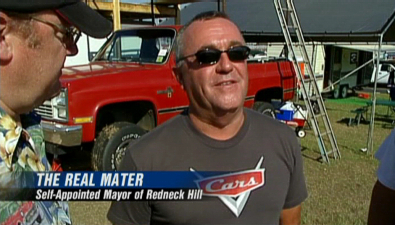 Inspiration For Cars is our token look behind the scenes that mostly has John Lasseter, and most touchingly co-director Joe Ranft, talking up the film for 16 minutes. We get a glimpse at the many hours footage the crew shot in 2001 on the real Route 66, much more of which I have no doubt we'll see in an upcoming edition. Highlights and nice touches include finding out that Lasseter's own Dad was in car sales, and that Route 66 historian and the directors' guide along their road trip, Michael Wallis, was asked to provide the voice of Radiator Springs' Sheriff as a thank-you. Wallis gets a lot of screen time in the road footage, we also hear from John's Dad Paul, who talks about the family's car vacation trips, and take a peek at John's own family home movies. It gets a little close to repeating Lasseter's paean to small town America, but it's interesting to see the real life racers and personalities who inspired characters in the film (it started life as the story of an electric car in a gas-guzzling world), though Lasseter perhaps comes off as "trying too hard" to make everyone else see what he's seeing, and it's a surprisingly adult and dry production featurette for what is ostensibly a light-hearted kids DVD.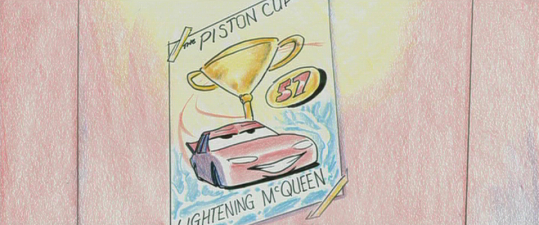 Finally – yes, finally – we come to a selection of Deleted Scenes, that run well over 10 minutes using the handy Play All option. Introduced briefly in voice over by director Lasseter, four animated storyboard sequences play out in all, with the best of the bunch being an alternative – and more "plausible" – explanation for McQueen's drop off from his truck (look out for Lightning's original sticker number 57, marking Lasseter's birth year before it was changed to 95 in respect of Toy Story's groundbreaking debut), and a "bodywork swap" scene that's all too clear as to why it ended up being junked. Though there's a lack of the really meaty features usually associated with Pixar's DVDs, the "More!" of the back packaging refers to the End Credit "Epilogue" Sequence, playable without the distraction of those bothersome crew member names and blown up to fill the widescreen frame.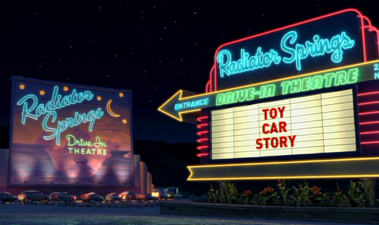 Actually, it's a nice touch to be able to see the detail close up, and keep your eye out for an Easter Egg on the main menu (if you let it run through long enough – hint: "Dinoco"). This plays an extended deleted clip from the Epilogue: a short section of a Cars take on Boundin' (would it have been called "Drivin'"?) in which the similarities between the Jackalope from Bud Luckey's delightful short and Mater (which I found hysterical after I'd made the point during the main feature) are made all too obvious! Quite a catch for a supposedly bare bones compilation of features. There's no added DVD-ROM material to bear the brunt of wide criticism against the light extras included here and for which Disney still feels validated in charging the paying customer the full rate of thirty bucks for, but commentary aside, Cars is serviced well enough this first time around the track.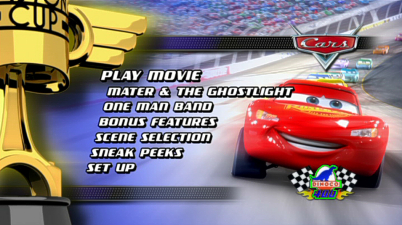 Case Study:
At first glance you may feel that there's been a terrible mistake and Cars has been issued in a deluxe two-disc package: the foil-embossed slipcover that comes wrapped around the slimline keepcase certainly looks the business until one checks out those bonus features on the back. The artwork isn't the best we've seen for a Pixar picture, being a close up shot of the main character, Lightning, with only a token amount of sidekicks spread across the top including the back of Sally's, um, bumper and a general poster no-no: the appearance of Lightning again on the top right. Inside we get a handy four-page DVD Guide that lists the bonus features and chapter stops, an ad booklet that promotes a ton of Cars related merchandise without a savings coupon in sight, and a Cars-themed invite to sign up to Disney Movie Rewards.
Ink And Paint:
Now, here's where the cars of Cars really shine, in an expressive, strongly vibrant and pin-sharp 2.39:1 anamorphic transfer taken directly from Pixar's digital source (be sure to stay away from the redundant pan-and-scan full-screen edition being sold separately) and THX-certified with optional set-up Optimizer. From the brightest reds to the darkest blacks, Cars looks fantastic and is certainly reference quality demo material. 'Nuff said!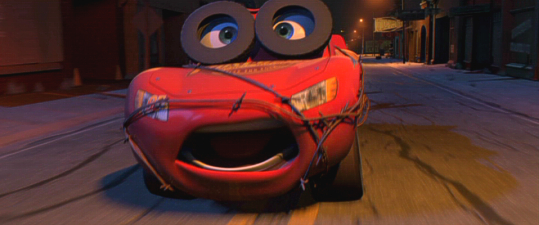 Scratch Tracks:
Faring equally as well is the pumping soundtrack which, in slightly special Dolby Digital EX flavor, really zooms out of the speakers tyres screeching. I did find that it was perhaps an overly dynamic track, with the loud races coming over like dynamite but with the quieter dialogue scenes reduced to having to crank up the volume – only for the final race to come crashing in louder than expected. It's a good track, but that's something to watch out for. English subtitles are provided for the hard of hearing.
Final Cut:
An absolutely stunning image, coupled with the delightful One Man Band short, drives Cars into the purchase zone for those sitting on the fence over whether to buy the disc itself. I can honestly see why Cars didn't hit the targets set for it by the Studio and can fully understand why some folks didn't warm to it as they have Pixar's other soon-to-be-classics. Cars can come off as being overly preachy about the merits of old-time, small-town America but then, like Lightning McQueen himself, doesn't seem to really want to give up the fast-track high-life either.
Perhaps Lasseter has become so powerful at Pixar that he no longer has a team that can turn down some of the more unsuccessful suggestions? Certainly his power of final cut hasn't helped his own films seem too long by a smidge. While Cars just about gets over its main conceit of having cars as the stars, the final destination might not be to everyone's tastes. If you enjoyed the movie in theaters, a purchase is recommended if you bear in mind the inevitable second edition, while those coming to the film new are probably best served by a rental and a pick-up of the two-disc later down the road.
Animated Classic or Back To The Drawing Board?