With the ripening of the DVD industry, cartoon buffs have been treated to an onslaught of classic cartoons available to be owned in glorious, complete season sets. Those of us who grew up in the 1960s through the 1980s are on a big nostalgia trip, but younger fans may appreciate a primer on the biggest studios of that era. Both Hanna-Barbera and Filmation had their heyday throughout those decades, and are fondly remembered for a number of fun cartoons that were hampered by limited animation. Detractors will say that the two studios vie for the title of greatest number of bad cartoon shows, but fans remember that there were quite a few gems in there too, including some huge successes. And even the bad ones had some kooky premises that make them fun to watch once in a while. The focus of this article will be on Filmation, a studio that got its big break with its very first television series, an adaptation of the world's first comic book superhero.
Filmation was founded in the early 1960s by artist Lou Scheimer and former Disney artist Hal Sutherland; they were later joined by radio announcer Norm Prescott. Scheimer was a young artist who had attended Carnegie Tech (at the same time as Andy Warhol) and had previously worked for Bozo The Clown's Larry Harmon, as well as Hanna-Barbera. He formed a studio with Sutherland, with 80% ownership going to Scheimer. Scheimer originally met Norm Prescott in 1958, and they later spoke about producing an animation project, an Oz film that would not end up being released for a few years. The hopeless-looking situation on the Oz film led Scheimer to take Prescott on as a partner, giving him half of his ownership (with Sutherland and Scheimer's lawyer Ira retaining ten percent each). The studio struggled with smaller jobs for a while; but then destiny called when CBS and National Periodicals were looking for a production company for a new Superman cartoon.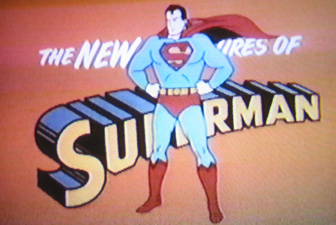 The Adventures Of Superman TV show starring George Reeves had been a huge success from 1952 to 1957, and itself was almost a continuation of the 1940s radio show and Fleischer theatrical cartoons, not to mention the movie serials. It was only natural that a new animated television series would be the next evolution of the character. CBS had decided that they would, for the first time, attempt to program Saturday morning with new material for kids. Scheimer's fledgling studio had to first convince National Periodicals that they could handle the job, and a visit to the studio by National (now DC Comics) was famously supported by having friends and relatives of the founders "staffing" the studio. Scheimer even went to the pretense of "firing" someone in front of the National executives to prove how tough he was. The trick worked, and The New Adventures Of Superman contract went to Filmation Studios.
(Incidentally, The New Adventures Of Superman was just the first of many series from Filmation to start with "The New Adventures of…" in the title. It just goes to show how reliant the studio was on using licensed concepts.)
1966's The New Adventures Of Superman differed from previous incarnations in that it was truly based on the comics of that era, supervised by story editor Mort Weisinger, who was also the editor of the Superman comics line. Comic book writers were also hired to write the stories, resulting in appearances of many of Superman's now-classic villains. Keeping with tradition, Superman was voiced by Bud Collyer, who had performed the same task on radio and in the Fleischer shorts. Each show had two Superman segments and a Superboy segment, often accompanied by his pet superdog Krypto.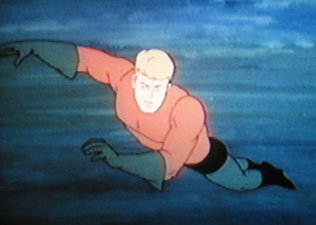 The show became the greatest ratings success in Saturday morning history to that point, guaranteeing more seasons. The second year saw Superman joined by water hero Aquaman in The Aquaman/Superman Hour Of Adventure, with eight new Superman episodes joining the previously-completed eighteen. In addition to a regular spot being given to Aquaman on the show, there was also a rotating segment that featured a variety of DC superheroes, including The Flash, Green Lantern, Hawkman, The Atom, Justice League, and Teen Titans. The latter two segments, featuring teams of heroes, notably could not include Batman and Robin due to licensing issues.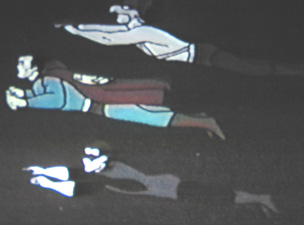 Journey To The Center Of The Earth also debuted in 1967, continuing what would be the Filmation tradition of adapting other properties. This series was shown on ABC, who was trying to enter the Saturday morning kids' market now. The 1965 Jules Verne novel had been a successful movie in 1959, and it was felt that a cartoon show could be a success as well. The cartoon was loosely based on the novel, featuring a group of explorers following clues left by Arnie Saccnuson to re-discover the secrets of Professor Oliver Lindenbrook's underground world. The explorers were challenged by Saccnuson's evil descendent. Voice actor Ted Knight, who went on to appear in many Filmation shows, first appeared in this one.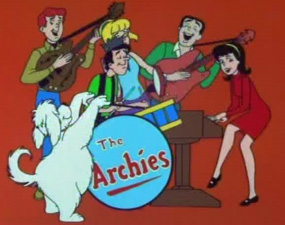 Filmation would find one of its greatest stars once again in the pages of the comics when they produced The Archies in 1968. This was the idea of CBS executive Fred Silverman, who was trying to shift away from violent shows due to pressure from watchdog groups following the assassination of Dr. Martin Luther King, Jr. and Bobby Kennedy. Jughead's dog Hotdog joined the All-American teens of Archie Comics, but the biggest impact came from adding musical numbers to the show, courtesy of the Monkee's music producer, Don Kirshner.
The show was a ratings powerhouse (peaking with an astounding 55 share), and an Archies album was also a top seller. The single Sugar Sugar hit platinum, selling over five million copies to become 1969's top seller on the Billboard charts. The musical numbers would prove to be a big influence on Saturday morning cartoons for the next few years, with various series revolving around teen bands or at least having their stories interrupted by songs (like the second season of Hanna-Barbera's Scooby-Doo, Where Are You?)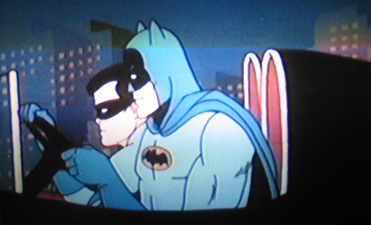 The Batman/Superman Hour, however, kept the action trend going that same year, but it marked the final year for new Superman stories at Filmation. Eight new shows were produced for Superman again, this time with two-parters and a revamped Superman model that was closer to comics' artist Curt Swan's depictions. Batman's stories also included two-parters, combined with a shorter story. The Batman cartoon featured all the trappings familiar to viewers of the infamous 1960's live action show and readers of the comics, both as far as supporting characters & villains and all the Bat-gimmicks. Robin normally appeared, and sometimes Batgirl did too. In 1969, Batman split from Superman for The Adventures Of Batman And Robin. At around this time, Filmation moved to a larger studio, across the street from Hanna-Barbera.
Fantastic Voyage was ABC's next adventure show from Filmation, in 1968, once again adapting a property that was both a famous science fiction novel and a 20th Century Fox movie.
With Archie and the gang a huge success, plans were made to expand the show. Sabrina The Teenage Witch was introduced to audiences in the special Archie And His New Pals (with layouts by Don Bluth), then continued on in 1969's Archie's Comedy Hour (Starring Sabrina, The Teenage Witch). This show also had silly segments inspired by Rowan And Martin's Laugh-In, and once again was a big success.
What was the first Saturday morning mystery-adventure cartoon? Scooby Doo came out in 1969, but of course that was also a comedy. For more serious stories, there was Filmation's The Hardy Boys that same fall on ABC. This show, based on the long-running juvenile book series, also had what may have been Saturday morning cartoons' first black supporting character, as well as real-world plots involving cocaine smuggling and the like. Live action Hardy Boys performed opening and closing titles, and their animated counterparts provided a pop tune in the middle of each show.
At around this time, Filmation was sold to Teleprompter, a cable company that Scheimer hoped would lead to new markets for Filmation product. In return, the Filmation partners received Teleprompter stock.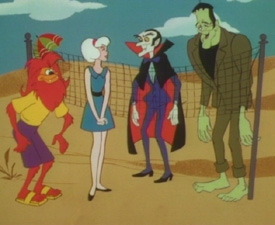 Archie's Fun House was spun off into its own hour-long show in 1970, as was Sabrina And The Groovie Goolies, featuring a line-up of characters based on classic monster archetypes. Filmation was so busy that they had to let Hanna-Barbera do the other Archie series that year, Josie And The Pussycats.
ABC's 1970 series Will The Real Jerry Lewis Please Sit Down? was actually an adaptation of the comic's movie The Family Jewels. The Lewis character worked for an "odd job" company, which allowed a natural array of comic possibilities. Lewis's voice was provided by David L. Lander, Laverne And Shirley's "Squiggy".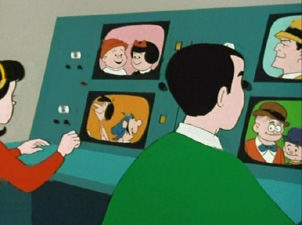 Archie's TV Funnies came out in 1971, while Archie's Fun House moved to Sunday morning reruns. Archie's TV Funnies saw the kids running a TV studio that showed shorts featuring a variety of newspaper comic strip characters like Nancy, Dick Tracy, and more. Everything's Archie was added as a clip show from the previous Archie series.
While the Archie shows were soon to see waning interest, Filmation was about to find its greatest acclaim in an urban youth with a weight problem. Fat Albert And The Cosby Kids premiered on CBS in 1972, narrated by comedian Bill Cosby and based on his own childhood in Philadelphia. Fat Albert and his odd assortment of friends learned valuable life lessons, while gaining recognition from numerous groups that praised its positive messages.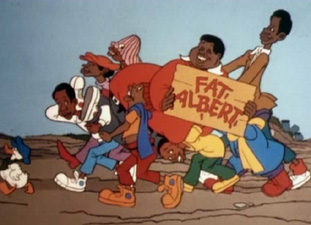 Fat Albert had actually first appeared in Cosby's stand-up shows, and in a 1969 special on NBC, titled Hey, Hey, Hey, It's Fat Albert. He later appeared in holiday specials for Halloween, Christmas, and Easter. Fat Albert was to be the greatest example of Scheimer's "pro-social" philosophy in Filmation's series. From here on, most of Filmation's stories would carry more obvious moral messages, often with one-minute tags at the end to drive the point home, while generally avoiding violence.
The Brady Kids was Filmation's first animated adaptation of a live action TV show, but was far from its last. This Brady Bunch spin-off aired on ABC in 1972, first debuting with the initial ABC Saturday Superstar Movie, partially utilizing re-done Archie animation and backgrounds. Despite the cheap production and the bizarre addition of panda bear astronauts and a magical minah bird, the series was quite popular and got five new episodes the following year. The series was also notable for having guest stars such as Superman, Wonder Woman and the Lone Ranger!
1973 was the first year in which Filmation had shows on all three of the major U.S. networks. My Favorite Martians continued the trend towards animated versions of sitcoms in 1973 on CBS. Based on My Favorite Martian, the cartoon version kept a new character introduced in the live action version's final episode a few months earlier, Martin's nephew Andromeda, plus a Martian dog and others.
Meanwhile, ABC had Filmation's first original series, Mission Magic, which started with a crossover with The Brady Kids. It featured a magical teacher who took students on mystical journeys where they learned moral lessons, and met Rick Springfield (who provided his likeness, voice, and singing & songwriting talents to the show).
Lassie's Rescue Rangers was also on ABC in 1973, after premiering with a story in 1972 on the highest-rated episode of The ABC Saturday Superstar Movie. In this version of the famous collie's story, she belonged to a forest ranger family. Scheimer and Sutherland's kids provided voices for the show, which always ended with one-minute public service announcements.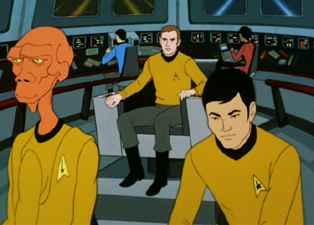 Star Trek, airing on NBC, completed the 1973 network sweep. The science fiction show from the 1960s had started to gain a large cult during its run in syndication, and the animated series used many of the same writers and actors (except for Walter Koenig, who still scripted one of the 22 episodes). This made it a surprisingly literate and enjoyable show for viewers young and old. It even won an Emmy Award.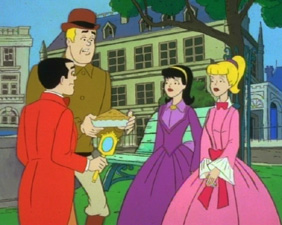 U.S. Of Archie was the next incarnation for the comics teens in 1974. It saw the Archie gang playing their ancestors at various points in U.S. history. It was less successful than previous Archie outings, and marked the end of Filmation's use of the character on CBS. It was cancelled in early 1976, a few months ahead of its planned tie-in with bicentennial celebrations.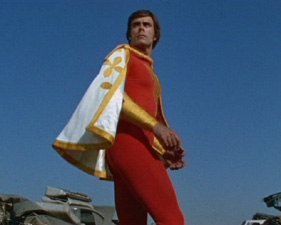 1974 also saw Filmation branch out into live action production, with the debut of the DC Comics-owned superhero Captain Marvel in Shazam!. Production values were analogous to those in Filmation's animated shows (i.e. it was cheap), but it quickly became one of Saturday morning's highest-rated programs. Like Fat Albert and other Filmation programs, the show dealt with teens and their everyday problems; but this time with the intervention of a traveling teen in a motor home and his red pajama-wearing alter ego, who proclaimed the show's moral after helping solve that week's problem. Two different actors portrayed Captain Marvel over three seasons. With the addition of The Secrets Of Isis (also live action), the show became The Shazam-Isis Hour in 1975. Isis was a female hero who could provide a role model for the girls in the audience.
The New Adventures Of Gilligan came out in 1974 on ABC. Like Star Trek, Gilligan's Island had had no new episodes for a few years, but was extremely popular in syndication. And like the animated Star Trek, Gilligan had most of the voice cast from the live action show. The exceptions were the two younger women. Dawn Wells was too busy with theater work to voice "Mary Ann", while Tina Louise apparently resented her association with the show and declined to allow her likeness to be used, resulting in a blonde "Ginger". The cartoons were based on episodes from the original show, with the addition of moral messages. A big success, the cartoon ran two seasons.
Ghost Busters was the next live action series from Filmation, appearing in 1975. It featured two men chasing ghosts with their Gorilla named Tracy. Uncle Croc's Block came out on ABC that same season, combining live action segments with animated ones (like Fraidy Cat, M-U-S-H, and Wacky And Packy). Unfortunately, the cynical nature of the show and weak scripts and direction led to Uncle Croc receiving horrible reviews and worse ratings, resulting in a mid-season cancellation and no more Filmation orders from ABC. Ever.
The Adventures Of Waldo Kitty, AKA The Secret Lives Of Waldo Kitty, was loosely based on the novel The Secret Lives Of Walter Mitty but done with cats. This 1975 NBC show used live action bookends to a cat's fantasy life, which featured spoofs of various fictional characters. The live action segments were dropped in syndication partially due to legal proceedings from the estate of Mitty author James Thurber.
In Part 2 of this article, we will see Filmation strike gold with numerous adventure shows before ultimately being forced to close due to a lack of network sales.