Walt Disney Productions (October 23 1941), Walt Disney Home Entertainment (October 23 2001), single disc, 64 mins plus supplements, 1.33:1 original full frame ratio, Dolby Digital 5.1 Surround, Rated G, Retail: $29.99
Storyboard:
Brought to a thriving circus by a postman-style delivery stork, a little elephant finds his home with Mrs Jumbo, one of a posse of pachyderms. Ridiculed by the other elephants due to his oversized ears, this Jumbo Junior is soon re-christened Dumbo and both he and Mrs Jumbo are ignored. When the circus hits a new town and the local boys also make fun of her baby, Mrs Jumbo finally breaks and attacks one of the kids, leading to her eventual incarceration. Dumbo is made part of the clown act as the brunt of the comic characters' jokes. Lost and alone, the little elephant is befriended by Timothy Mouse, a wisecracking rodent with a brainwave idea – maybe Dumbo could become the world's first and only flying elephant! With the aid of a cynical bunch of crows, Dumbo and Timothy triumph, putting everyone else in the circus back in their places and saving Mrs Jumbo in the process!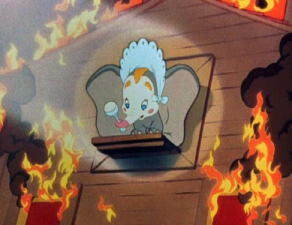 The Sweatbox Review:
Coming bang on film's actual 60th Anniversary, this DVD of Disney's most simple (and that's a compliment) cartoon feature arrived with little fanfare, but with many new bonus extras that will please fans.
After the mega success of Snow White in 1937, and the then less than stellar box office runs of Pinocchio and Fantasia (partly based on the cutting off of revenue from foreign markets involved in the Second World War), Walt was looking for simpler entertainment that would take folks' thoughts away from the carnage and destruction that was going on in Europe, and that would soon affect the American way of life as well. In script and storyboard production for six months, the entire story was honed and toned by a number of studio story men, including Dick Huemer and the legendary Joe Grant. Based on a short story by children's authors Helen Aberson and Harold Pearl, Walt considered producing Dumbo as a featurette, before Huemer and Grant's treatment persuaded him otherwise. During this time, the film was brought into shape, eliminating at an early stage any un-needed elements and providing a tight structure that meant Dumbo could be put into animation quickly.
With such a simplistic plot, the animators had time to pepper Dumbo with much more of the cartoon sensibility that had been lacking from Walt's recent feature animation output. The Reluctant Dragon, a live action tour around the Disney Studio lot, which included several featurettes woven throughout the film, was an attempt to turn around a quality film quickly, but it was none too successful on its first release. Dumbo proved that a full animated feature (albeit slightly less in length that usual) could also be done as fast, with the pre-production time helping the actual animation process come in on time and under budget, in just one year of actual production.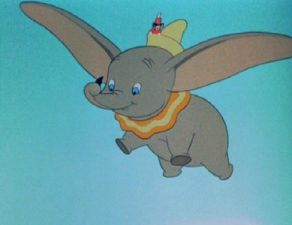 Most of Dumbo's success is down to its deceptively simply story, but there is also so much more to enjoy in Dumbo – the bright circus colors and atmosphere, the authentic hijinks of the clowns, and the music, by Disney staffers Ned Washington, Frank Churchill and Oliver Wallace. Then there is the animation itself which, while not as delicately detailed as Pinocchio or Fantasia, still feels fully "alive", with great special effects (such as the train Casey Jr's night-time journey with all those multiplaned backgrounds and perfectly placed shadows), and brilliant invention – the famous Pink Elephants sequence wherein Dumbo and Timothy get drunk is worth the price of admission alone!
The voice cast work wonders as well. Dumbo himself almost never utters a word, and likewise Mrs Jumbo, apart from naming her baby in the opening and singing in the central Baby Mine sequence (although this is sung over this moment to convey emotion and is not lip-synced to her character directly). Making up for them is Ed Brophy as Timothy, a motormouth with big ideas and a big heart, who takes Dumbo in and sticks up for him. As Jim Crow, Cliff Edwards makes a good sparring partner for Timothy, with the two practically speaking two different parts of the same conversation. The crows also get to sing the film's standout musical hit When I See An Elephant Fly (Edwards' second Disney hit after performing When You Wish Upon A Star as Jiminy Cricket in Pinocchio) that has some of the best pun-filled lyrics ever to feature in a Disney film.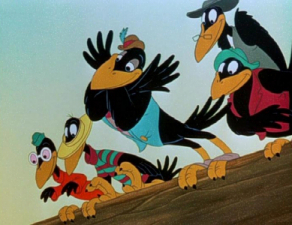 Making his debut for the Studio is Sterling Holloway as Mr Stork, who provides the messenger bird with the brand of vocal quality that will be familiar to Disney fans, and the kind which would lead to several other assignments, including the narrator of quite a few shorts, and the voices of Winnie The Pooh and Kaa, the snake from The Jungle Book. Another long time Disney contributor was Verna Felton as the head elephant, who would later return as the voices of the Queen Of Hearts in Alice In Wonderland, and as Cinderella's Fairy Godmother!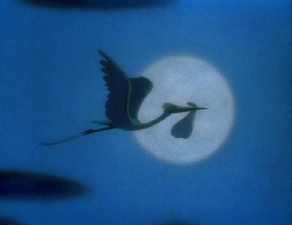 Apparently the whole production went through with not a problem in sight, a first for the newly established Hyperion Studio, where Disney's was now set up following the success of Snow White. The artists took trips to the Cole Brothers Circus to get a feel for the travelling life, a live stork was brought in for reference for those scenes (a photo of it was later used as a Studio card announcing the birth of one of the artist's babies), and an elephant visited the Studio as well – also contributing a fun sequence to The Reluctant Dragon feature. Key animator Vladimir "Bill" Tytla was responsible for Dumbo himself. Tytla, who asked for the assignment, had only brought to life a number of monsters for Walt, including Stromboli in Pinocchio and Chernabog in Fantasia. The fellow artists at the Studio were enchanted by what emerged when Tytla finally revealed his drawings. Tytla later said that he'd based the caricature on his own child, commenting that "There's nothing theatrical about a two year old kid. They're real and sincere. I tried to put all these things in Dumbo".
Dumbo is full of these little moments, especially the Baby Mine sequence that still brings tears to many adults. The bond between a child and its parents is one of the strongest things in the world, perhaps as strong as true love, and like Bambi losing his mother in Walt's next film on from Dumbo, when the little elephant fears he will never see her again, we as an audience feel that very emotionally. In complete contrast, the Pink Elephants sequence is played straight for laughs and abstract effect. Way before the days of complicated CG, this sequence still stands out as a perfect surreal nightmare – the supposed results of a bucket of alcohol going up Dumbo's trunk! Pyramids of pachyderms switch into belly dancing elephants, speedboats, race cars, and so on, bringing to life not just the experience of drunkenness, but a complete series of hallucinations! Max Fleischer tried a similar approach in the following year's Paramount release Mr Bug Goes To Town, during which the hero Hoppity is flushed with electricity and literally buzzes around an insect nightclub. The Disney Studio later replicated the feel of Pink Elephants in the Heffalump sequences in the Winnie The Pooh films, but the lush animation, deep blacks and bright highlight markings in Dumbo's biggest moment is still the best – and to think that this most celebrated of sequences was originally filler material asked for by Walt to push the eventual running time to just over an hour!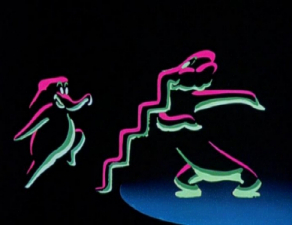 Very reminiscent of the later "Specials" that the Studio would produce (many of these, such as Mickey And The Beanstalk, Bongo, The Wind In The Willows and The Legend Of Sleepy Hollow would wind up in subsequent features), Dumbo came in at a relatively paltry 64 minutes. Snow White and Pinocchio had almost been an hour and a half each, Fantasia over two in its initial release – Dumbo should be made longer, distributor RKO Radio Pictures demanded. With Pink Elephants just providing a feature length presentation, Walt was adamant that "Dumbo is perfect as it is" and should not be trimmed or lengthened. Nervously, and only after seeing the film for themselves, RKO agreed, and put the film out with great fanfare.
Right from the day it premiered, Dumbo was a smash. Critics called it a return to the classic Disney they had known from the short cartoons, the film won Academy Awards for its songs and score, and audiences flocked to it to escape the turmoil of the War. In fact, Dumbo was due to appear on the cover of Time Magazine to publicize its opening, but was bumped from the front cover by the news of the attack on Pearl Harbor. Years later, in Steven Spielberg's 1979 epic comedy 1941, one character is seen sitting inside a movie theater that is showing Dumbo while the whole city is in hysterics just outside. While that version of events must have been overplayed, one still gets the feeling of what the general mood must have been like, and a simple story of triumph over the odds would have been a great incentive to the movie going public in picking Dumbo as a movie to go and see.
As ever, Walt was right: Dumbo need not have been extended past its rightful playing time of just over an hour, and when it was a solid hit this also gave Disney considerable power with his distributor, RKO. More than satisfied with the box office results, they were later much happier to let Walt dictate what he was making and allow him to deliver his film as he saw fit, with Saludos Amigos famously coming in two years later at just 42 minutes! But as Walt saw it, why pad the picture and let it outstay its welcome? The film works just as well and still captivates children and adults today, proving that nothing beats a good story, well told – and Dumbo is certainly that!
Is This Thing Loaded?
I'll get to the most anticipated stuff in a moment, but for now this Dumbo disc opens up its extra features with the standard play-through of Sneak Peaks: Return To Never-Land's theatrical teaser, Mickey's Magical Christmas: Snowed In At The House Of Mouse, Cinderella 2, Hunchback 2, Whispers: An Elephant's Tale, Peter Pan, The Book Of Pooh, Disney Treasures, the Gold Collection and an annoyingly pushy TV promo for the Toon Disney channel.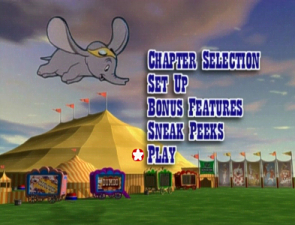 The menus are great, recreating Dumbo's circus world in 3D. As for the supplemental material proper, most insightful and authoritative is animation historian John Canemaker's Audio Commentary. Clearly a fan of this film, Canemaker shares a true fascination about the making of Dumbo and its place in Disney history as much as the rest of us, and offers up illuminating anecdotes on the production, as well as spotting mistakes and pointing out how certain effects were achieved – fantastic and entertaining in its own right!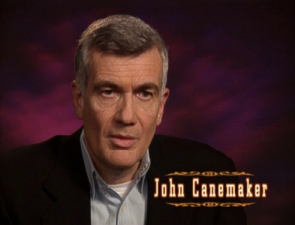 Celebrating Dumbo is a packed 15-minute featurette produced by the long-time Disney documentary team of Kurtti/Pellerin, based around the making of the film. Canemaker appears again and we hear from critics Leonard Maltin and Rudy Behlmer, as well as a host of current Disney names, such as Don Hahn, Andreas Deja, John Musker, Ron Clements and Roy Disney, as they reveal more about the production. What's really nice about the stills on show throughout this piece is the fact that they have been placed within the background art from Dumbo's main titles, giving the images a real circus poster quality.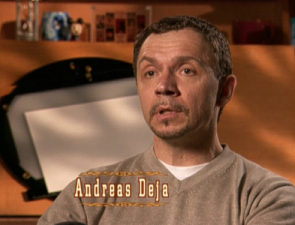 The Artwork Gallery highlights several of the production stills shown in the documentary, plus many more. Sections covered include Concept Art, Character Development (with its own sub-sections), Pink Elephants, Story Development, Roustabouts, Behind The Scenes and a look at the Attractions Dumbo has inspired at the Disney theme parks – lots to see and take in.
Sound Design features – you guessed it! – that famous and well seen by Disney fans clip of Robert Benchley's visit to the sound department from the live action tour film The Reluctant Dragon, which was shooting on the lot when Dumbo was in full swing. For those who have not seen this wonderful film, the sequence is here in its six-minute entirety, also providing a glimpse at some preliminary animation of Casey Jr that did not end up in the completed film, so this also plays as a kind of "deleted scene" and is still very entertaining, even if it is a set up sequence in the best Disney tradition!
Walt Disney's Television Introduction does not last long, but presents the original DisneyLand footage of Walt that led into the film's first television showing. In a slight surprise, Walt says here that Dumbo was his favorite picture, a claim that is usually credited to Bambi in animation, and So Dear To My Heart in live-action. He explains a little on the making of the film, before a dissolve takes us to the Mr Stork sequence. It seems that the opening song would have been cut, as the film picks up as the stork comes to rest on a cloud, cutting a few minutes from the overall running time; something probably necessitated by squeezing Dumbo into a one hour television time slot.
Publicity Materials is great, showing Dumbo's original 1941 theatrical trailer as well as the 1949 re-issue. No wonder Dumbo was a smash based on these trails, as they seem much more fast paced than those for Snow White, Pinocchio and Fantasia, highlighting the comedy and the drama. Strangely the 1949 trailer is slightly slower, though it uses material from the previous one and names the When I See An Elephant Fly song in the credits as "I've Seen Everything"!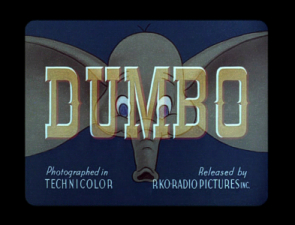 Next up are a couple of Silly Symphonies, beginning with the 1934 The Flying Mouse. Included because of the flying animal connection I would imagine, the short has not benefited from any digital cleaning, being the same print that I have seen on compilations before. An entertaining short running over nine minutes and proving the adage "be careful what you wish for", the film features an early example of a female human character (in preparation for Snow White) and has quite an intricate plot. What is nice is an extra trivia point if you look closely: the little mouse's bat-like wing design was originally proposed for Dumbo's ears as well! The Studio might have been hoping for a new character to add to their rostrum of "stars" with the introduction of Elmer Elephant in a 1936 cartoon short, but Elmer does simply not have the charm of Dumbo in his looks (he actually resembles the "pig head" that is drawn onto the detective in Who Framed Roger Rabbit's cut scene). Though he did turn up later as a popular comic book addition, Elmer would be relegated to second fiddle to even the likes of Horace Horsecollar and Clarabelle Cow. In this cartoon, Elmer visits his friend's birthday party, although the other invitees use the occasion to embarrass him. Leaving the party, he meets a friendly giraffe who helps him save his sweetheart back at the party when a fire breaks out. It's another fairly lengthy short, running another eight and a half minutes, and is very well animated, with high production values and some very nice touches such as when Elmer's shadows when he walks through the trees. The print has its scratchy moments but is in better overall shape than the Mouse cartoon.
Coming to the newly produced material, we have the DVD Storybook that offers up a new story, Dumbo's Big Discovery, while a couple of Sing-along Songs for Look Out For Mr Stork and Casey Jr are included. Sticking with songs, but not of the karaoke variety, is a new music video featuring Michael Crawford's lullaby-styled rendition of Baby Mine. Taken from his recent The Disney Album on which he covers newer Disney classic songs, Baby Mine is the only older track on this release. Not pumped up with contemporary beats and synthesizers, this is a pretty straight version, and is thankfully a proper music video than a commercial for the CD (although we do get the obligatory "available now" announcement at the end).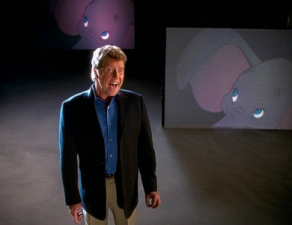 Finally, and a big selling point originally for this title, is the inclusion of a three minute sneak peek at Dumbo II, another in the line of Disney video sequels. Although this film has seemingly been put on the back burner, I actually warmed to the proposed storyline as outlined here by long-time Disney veteran Burny Mattinson. In what turns out to be a pretty nice featurette, we see the development team in action, including original Dumbo writer Joe Grant, planning and storyboarding the movie. In Dumbo II, the little elephant and his friends are separated from the circus and find themselves lost in the big city. Through teamwork and courage they must help themselves and try to return to the circus. Okay, so that in a nutshell sounds like you've probably seen it before (and we have, in Homeward Bound and Babe: Pig In The City), but there's something about the way these guys tell it that sounds new and fresh. The designs look very much in keeping with the original, and the sequel's story develops the themes further rather than simply rehashing elements from the original. The powers that be at Disney have, after some disappointing CG tests (just do it in drawn animation!), put Dumbo II on hold. Frankly, I wouldn't mind seeing this one get made, but don't mess with CG, guys – the whole point of Dumbo is to remain simple!
Lastly, and despite a really snazzy custom DVD-ROM player skin, there really aren't any extra extras to be found in a PC drive. Links to the Dumbo website and DisneyDVD newsletter subscriber's list are all that await, although you can access the Storybook feature and the movie from here too.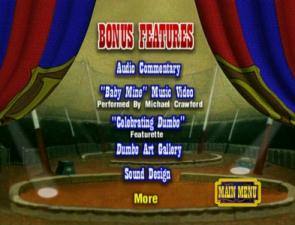 All in all, this 60th Anniversary DVD edition of the 1941 classic is packed with decent and worthwhile bonus material, with some nice touches (the cartoons, the look at Dumbo II) added to the mix. For LaserDisc owners, all we got back then was a nice gatefold sleeve with a text essay inside – this DVD adds several features that are worth upgrading for, not least the cleaner transfer.
Case Study:
Though the disc comes in a standard white Disney keepcase cover, the package on the first pressings came with a fun Casey Jr train included! In reality not a full-sized train, of course, this is a cutout and construct model, which is fun for kids and actually looks pretty neat when it's all put together. A great idea! A savings coupon booklet and regular chapter index card listing the stops on one side and a guide to the extensive bonuses on the other, are also included.
Ink And Paint:
Compared to the mid-90s LaserDisc CAV remaster, this version of Dumbo benefits from an even newer transfer. Not quite as sharp as the Snow White and Sleeping Beauty discs, Dumbo retains some of the film elements that remind you that one is actually watching film and not some video-processed approximation of what film is. There are no print marks and scratches to speak of, but the image has not been so clinically wiped clean of grain that it does not resemble the original stock – this is a good strong vintage film transfer, and just as these things should look on DVD. Very smart, but not too overdressed.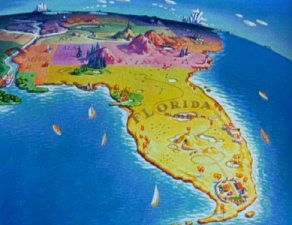 Scratch Tracks:
"All-New Dolby Digital 5.1" the back cover announces, but for the most part, as with all of these older film remasters, things remain rather locked to the center channel, with most of the bleed being the music that stretches to the left and right channels. Bass is accounted for, though it is not an ongoing presence and usually comes into play when there is a noticeable sound effect thud or explosion. The Pink Elephants sequence, however, sounds great! French and Spanish tracks, seemingly from previous mono masters, have been included.
Final Cut:
Dumbo is Disney at his best. Warm, thoughtful, exciting, funny, it's all in here and remains a wonderful lesson for us all. Like many of the real Disney classics, the film still stands up today as being great entertainment for all ages, with the bright colors, fun characters, circus atmosphere and simple plot especially enchanting to children. One of the first Disney features to be released on home video back in the early 1980s, Dumbo has been included and repackaged in many promotions and new video lines since then. Finally with this overdue 60th Anniversary DVD edition he gets what he (and we!) deserve. Dumbo is flying high again!
Animated Classic or Back To The Drawing Board?