Bob Clampett Productions (Puppet Show 1949-1954, Cartoon 1962-1967), Image Entertainment (January 25, 2000), single disc, 215 mins plus supplements, 1.33:1 original full frame ratio, Dolby Digital Mono, Rated G, Retail: $9.98
Storyboard:
Admire the brilliance of Clampett's television work in both puppet and animated form.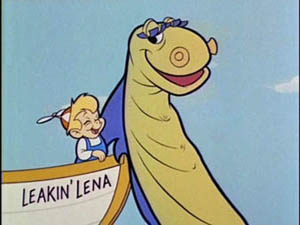 The Sweatbox Review:
Every once in a while, you come across a DVD that is so very cool— one that expands your thinking of what a DVD can present. Back in 1999, Image Entertainment put such a DVD onto the market, celebrating the works of animation legend Bob Clampett. At first glance, the cover seems to indicate that this will be a nice but generic collection of old Beany And Ceci cartoons, but in fact the disc holds an amazing archive of Clampett's non-Warner Bros. work. He may be best known for his classic Porky Pig and Daffy Duck cartoons, but Clampett had a marvelous career that existed outside of the Looney Tunes gang.
Considering the strength of his Looney Tunes output, and the fondness with which it is remembered, it is hard to believe that he only spent a few precious years as a director at that studio. Robert Clampett (1913-1984) began his animation career with Harman-Ising in 1931, getting involved in the early days of their Looney Tunes and Merrie Melodies series for Leon Schlesinger and his distributor, Warner Brothers. His initial learning came from working under Friz Freleng, but he later went over to the Tex Avery unit in 1935. That same year he designed Porky Pig for the cartoon I Haven't Got A Hat. Clampett was promoted to director in 1937, and became responsible for such surreal and wacky cartoons as Porky In Wackyland, The Great Piggy Bank Robbery, and the infamously great Coal Black And De Sebben Dwarfs.
He left the Schlesinger studio in 1946 when Warner Brothers bought it out, as he followed some of the former Schlesinger brass over to Screen Gems; but he only worked on stories, not directing. He soon left, and it was not long before he became a television pioneer. His love for puppetry equaled his love of animation, and led to him creating the hugely successful Time For Beany. It debuted in 1949 on KTLA in Los Angeles, as one of television's earliest children's shows. It went national with Paramount Television in 1950. His efforts there earned him three Emmy Awards over its six-year run. At the same time, Clampett and his staff did the series Thunderbolt The Wondercolt and Willie The Wolf. Puppet shows, of course, saw their popularity shrink over time as made-for-TV animation became successful, and a new animated version of the show, Beany And Cecil began airing in 1962. This show ran on ABC for five years.
The puppet and cartoon versions of Beany form the basis for this DVD, but there is so much more. The Main Menu maps out different "lands" within the disc: Lost Works, Characters, Audio features, Time for Beany and Other Live TV, The Cartoons, and Bob Clampett. There are also options to play either all the Time For Beany shows, or all the cartoons.
I will discuss the puppet and cartoon Beany shows here, and the rest in the Bonus Material section.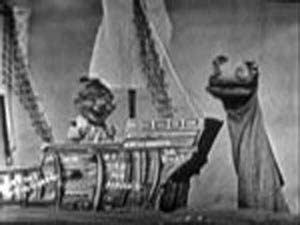 Time for Beany: The star of this show is a boy who predictably wears a beanie hat on his head, the type with a propeller. Beany and his uncle, the sea captain Captain Huffenpuff (often called "Uncle Captain"), were both voiced by legendary voice actor Daws Butler ("Yogi Bear", etc.). Beany's good buddy Cecil the Seasick Sea Serpent was an even simpler sock puppet voiced by Stan Freberg. Freberg also gave voice to the series' recurring bad guy, Dishonest John. The fifteen-minute episodes featured adventures on the high seas and all over the world aboard the Leakin' Lena in a serialized format. The jokes were fast and furious, and littered with witty wordplay. The tone varied wildly from moment to moment, going from melodramatic to goofy to adventurous without braking even slightly. One thing that added to the excitement was that it was broadcast in the era of live television. Viewers back then likely took it for granted, but there is a certain quality that emerges from knowing that every second was going out live, whether perfect or flubbed.
Even a simple puppet show was a complex endeavor, with Clampett employing a number of writers, musicians, technicians, and performers. Time For Beany may not have had the sophistication of puppetry that the later Gerry Anderson shows did in the UK, but they were still an impressive endeavor. Apparently, the shows were written often at the last minute, despite the fact that they told an ongoing story, lending the series its seat-of-the-pants storytelling.
The DVD has four fairly random episodes. Obviously, it would have been nice to see a string of episodes that told a story, but one must keep in mind that it was likely difficult to locate suitable materials to present. So, let us be glad to see any representation of this landmark series, and enjoy what is here.
Episode #50 (Nov. 8, 1949) – not my favorite part of the disc, but there is some goofy fun here as Cecil thinks he is Christopher Columbus ("maybe they'll name the United States after me!") then Hopalong Cassidy; soap bubbles are used to create the illusion of being underwater for a brief sequence
Episode #279 (Sept. 25, 1950) – Beany and friends are in Washington to see the President, and Cecil applies to the Secret Service; this is a much more ambitious episode, with several (simple) sets and more characters like Professor X, as well as a more complex plot
Episode #281 (Sept. 27, 1950) – Cecil is now the Professor's bodyguard and gets to share a ragtime musical number with the President; and just as things get wacky, Dishonest John enters the picture
Episode #421 (April 11, 1951) – everyone is in Hollywood, with Cecil very concerned that he will "go Hollywood" if they stay too long; before you know it, Dishonest John has hoodwinked him into performing a publicity stunt that will make him famous but will also endanger him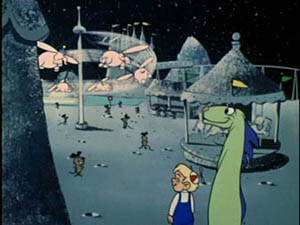 Beany and Cecil: Bob Clampett brought the duo to animation for a series cartoons that were first shown theatrically in Canada and Australia (among other places) in 1959, distributed by United Artists. It was three years before they found their way to their originally intended home on American television on 1962's Matty's Funday Funnies With Beany And Cecil (this show had previously showcased Harveytoons— formerly Famous Studios cartoons— and was shown in prime time an hour before The Flintstones). The live-action hosts were soon dropped that April, and the show became simply Beany And Cecil, while adding newly made episodes. It began to be shown on Saturday mornings in January, 1963. In the cartoons, Jim McGeorge replaced Daws Butler, and Irv Shoemaker took the place of Stan Freberg.
(Note: A revival show from Bob Clampett Productions aired five episodes in 1988. Billy West provided the voice for Cecil.)
This DVD has twelve Beany And Cecil cartoons, each the length of a theatrical short. I had never seen them prior to buying this DVD, and I was blown away. They are bright, well animated, sharply written, and above all, funny. One neat thing is that each cartoon gets its own little introduction with a rhyming song describing the episode. Each one is also littered with music and songs. I will not go into detail about each one, but here are some highlights:
Beany Meets The Monstrous Monster – the crew goes looking for a sea monster, with Cecil taking on a not-so-clever disguise; one of the Looney Tunes mainstay of the 1940's, a Peter Lorre-esque character, takes the form of a fish
So What And The Seven Whatnots – Cecil takes in some night life in Lost Wages, Nevada; and Dishonest John plays evil witch as he poisons So What in this fun Snow White riff
Beany And The Boo Birds – ghost birds try to spook Cecil
Super Cecil – Dishonest John has fun with a masquerading Cecil
Wildman Of Wildsville – here's my favorite one, as the gang encounters a wild beatnik on the Hungry i-land, Go Man Van Gogh; this cat is far out! Craa-aaaazy!
The Spots Off A Leopard – the crew goes hunting for the spots off a wimpy leopard, who has to wear a leopard outfit in order to scare them
Beanyland – notorious parody of Disneyland, with the gang heading to the moon in a rocket with Dishonest John as a stowaway; moon mice attend the park wearing Mickey Mouse ears; this one got Clampett in trouble with censors who were worried that Uncle Walt would take offence
Cecil Meets The Singing Dinosaur – the crew visits a lost island of singing dinosaurs: No Bikini Atoll; as usual, Dishonest John attempts to steal their thunder
The Mad Isle Of Madhattan – New York gets spoofed initially, but this one is more about mercilessly spoofing television production (note the box of "Sponsor Bait"); Dishonest John finds out that being a television creator is not all it is cracked up to be
Dirty Pool – Beany, Captain and Cecil decide to dig a pool at home, since obviously they do not get enough water while sailing on the high seas; that skunk Dishonest John once again offers some dirty deeds and has to again face Super Cecil: "D.J., you dirt guy!"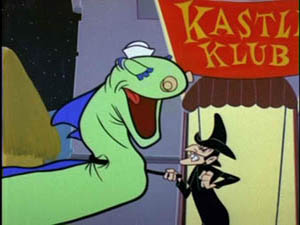 D.J. The D.J. – Dishonest John becomes a manager to aspiring singer/songwriter Cecil; look for a Chipmunks parody
There's No Such Thing As A Sea Serpent – well, here we have a riff on Fantasia's "Rite of Spring" sequence (by way of The Flintstones) and more, as the tale of a sea serpent named Snorky through the ages is told as a folk song
These shows, both the puppet shows and cartoons, showcase humor that ranges from being broad to pinpoint satire and parody. In trying to relate what these cartoons are like, I found I was at a loss. I have not seen anything quite like them. At various moments, I was reminded of Hanna-Barbera, Ren and Stimpy, and Rocky and Bullwinkle, with a smattering of the best Nicktoons. Basically, if you dig cartoons, you will enjoy Beany And Cecil.
Is This Thing Loaded?
Is this thing loaded? Are you kidding me?
When I consider all the goodies on this disc, I am amazed. There are two-disc sets on the market that are less satisfying. The extras here are largely integrated with the regular material, and the best way to describe them is to go by the Main Menu selections:
Time for Beany and Other Live TV: At the end of the last Time For Beany episode, stay tuned for some Beany home movie footage with Bob Clampett. Then, selectable features include Time For Beany Home Movies, with part of an episode captured in color, and a rear projection test with shots of the crew. Next is an LA newscaster's report of the Leakin' Lena being lost at sea, and two other clips from the show, "Cecil Gets Fighting Mad", and "Beany and Cecil at Play".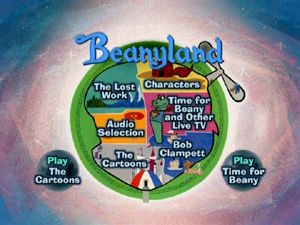 The extras then grow in scope with a presentation of Thunderbolt The Wondercolt And Home Movies. This is a full episode, plus more color home movies. An Excerpt From Willie The Wolf follows. A RTRA (Radio Television Recording & Advertising) fundraiser film is the last extra in this section, which has some surprisingly risqué bits during a presentation of Babes In The Hollywoods. The Captain, Beany and Cecil guest-star, as a beautiful blonde actress plays Red Riding Hood being harassed by the Wolf.
Over to the left side of the video selection screen on this same menu, one can choose an icon labeled History, Art And Photos. Here you can find a treasure trove of material relating to several of Bob Clampett's live action productions, including a stage show!
The Cartoons: Mixed in with the cartoons are a number of Bumpers from the TV show, as well as the show's Opening and Closing Sequences, shown at the very beginning and end of the cartoons, respectively. At the end of the closing, stay tuned for a clip of Bob Clampett talking about the show's characters. Selectable choices include the Original Opening for Matty's Funday Funnies as well as Matty's Bumpers, all in black and white. Following this is Live-Action Reference Footage used by the animators.
Another History, Art and Photos icon is available, this time bringing material regarding the cartoons (History and Art, Story Session, Storyboards, Staff, Publicity and Promotional Materials, and Merchandise). I'm tellin' ya, there is a whole lot of stuff here!
Characters: Several different Clampett cartoon and live action characters are shown in early sketches, puppet photos, and behind-the-scenes shots. A still gallery of celebrities with Clampett and his creations is here, too. There is even a clip from 1925's The Lost World, which was a big inspiration for Cecil and the Captain.
Audio Selection: This section is available either off the Main Menu, or from the Cartoon or Live Action Menus. There is an extensive compilation of Interviews With Bob Clampett giving an oral history of the man, originally recorded by Milton Gray. As this plays, yet more stills are shown illustrating what is being discussed. Next, Stan Freberg gives a long audio commentary about Time For Beany and live television, while the episodes of the show play. Walter Edmiston gives a final commentary about his career with Clampett while Thunderbolt plays. AND, there is audio for an actual story session somewhere here, too!
Bob Clampett: If you still want to find out more about Bob Clampett, this section gives you Warner Bros. home movies, early films, other early footage (young Bob doing magic) and a 1950's interview with Clampett. A "History, Art and Photos" icon is available once again.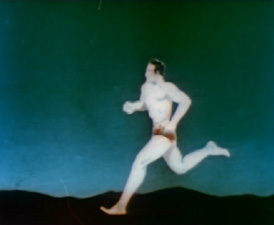 The Lost Work: …And here's the topper! Here, you will find another menu dividing the remaining contents into decades from the 1930's to the 1970's. There is much greatness here, starting with a spectacular (albeit too brief) Pilot Cartoon Of John Carter Of Mars, which looks like hand-colored, animated Alex Raymond drawings. The remaining projects include stop-motion animation, St. George And The Dragon, Time For Beany 3-D Feature Tests, Edgar Bergen Show (animated!), Three Dimensional Man, and other unique ideas that did not quite take off. Each one is worthy of discussion, but this review is already getting long!
The ubiquitous "History, Art and Photos" icon is available throughout this section as well, offering even more archival material relating to these works.
Case Study:
Okay— the DVD was originally issued at a time when Image used the dreaded snapper, but given that, this disc was given a pretty nice case. The back cover nicely conveys some of the magic that the disc holds, and the front cover folds out to present a handy item-by-item listing of the contents (56 total video segments, which does not include the audio bits and still frame archives). The reverse of this side of the front cover has a 2-page introduction written by Robert Clampett, Jr. Later pressings of this disc went into a standard keepcase.
Ink And Paint:
It is important to understand how the two series, especially the first one, were produced in order to discuss the video quality. As I mentioned, Time For Beany went out live, at least in Southern California. While it was being broadcast, the image was transmitted via wires to a Kinescope department in the same building. There, the image was captured on motion picture film to be saved for posterity (as there was no videotape then). Of course, this meant that the kinescopes that resulted were basically akin to taking a photo off of a television set, with the results being predictably poor. This is a big part of the reason why so many older TV shows look so terrible now, as most were never captured directly on film (I Love Lucy being a notable exception).
Time For Beany, therefore, is muddy, scratchy, blurry, and full of imperfections. Shadow detail is severely lacking, and overall the effect is of having the contrast set too high, with dirt smeared on the screen.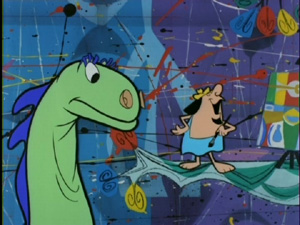 The Beany And Cecil cartoons, however, come from the original 35mm camera negatives, and they look superb by comparison. There are sections that look like new cartoons, but also sections that have numerous but very light scratches. The cartoon drawings have bold outlines, in the style of those small-television days, and the colors remain bright despite the age of the shows.
The puppet shows get a "3", while the cartoons get a "7".
Scratch Tracks:
All the audio here is in mono, as one would expect. The Time For Beany episodes have understandably distorted audio, which is still quite intelligible even if it sounds like everyone is speaking into an echo chamber. The sound elements for the cartoons are quite good, exhibiting no real problems.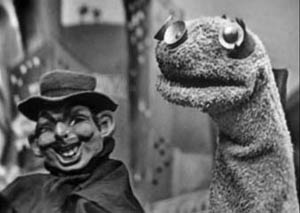 Final Cut:
As with anything else, your appreciation of this DVD will depend on your interest in the material. Yet, no one can deny that this disc was the result of an impressive effort by the people at Image and the Clampett family, packed with oodles and oodles of fascinating material. Actually, the Beany And Cecil cartoons alone make this a highly recommended purchase. Those who are interested in early television, Bob Clampett, puppet shows, or animation in general will all have something to enjoy on this disc, a little-known treasure.
Animated Classic or Back To The Drawing Board?