Warner Brothers (Direct-to-DVD), Warner Home Video (June 1, 2004), single
disc, 75 mins plus supplements, 1.33:1 pan-and-scan, Dolby Digital 5.1, Rated PG, Retail: $14.98
Storyboard:
As the Penguin hatches his latest plot, Batman tries to discover the identity of the mysterious Batwoman.
The Sweatbox Review:
Even as fans hear rumors of the newest (and hopefully better than the last) big screen live-action Batman adventure currently in development, Warner Bros. Television Animation once again shows how they've been getting it right for years. Batman: Mystery Of The Batwoman is a direct-to-video movie that features the now-classic rendition of Batman and his allies that was so successful on television in the 1990's. It also adds the character of Batwoman, a new adversary of crime who despite her name is not known to Batman. Like any identity mystery, this story includes multiple suspects. But what are this character's origins?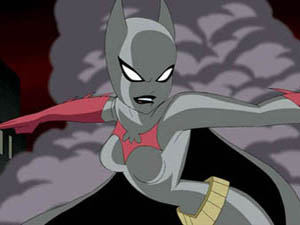 There was actually a Batwoman character in the comics. Back in 1956, a yellow-clad female adventurer in a red mask and scalloped cape thwarted a crime in progress at a new air terminal. Her utility purse carried such items as a powder-puff, charm bracelets (for handcuffs), compact mirror, and tear gas "perfume". Confronted by Batman, she sped away on a motorcycle, returning to her own Bat-Cave— an abandoned mine tunnel. The reader learned that she was an heiress named Kathy Kane, a former circus daredevil performer. As one would expect from a coincidence-riddled Silver Age comic book story, Kathy Kane soon met Bruce Wayne at her own party. By the end of the story, Batman had deduced Batwoman's true identity and made her promise to stop her darn foolishness. That patronizing gesture of protectionism was later ignored, as Kathy returned for several more stories in the next few years, eventually with her niece Betty, who became the first Batgirl. After years out of the spotlight, the Batwoman character was killed off in a 1970's issue of Detective Comics.
The new animated Batwoman has little in common with the comic book one, however. This one is clad in grey and purple, and is certainly more hard-edged. Like the original, though, this one wants to keep her identity secret from Batman. She encounters him in the movie's first scene, a scene in which we are immediately made to see that this is the animated Gotham that we remember— all red skies and black buildings. She escapes the inquiries of Batman and Robin, leaving a concerned Bruce Wayne to discuss the situation later with his butler Alfred. Apparently, Bruce does not like the idea of a vigilante in a bat-outfit running around Gotham. In case one misses the irony here, Alfred is quick to point it out. At about this time, we find out that Barb "Batgirl" Gordon is in college at this time, discounting her as a suspect.
By the fifteen-minute mark, however, we are introduced to three viable suspects:
1.) Kathy Duquesne is the daughter of gangster Carlton Duquesne. Her disdain for her father's business places her at odds with him. The similarity of her name to the comic book Batwoman also makes her a prime suspect for savvy viewers.
2.) Roxanne "Rocky" Ballantine is a brilliant but clumsy WayneTech employee with a grudge against the Penguin.
3.) Sonia Alcana is new to the Gotham City Police Department, and is Harvey Bullock's new partner. She also has a grudge, but in her case it is against crime boss Rupert Thorne.
Not coincidentally, these descriptions also point to who the villains are in this story. Duquesne, Penguin, and Thorne are partners in a scheme to sell illegal weapons. Conflict arises in the group, largely due to the actions of Batwoman, leading them to enlist further muscle in the form of Batman's Latin American nemesis, Bane. Naturally, this all leads to a big blowout at the end of the movie in which the mystery is solved, fights are fought, and good triumphs. And, for a change, Bruce Wayne gets a girl!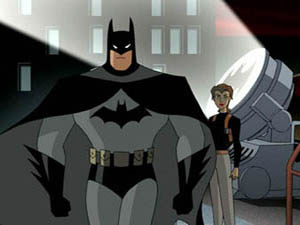 The old gang is mostly all here, including Kevin Conroy's pitch-perfect voice acting as both Bruce Wayne and The Dark Knight. Ephrem Zimbalist, Jr. is back as Alfred, and Bob Hastings returns as Commissioner Gordon. Tara Strong is once again Barbera Gordon, having generally played her since 1997. The Robin on display is the Tim Drake version, this time voiced by Eli Marienthal (The Iron Giant). An arguably bigger change is that David Ogden Stiers replaces Paul Williams as The Penguin; apparently this was due to wanting to give Pengy a darker edge, but I think that Williams would have worked just as well, given that Penguin here is still being presented as a bird-about-town and restaurateur. Meanwhile, Hector Elizondo replaced Henry Silva as Bane.
As for the new characters, they also get terrific voice performances. Television actress and talk show host Kelly Ripa plays Rocky, giving her an appropriate sense of vulnerability. Kimberly Brooks plays Kathy, and Elisa Gabrielli is Sonia. The true identity of Batwoman is somewhat safeguarded by having her voiced by a different actress altogether— Kyra Sedgwick. Carlton Duquesne is voiced by Kevin Michael Richardson, who formerly appeared in the Batman mythos as the Mutant Leader in the "Legends of the Dark Knight" episode.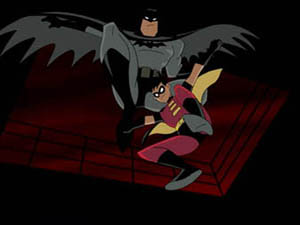 The visual style of the movie is a continuation of the designs from The New Batman/Superman Adventures. For me, this is a mixture of good news and bad news. Personally, I prefer the rounder blue/grey Batman of Batman: The Animated Series to the later, angular black/grey Batman. I also prefer husky Commissioner Gordon to the withered old Gordon seen here. On the plus side, the Penguin doesn't look anything like the Danny Devito bird-man seen in Batman Returns, returning to the tuxedoed sophisticate seen in the comics.
There is also a furthering of the hint of romantic interest that Barbera Gordon has for Bruce, although at this point it is clearly not something that Bruce is encouraging. Some fans believe that a future Batman animated movie may further explore this, as it makes for good drama when juxtaposed against the previous tinges of romance between Barbera and former Robin Dick Grayson. Grayson, now Nightwing in the animated continuity, is nowhere to be found in the Batwoman movie, just as he was absent from the Batman Beyond series and its Return Of The Joker movie follow-up.
On the production side, two of the three longtime Batman series geniuses contributed, as well as a few other stalwarts. Alan Burnett provided the story and is credited with being the supervising producer. Co-genius Paul Dini received credit for being a consultant, while Bruce Timm was not present but of course the whole design of the show was his to begin with and is honored in this movie. Curt Geda, who previously directed Superman: Last Son Of Krypton and Batman Beyond: Return Of The Joker, produced and directed Mystery Of The Batwoman. Michael Reaves wrote the story.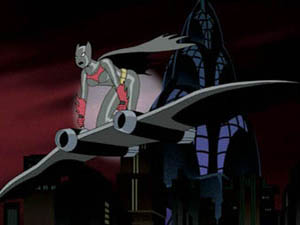 What results is a movie that is entirely consistent in tone and intent to the animated series we all loved. It maybe doesn't have quite the emotional depth of Mask Of The Phantasm, the humor of The Batman-Superman Movie or the mythos-redefining punch of Return Of The Joker, but as Alan Burnett explains in the special features, they were just trying to make a fun story. They succeeded. Whether or not you manage to guess the story's secret early, this is indeed a fun movie that offers characters of surprising depth, with slick (albeit TV quality) animation, an original and zippy musical score, and plenty of action.
For parents, you may rest assured that TV standards were followed in the production and direction of this picture. You cannot have a Batman movie without violence, certainly, but care is taken to give the viewer a quick shot of survivors escaping an explosion or dunk into the ocean. The language is relatively clean, and there is no gore.
Is This Thing Loaded?
While not a full-fledged special edition, this release does have some nice features.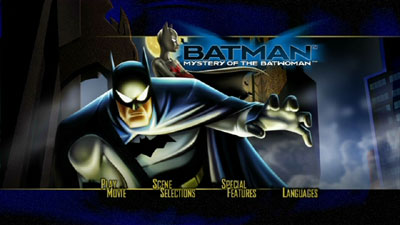 Chase Me (6:20) is a new Batman short cartoon done entirely without dialogue. It's a nice piece of work, with Batman chasing Catwoman one night in Gotham. It also plays up the romantic and contradictory nature of their relationship. The music is a bit jazzy and sometimes contemporary, offering a new aural quality to the series.
Behind The Mystery (9:30) is actually a voice actor featurette, with most of the cast making an appearance in interviews and recording footage. Alan Burnett and casting director Andrea Romano also appear. I always love seeing the recording sessions, and the actors each seem to show genuine affection for his or her character, and enjoy being part of the Batman family.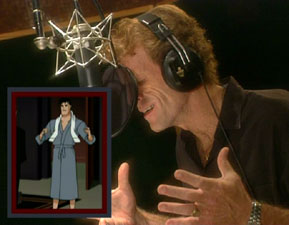 Batman P.O.V. (10:15) has interviews with the production team, including Burnett, Geda, Reaves, and composer Lolita Ritmanis. They discuss making a fun story, designing Batwoman, choosing the villains, re-naming Kathy Kane, and other juicy tidbits.
Making Of A Scene is hosted by Andrea Romano explaining, once again, how an animated film is made. At two minutes, don't expect to learn anything new.
Each of the featurettes also includes numerous shots of storyboards and preliminary art, but there are no still galleries. Altogether, the featurettes offer a good look behind the scenes, and are a near substitute for an audio commentary.
Batcave Profiles are 45-second profiles of the main characters in the movie. The selection of Bat Gadgets gives similar 30-second looks at some of Batman and Batwoman's weapons against crime. Pretty fluffy stuff, but I suppose the kids will enjoy this.
Superhero Favoritesleads to two separate preview clips for previous Warner Bros.-distributed waves of superhero DVD's.
One note— do not look at the chapter selections until after watching the move, as they do contain important spoilers!
DVD-ROM: For PC users with a DVD drive, there is a custom InterActive interface that offers links to Warner Bros., WB Special Events, or WB Kids. There is also the Toxic Chill Game Demo from The Learning Company.
Case Study:
Originally this came out in a snapper case, but has since been re-released in a keepcase.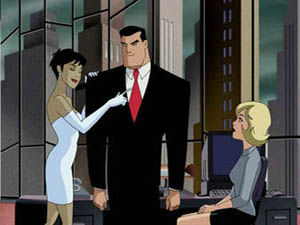 Ink And Paint:
As this movie went direct-to-video, one would hope that the image would be pristine, and that is the case here. The compression is also well done, with no problems present for dissection. The picture is perfectly stable, and no artifacting can be seen. The big boo-boo, however, is that the image is in the 4:3 ratio, while the is evidence out there that this was originally animated for a 16:9 presentation. Points lost!
Scratch Tracks:
Warner Bros. sprang for a full 5.1 Dolby Digital mix, and it is an impressive one. To be truthful, the rear surround activity is minimal, but the soundtrack delivers such a punch that it more than makes up for it. Explosions go BOOM, and there are numerous panning effects. This superior sound is full, distinct, and fun. This was much better than I would expect from a direct-to-video title. A French 2.0 track is also included.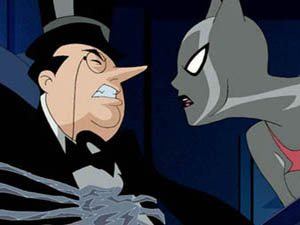 Subtitles are available in English, French and Spanish.
Final Cut:
It doesn't reach the height of greatness that some of its predecessors claimed, but if you go in with slightly lowered expectations, this is a fine Batman movie. It has a reasonably compelling mystery and interesting characters, good animation, and better than average video and sound. To top it off, the extras are actually worth watching, with a brand-new short, and behind-the-scenes interviews that are a bit deeper than the normal fluff. This makes a nice purchase for any batfan.
Animated Classic or Back To The Drawing Board?