Warner Bros. Animation (March 28 1964), Warner Home Video (October 1 2002), single disc, 99 mins plus supplements, 1.85:1 anamorphic widescreen, Dolby Digital Mono, Not Rated, Retail: $14.97
Storyboard:
Deep in the heart of the Pentagon, two important looking personnel search within restricted files for information on one of the best-kept secret incidents that occurred during World War II. Seems that the invasion of enemy subs was not foiled just by the careful strategic plans of the American and British forces alone – they had a little help from one Henry Limpet, a mild-mannered bookkeeper from Brooklyn. Limpet has an affinity for fish and undersea life and wishes he could join them to get away from his troubles on dry land. Poor Limpet is unhappy with his job, unhappy in his marriage and unhappy with the fact that he's just been turned down for the US Navy again. One day, while on a day trip to Coney Island with his wife and Navy friend George, Henry falls into the sea and disappears. This being a family picture, all is not lost, and Limpet is magically transformed into a hitherto unknown species of fish, complete with his Harry Potter-esque horn-rimmed spectacles! Coming across a sunken Allied forces ship, Henry has the idea of helping out the Navy and his friend George from below the waves. With the assistance of Crusty the Crab (a definite ancestor to The Little Mermaid's Sebastian, right down to the "jumping jellyfish" line) and a pretty lady fish whom Limpet names, um, Ladyfish, Henry becomes the ocean's number one spy, and the Navy's top secret weapon. He's able to warn the ships of danger, and help them guide their missiles towards the enemy thanks to the amazing sonar cry he is able to shout out. In time, Limpet becomes a national hero, and after settling things with his understandably perplexed wife, swims off with Ladyfish to enjoy a life under the sea!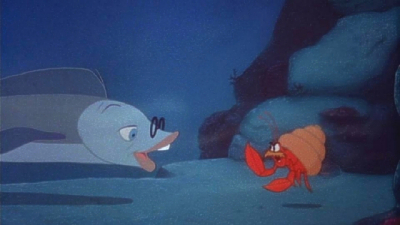 The Sweatbox Review:
Incredible as it may seem, I had never seen The Incredible Mr Limpet in its entirety. In fact, it's a movie that I had pretty much completely overlooked when I compiled a list of "must-have" movies that I'd like to own on DVD. When I did realize the film existed, low and behold, Mr Limpet was announced for disc issue the following month! Well, now its here, and I have to say I am pretty excited. Checking out the credits alone is enough to make even the mildest animation fan curious: the animation director is none other than Bill Tytla, who created and executed the magnificent Night On Bald Mountain sequence for Fantasia, with other directorial tasks undertaken by famed Warner Brothers director Robert McKimson. An uncredited Art Babbit (who brought Fantasia's Chinese Mushrooms to life, and is mostly responsible for the evolution of Goofy's character) was an animation contributor to the film, and the songs were written by Frank Perkins, Harold Adamson and Sammy Fain (who previously had co-written The Second Star To The Right for Peter Pan). The art designs were from Hawley Pratt and Maurice Noble, who would also go on to success in their own right, and one of the film's voice talents was Paul Frees, who also worked at Disney on a number of voices, the most famous was probably Ludwig Von Drake in a number of films and TV specials. But of course The Incredible Mr Limpet is Don Knotts' movie, and in it, he has considerable chance to shine.
Born in 1924, Don overcame his shyness as a young kid by creating a ventriloquist act in high school. After a spell in the Army, Knotts tried out for radio parts, finally landing a part in the Andy Griffith Broadway production No Time For Sergeants. When the play translated to film, Knotts was a shoe-in for the same part, and this also started a long-time relationship with Griffith, who would later use Don in his own The Andy Griffith Show, a phenomenally successful TV series. Don proved a hit in the show (receiving five Emmys for his performances), and soon was "promoted" to major star status. The Incredible Mr Limpet was his first major solo-starring role, which takes Knotts' nervous, twitchy and never-too-sure demeanor and adds an animated twist…
Knotts has always been one of my favorite character actors since when I was a kid growing up. I'd seen him when I was younger in Disney's live-action films Herbie Goes To Monte Carlo and the pair of The Apple Dumpling Gang comedy westerns, and found him to be the most honest-looking shifty character I'd ever come across! He made me laugh in It's A Mad Mad Mad Mad World, and it was a pleasure to see him acting again recently as the mysterious television installer in Pleasantville. Knotts has always been an almost animated character himself, what with that vast range of bendy facial expressions, so it's also appropriate that he recently lent his voice to another animated feature, the musical comedy Cats Don't Dance, also from Warner Brothers.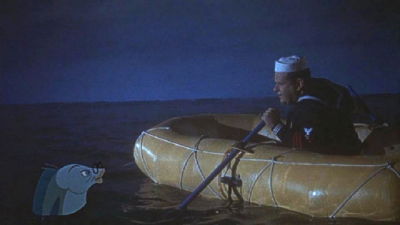 As a movie, The Incredible Mr Limpet is a rather strange concoction. Released in 1963, this actually feels very much like a mid-50s film, with a 1940s animation sensibility. The animation may not have the whiz and pizzazz of today's polished CG enhanced look, but does reach the standards of 40s Disney output, which is probably down to the crew involved. The interactions between the cartoon and live-action elements are kept to a minimum, although this does not hamper the flow of the film in any way (and I really liked the "bobbing in the water" effect). Overall, there seem to be little tricks that the animators would use to bring the illusion of water to life that would later influence The Little Mermaid, and the transformation of Henry into a fish is creatively achieved, while Limpetfish does actually resemble Knotts right down to his lips! The story is pure family fantasy fare, although some of the jokes, dialog and situations may be a little risqué and go right over the heads of the smaller audience. Although we are supposed to feel for Henry at the beginning of the movie, he never seemed to be particularly henpecked to me, although there is definitely something going on between his wife and their friend George!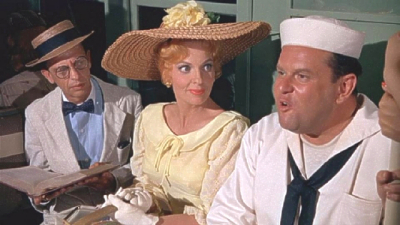 The songs are fairly hummable, though the supposed big hit, I Wish I Were A Fish, sounds more fun in the pop-single version (previewed in the trailer) than it does in the film, but Knotts rendition does bring a sense of loneliness and melancholy to the tune. For a few years now, there have been rumors of a remake, starring Jim Carrey and a CGI Limpetfish, to be directed by Steve Oedekerk (Ace Ventura 2, Jimmy Neutron). Plans have so far come to nothing, but word is that Beavis And Butthead creator Mike Judge is now in the frame to helm the movie. In a post 9/11 world, it will be interesting to see what they come up with and how they make it work, but for the time being, the original is more than adequate. Even in these uncertain times, The Incredible Mr Limpet still carries with it a sense of innocence, while not being afraid to name the enemy and present things in a down to Earth way without throwing away the fantasy elements. Well, for a guy-that-turns-into-a-fish movie anyway!
Is This Thing Loaded?
The Incredible Mr Limpet is one of those films that could have taken a while to make it to DVD, and it's a wonder that it has been released at all, at least before the inevitable remake hits screens. But Warners have done the title proud, with a great variety of standard and surprising extras. A Cast And Crew listing basically does exactly what it sounds like, while the theatrical trailer seems to be a combination of an advertisement for the "hit single" and the more usual teaser fare. In any event, the clip lasts almost five minutes and is a pretty fun watch!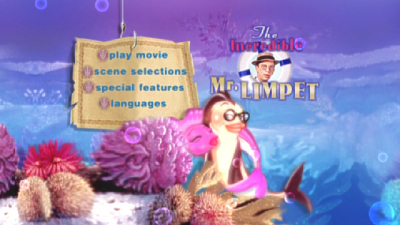 The premiere of Mr Limpet was appropriately held underwater in a specially designed glass domed room 20 feet below sea level, at Weeki Wachee Springs, in Florida. The event was covered in a newsreel-style documentary featurette which has been included here, and features brief interviews with the cast, and a fun look at the promoting of the picture. Presented full-frame on both sides (although the menus are anamorphically enhanced all the time), Weekend At Weeki Wachee is a welcome addition, and a very interesting look at a very interesting screening!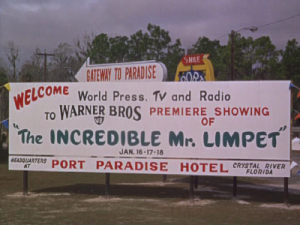 An Introduction By Don Knotts is really an excerpt from a longer interview in which Knotts looks back at the making of the film. He lets us in on a couple of insights, and comes across as a very sweet guy, but it's a shame this does not actually play as a real intro to the film, instead of the separate option with the rest of the special features that it is. There are more interview snippets hiding out in Mr Limpet's Fishtank, where you'll have to "glide" over the various character art to find a relevant clip. A couple are "cheats", presenting the same clip twice, but there are a few niceties, and it's really great just to hear Knotts wandering down memory lane.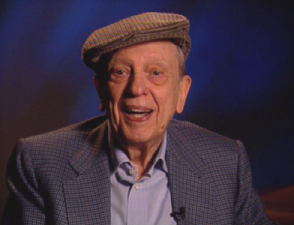 The set-top game Get In The Swim With Henry is actually a pretty tough memory challenge, where the player must follow Limpet's movements and click on the correct still images in order to carry out the same actions. It keeps getting harder and harder, and moves pretty quick, so be prepared to spend some time to get to the end! The menu screens, as well as this game, are all presented in 16×9, with the theatrical trailer in 1.85:1 on the widescreen side. In all, a nice bunch of bonus materials, making this a very nice disc!
There are even more surprises to be found when the disc plays in a DVD-ROM drive. No less than four interactive games have been included, all Limpet-inspired variations on popular games. Limpet Scrimmage is a Battleship-style strategy game, while Torpedoes Away, Depth Charge and Submarine are all enough to engage players for hours. These may be simple games, with simple controls, but Warners really should be praised for providing fun and worthy additional value that, like the film itself, will appeal to players and fans of all ages!
Case Study:
One of Warner's final snapcase releases, Mr Limpet's cover art is fun and (quite literally) bubbly, with the chapter stops listed on the inside foldout.
Ink And Paint:
For this DVD edition, Mr Limpet has been transformed, and I'm not just talking feet-to-fins! This is a gorgeous transfer and looks as good as new. Colors are not over saturated, but do display a strong and vibrant look. The print sourced is free of any wear, and the additional clean up results in a pristine image. The animated segments fare slightly less well off, due to the photographic processes of the time, and the color is a little more subdued, but this is still a great looking transfer. Presented in the theatrical 1.85:1 ratio as well as a full-frame 4×3 version on the flipperside, I would, in a rare occasion, suggest checking out the 1.33:1 transfer. Although this does crop a little amount of side image (mainly on the right of frame), the film was shot "open matte", meaning that we get more picture information top and bottom on screen. For the most part, the film has been composed for the 1.85:1 ratio and is better balanced left and right, but in the animation sequences, the 1.33:1 full-frame might be preferable – towards the end there is certainly some better framing in this version in terms of the added height.
Scratch Tracks: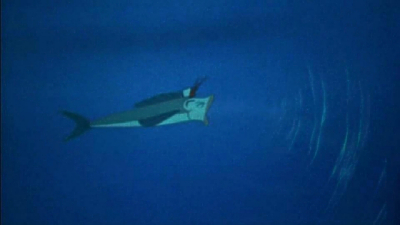 Even though the picture has been given an extensive clean up, the audio remains in one-channel mono, which is not as flat as one might think. With no additional signal noise, or fake stereo imaging, the sound on Limpet sounds remarkably warm and spacious. There are moments when effects seem to come from anywhere but the center speaker, though this is sure to be a mild frequency trick and not actually apparent in the encoding. Although the track has no LFE to speak of, the bass rumble coming from Henry's sonar-scream is enough to wobble the floor a just that little bit! A Spanish dub has also been included, which does not sound as clear as the English track, making an interesting comparison between what the English track might have sounded like without the work having been done to it. Subtitles have been provided in English, French and Spanish.
Final Cut:
With a bunch of great ROM games, a fun featurette, a look back with the star, the trailer and a spruced up transfer, The Incredible Mr Limpet makes it to disc as an incredible DVD. Seeing the film all together for the first time, I felt it held up very well to the onslaught of quick-cut, flash-edited product that now constitutes for childrens/family entertainment. The artillery may look a little modern for the supposed 1940s period the events take place in, and the acting from everyone apart from Knotts may not be the greatest performances ever, but to criticize these things is to miss the point of the movie. Though a flop in its initial release, The Incredible Mr Limpet has become a favorite with television audiences over the years, and is fairly important to animation fans, as it represents one of the final major projects produced at the original Warner Bros. Animation studio. With this terrific DVD edition, there's no reason why it shouldn't play again soon on a screen near you!
Animated Classic or Back To The Drawing Board?