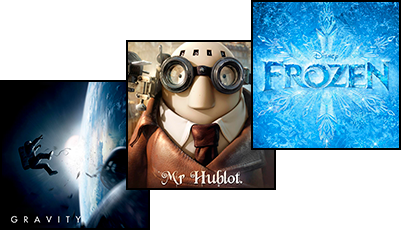 Gravity was one of the big winners at the 76th Annual Academy Awards, taking home seven Oscars, including Best Director, Best Visual Effects, and Best Score. Frozen beat out Despicable Me 2, The Croods, Ernest and Celestine, and The Wind Rises for Best Animated Feature. The song Let It Go from Frozen won the award for Best Song. Best Animated Short was awarded to the French film Mr. Hublot.
The awards for Frozen probably elicited a big sigh of relief from the Mouse House, who had been on a cold streak going into the night. The film became the first movie from Disney Animation to win the Best Animated Feature trophy since its inception in 2001. And the two pieces of Academy hardware they picked up were the first any Disney animated feature had won since Tarzan in 1999.
Robert Lopez's win for Best Original Song puts him in rarified air. He became just the twelfth person to win all of the major American entertainment awards (Oscar, Tony, Emmy, and Grammy). Of the twelve, Lopez won them all the fastest — completing the set in just ten years.
Results of our Oscar contest can be found in the forum and on the score page.