Snowman and the Snowdog nominated for Children's BAFTA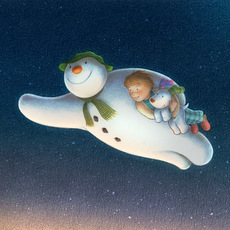 The Snowman and the Snowdog has been announced as among the animation nominees for the British Academy Children's Awards. The short film was created to honor the 30th anniversary of its Oscar-nominated predecessor, The Snowman, which won a BAFTA TV Award for Best Children's Programme in 1983. For its own BAFTA, The Snowman and the Snowdog will face The Amazing World Of Gumball, Room on the Broom and Strangehill High. The short was released on DVD this month.
The Snowman and the Snowdog is a charming adventure created by the team behind the The Snowman, based on Raymond Briggs' iconic children's book. Full of humor and warmth, The Snowman and the Snowdog reunites viewers with The Snowman and introduces his new best friend, The Snowdog — complete with odd socks for ears and a satsuma for a nose. The film was written and directed by Hilary Audus and written and art directed by Joanna Harrison, both of whom worked as animators on the first film. Producers are Camilla Deakin and Ruth Fielding. The sequel is dedicated to the late John Coates, who produced the original Snowman and was instrumental in getting the new film into production.

---