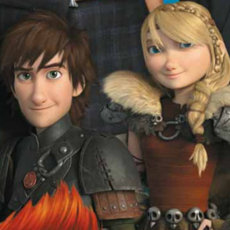 In April, CinemaCon attendees saw artwork revealing the new designs for Hiccup and Astrid in How to Train Your Dragon 2. Now License Global, via Bleeding Cool, presents more images of the characters, who have aged a bit since the events of the first movie and TV series. In addition, the magazine has an updated synopsis for the sequel:
The thrilling second chapter of the epic How to Train Your Dragon trilogy brings back the fantastical world of Hiccup and Toothless five years later. While Astrid, Snoutlout and the rest of the gang are challenging each other to dragon races (the island's new favorite contact sport), the now inseparable pair journey through the skies, charting unmapped territories and exploring new worlds. When one of their adventures leads to the discovery of a secret ice cave that is home to hundreds of new wild dragons and the mysterious Dragon Rider, the two friends find themselves at the center of a battle to protect the peace.
DreamWorks Animation's How to Train Your Dragon 2 will open in theaters June 20, 2014.