If you can't get to The Princess And The Frog right away and are itching to discover Randy Newman's songs and score for the movie, the entire soundtrack is available to listen to as a stream from Walt Disney Records in WMA format. The Studio has also announced details on the promotion for the film's soundtrack, which can be read here:
"Everyone has been bumping Walt Disney Pictures' highly anticipated animated masterpiece The Princess and the Frog's soundtrack, which includes a lively collection of original songs and an orchestral score by Randy Newman, and Ne-Yo's romantic pop ballad, Never Knew I Needed.
Elton John, the man behind the award-winning soundtrack for The Lion King has nothing but praise for Disney's decision to bring Newman on board for the film's music: "Randy Newman is, for me, an American treasure… One of my favorite writers of all time, before he started writing for God knows how many animation movies with Pixar and Disney. This could be one of the best Disney scores ever, because I think he's fantastic".
Chief Creative Officer for Pixar/Walt Disney Animation Studios, John Lasseter, also weighed about the significance of this particular soundtrack: "The songs in The Princess and the Frog are so key to advancing the story, and also to really introducing the characters and learning about the characters; what they're about, what they want, what's inside them."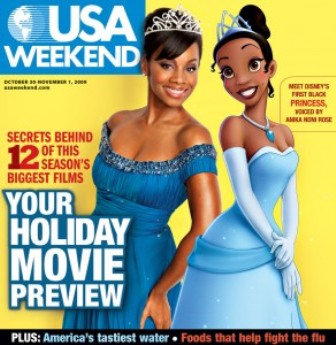 (Image Courtesy of USA Weekend Magazine)
The lady who lends her voice to the leading heroine, Anika Noni Rose, has been going everywhere to support the film's wide release. Check out her recent performance on Good Morning America of Almost There, Princess Tiana's theme song!
Watch the Never Knew I Needed Music Video at Animated
Views Media – just click on the image below:

Walt Disney Pictures' highly anticipated The Princess and the Frog, is now open theaters across the United States.