Before we meet and possibly greet these rumors, it is important to stress the fragile nature of the information. Collected from an assortment of user-submitted sites, the trivia could merely be fabrications from a mistaken fan, an imaginative enthusiast or a mischievous prankster. However, some of the info could very well have been true at one point or another, becoming obsolete the moment a storyline or production schedule changed.

Sometimes, it is quite easy to spot the difference between fact and fiction – or, regarding the distinctions presented in the previous paragraph, farce and friction. For example, look no further than Wikipedia's page for Peter Pan III: Back to Neverland. Doesn't at least one thing there seem incorrect?
Speaking of Jesse McCartney and questionable voice casting, Wikipedia also has the singer as the voice of "JoJo" in Horton Hear a Who. Could that be actual casting – or a dig at two famous, young pop stars? You be the judge.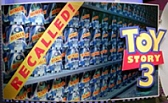 Once in a while, a rumor comes along that seems somewhat odd but possibly true at the same time. For instance, take the "news" that Toy Story 3 is scheduled to open on Wednesday, August 6, 2008, as revealed by Wikipedia. That tidbit seems believable enough, right? After all, Pixar is no stranger to summer releases. Finding Nemo opened on May 30, 2003; Cars opened on June 9, 2006, and Ratatouille opens on June 29, 2007. Sure, both previous Toy Story films had a November release. However, with November being a very competitive month for family films, it isn't necessarily preposterous to imagine a popular sequel enjoying strong legs during the less competitive summer month of August.

So is Toy Story 3 truly slated for August 6, 2008? As it turns out, even if that is the actual release date, Wikipedia no longer says such, as the sequel's theatrical delivery is now simply listed as "TBD" ("To Be Determined"). In the meantime, there are other release date rumors to report. While Tinker Bell receives more tinkering, The Little Mermaid III has been given the DVD due date of November 20th, says Wikipedia. Concurrently, The Digital Bits' very own Rumor Mill section suggests that the semi-animated flicks Charlotte's Web and Night at the Museum are both set to bow in stores on March 27th.

On a final note, the Internet Movie Database has made an interesting change to its page for Gnomeo & Juliet. On August 2, 2006, it was reported that Tom Rice, Rob Sprackling, and rapper Lil' John might collaborate to helm the picture. However, Sprackling is now recorded as the sole director for Gnomeo.
Please keep in mind that the information presented in this article should be taken with a grain of salt until confirmed by official sources. It is hoped that any misinformation included here will soon be corrected at the sites indicated, by studio representatives.