Despicable Me 2's Despicablimp to tour U.S.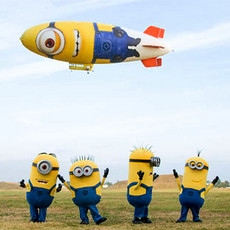 To promote Despicable Me 2, Universal Pictures has set the Despicablimp on a 20,000-mile coast-to-coast trip in the U.S., reports MovieWeb. The airship –
165 feet long, 55 feet high and 46 feet wide – made its first official public appearance at Nickelodeon's Kids' Choice Awards in L.A. last weekend. The Despicablimp's scheduled stops include Telemundo's Billboard Latin Music Awards, The Today Show, and perhaps even a city near you. Check the Despicablimp's website to follow its journey.

---