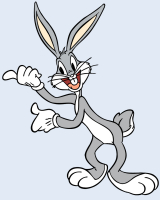 For one day only, the classic characters from the
Looney Tunes
stable clash with Greg Weisman's
Gargoyles
characters as we make mention of two new reviews to the site!
Posted among the election fever was my promised take on the Looney Tunes Golden Collection: Volume 6, the final – for now at least – selection of classic Warner Bros. shorts in a special edition DVD package. The cartoons this time around are very much more of the specialties that collectors have been waiting for, and as such those casual fans of the series may find themselves disappointed with the lack of a major helping of Bugs, Daffy and company. But hard-core nuts (like me!) will find a great deal to enjoy, including a disc full of propaganda wartime shorts, a visit back to Looney Tunes black and white beginnings for some early years goodness and a final run through of some very entertaining – and odd! – one shots and rarities. In the extras department, Constantine Nasr's feature-length Man Of A Thousand Faces documentary on Mel Blanc is as exemplary as any as you've seen from his New Wave crew, and a perfect way to round out the series. "That's all, folks!", for now at least, but let's hope for more soon…
---
One of the things we like to do here at Animated Views is to go retro every now and then to post comments on an older title, and since his return Rodney has been doing just that! His latest concerns the 2004 release of Gargoyles: The Complete First Season, Disney's foray into the more action oriented programming that had served Warners so well with their Batman: The Animated Series, and the first of the Disney Afternoon shows to make it to disc. Unlike later releases, this original set even boasts some bonus features including select episode commentary, completely lacking on later releases. Gargoyles is still a show that has passed me by, despite various attempts to catch an episode here and there, but it certainly has a unique tone and style for something from the Mouse House. Maybe a bump in sales might prod the studio to release the final episodes onto disc? I know the fans are waiting…
---
Back to Bugs, and we can finally announce the winner of our Looney Tunes: Spotlight Collection contest – congratulations to Daniel-Jean Simard, of Plattsburgh NY, who will soon find the two-disc Volume 6 arriving on his doorstep with all the subtlety of an Acme anvil!
Stay tooned! – Ben.