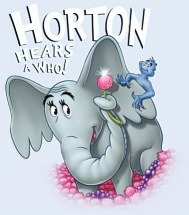 Hey kids! Horton Hears A hit, it seems, going by this weekend's box-office numbers. The movie held the number one spot over the Easter holiday, easily out-grossing other fare and pulling in another $25.1 million for a two-week total of what should be nearing about $87m by the time I post this. It's great news for Fox's Blue Sky, who I continue to believe are the closest rivals to Pixar's unique brand, serving up a mixture of relatively safe franchise Ice Ages and stand-alone properties that jump outside the urban comedy box: despite the noise, Robots was a treat to look at, and it's the visuals in Horton that seem to be garnering most of the notices too.
This is certainly an aspect of the movie that our own James R Whitson warmed to, as he explains in his Animated View on the movie, but it seems there's much more to recommend it than just that! "Make no mistake, Horton is at least two-thirds padding. But unlike its live action predecessors, these writers have channeled the spirit of Seuss much more faithfully", says James, adding that "the animation also is faithful to the original. This is one of the few cases where I can honestly say I can't imagine this film being done using traditional animation". Wowsers, praise indeed! I was hoping to catch the film at a screening this evening, but it looks like I'll have to settle for later in the week.
Somewhat making up for that, and looking to grab a piece of the Horton pie, Warners have seen fit to release the older Chuck Jones television short version of the story again on DVD. Of course, Jones and Dr Suess Ted Geisel previously teamed up for the classic TV version of The Grinch (and way before that, in World War II, on the Snafu military cartoons) and as such there's an assuredness to this adaptation too. It's been out on disc before, but this new edition reviewed here looks better than before – for Horton fans, this is a worthy re-issue while Seuss fans will be in their element with the unexpected, and good two and a half hours of supplements including the feature-length documentary feature In Search Of Dr Seuss!
Another recent WB release for some iconic characters came in the form of Justice League: The New Frontier, and Rand has flown in with an enthusiastic review for the special 2-disc edition, calling the multi-layered themes explored throughout "pretty heavy material for a superhero story, the type of film that will grow stronger with each successive viewing". Extras include a couple of in-depth documentaries, a peek at the next DC Universe title, Batman: Gotham Knight and a comparison between comic and screen versions of New Frontier. "In fact", Rand adds, "I had an even clearer appreciation for the intent of the story after watching the animated film than I did after reading the graphic novel" – seriously stirring stuff.
Stay tooned! – Ben.